Pinterest now lets Creators earn money on its platform from affiliate links, brand partnerships, and by turning Idea Pins shoppable. 
Pinterest has announced the launch of a new set of tools that will allow creators to earn money off shoppable items they suggest in their posts.
As the recent announcement explains, content creators will be able to use the new tools to build their business and earn money by making their Idea Pins shoppable, earn commissions through affiliate links, and partner with brands on sponsored content.
With 'Idea Pin' product tagging, creators can effectively put together an inspiration board and tag their Idea Pins with practically any of the hundreds of millions of Product Pins on the massive catalog uploaded on Pinterest by retailers. The vast catalog is ingested by the platform via a partnership with Shopify and saved by Pinners.
Now, influencers creating content on Pinterest can tap into that catalog and harness shopping intent by tagging specific products in their own Idea Pins, and generate commissions from the now shortened shopper journey from inspiration to purchase.
Pinterest's recent studies point to the consolidation of a trend in which Pinners are set on exploring the inspirations offered on the platform intending of making actual purchases. Pinterest internal data from July 2021 reveals that Pinners are 89% more likely to exhibit shopping intent on products tagged in Idea Pins than on standalone Product Pins.
In addition to the above, Pinterest is introducing a new paid partnerships tool (in beta) that allows Creators to disclose their paid partnerships. Content creators with existing brand-influencer partnerships now have an easier way to disclose paid relationships with a new tool that will add a "paid partnerships" label directly on Idea Pins.
"Pinterest is the place where creators with inspiring and actionable ideas get discovered. With this latest update, we're empowering Creators to reach millions of shoppers on the platform and monetize their work," explains Aya Kanai, Pinterest Head of Content & Creator Partnerships. "Creators deserve to be rewarded for the inspiration they deliver to their followers, and the sales they drive for brands. Creators are central to our mission to bring everyone the inspiration to create a life they love, and we'll continue working with them to build their businesses and find success on Pinterest."
These updates make content more actionable and shoppable, and allow influencers to make a living and easily partner with brands. Pinterest is launching the Idea Pins product tagging tool to all business accounts in the US and UK. It will also continue rolling out access over the coming months to international creators.
The paid partnerships tool is now live for select Creators in the US, UK, Canada, Australia, Ireland, New Zealand, France, Spain, Italy Germany, Switzerland, Austria, Sweden, Brazil, Argentina, Mexico, Chile, Colombia, and Peru.
---
You might also like
---
More from Pinterest
---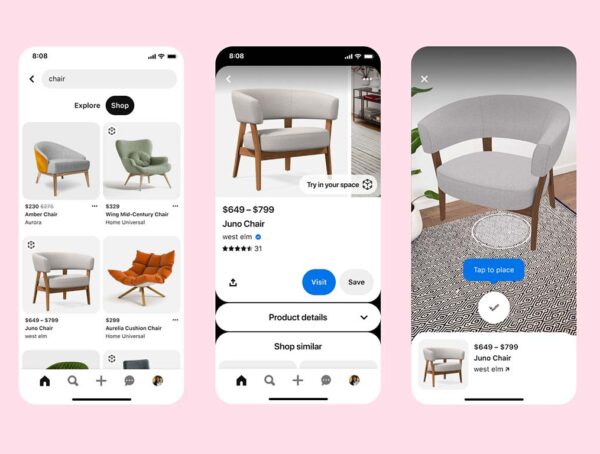 Pinterest is releasing a new AR Lens that lets users see how furniture would look in their homes before buying …