To help users get the best out of LinkedIn on their mobile devices, the company has just updated the flagship app with not one, but three new features. 
The update brings the ability for users on LinkedIn's mobile app to control what they see in their feed, save posts for later, and search for news and content. It promises that these features will "help you tap your way to success." Of course, they are pretty standard fare on other platforms' mobile apps, but that's ok. Better late than never. Plus, they will probably give users a much better experience on LinkedIn.
Control What You See In Your Feed
Your LinkedIn feed displays information that is fully customised to what you want to see. It's where you "consume, create, and share content." And now you can customise what you see on it. By tapping the 3 dots on the top right of any post, you can choose what to see, fine tuning what appears in your feed.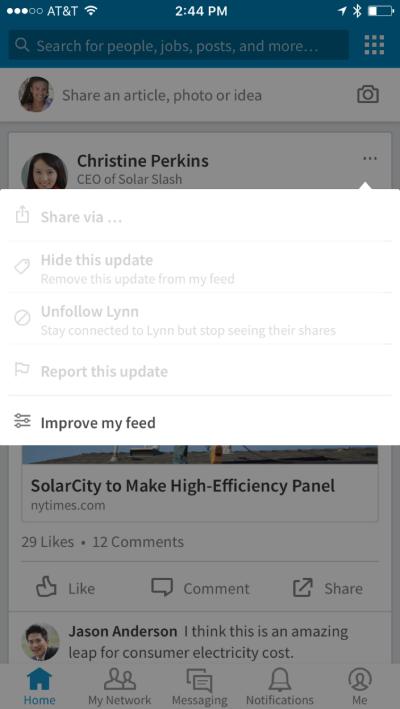 As director of product at LinkedIn, Jeff Birkeland, explains, you could
[quote]pick topics that interest you, follow leaders you want to hear from and tap on publications you like to read. Also, you can unfollow or hide updates from connections that you find less interesting[/quote]
Save Articles For Later
If you're scrolling through your feed, you may see something interesting that you'd want to save to read later. Well, now you can. At the bottom right of each article there is a new bookmark icon that will allow you to do just that. The saved articles can be accessed under the "Me" tab.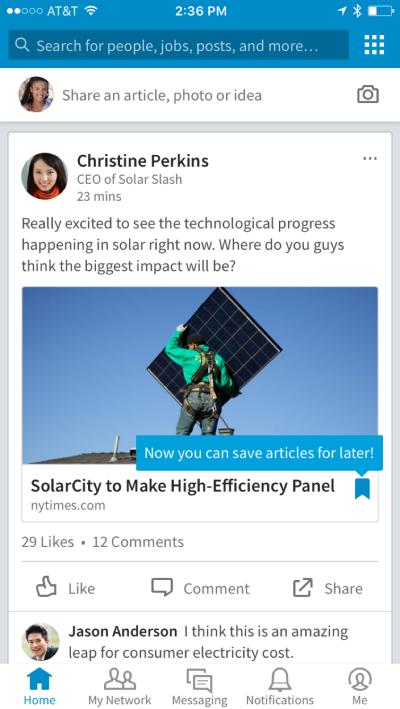 It was about time that LinkedIn made this possible, as it's very handy. It was also a "highly-requested" by users. We're not surprised.
Search For What Interests You
LinkedIn has now made the platform fully searchable through its mobile app.
As Birkeland explains,
[quote]It's now easier than ever to explore content relevant to your interests by using the search box. You can look for articles on topics you care about—from management tips to the latest news on artificial intelligence. You can also discover more on timely topics by using hashtags. For example, type Finance and see the latest articles and news being discussed.[/quote]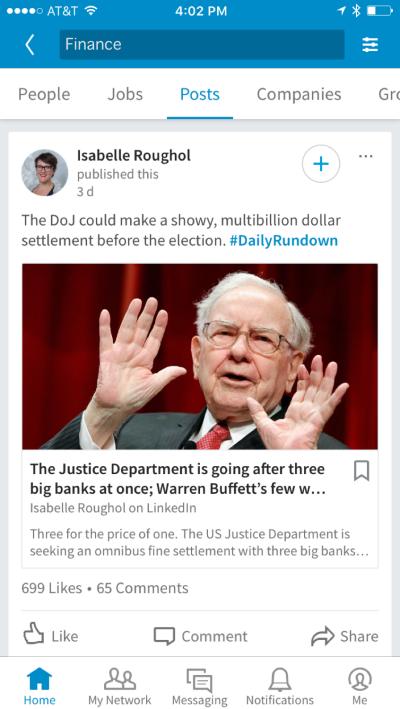 We are sure that users will welcome these new features, despite the fact that they have arrived quite late. They will, in no doubt, help them get a lot more out of LinkedIn while they are on the go.
---
You might also like
---
More from LinkedIn
---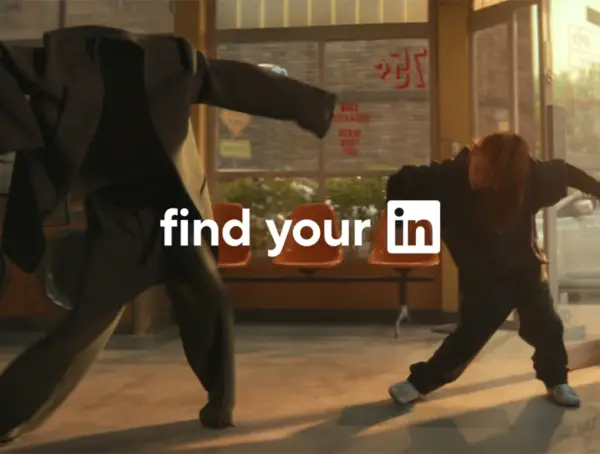 'Find your In,' LinkedIn's latest advertising campaign, created by Droga5, invites everyone to find their ideal career pathway. The campaign takes …