Head of Instagram, Adam Mosseri, announced that it has paused the development of "Instagram Kids" to allow more research.
A new announcement from Instagram's head, Adam Mosseri, earlier this week, is putting the attention back on parental supervision for kids consuming Instagram's content.
Instagram started building its "Instagram Kids" app for users under 13-years-old some time back, as kids are getting their hands on smartphones at an increasingly younger age and downloading apps meant for over 13s by misrepresenting their age.
However, Instagram is now pausing this project to dedicate more "time to work with parents, experts, policymakers, and regulators, to listen to their concerns, and to demonstrate the value and importance of this project for younger teens online today."
Also, in response to critics of the project, Mosseri stated that "the reality is that kids are already online, and we believe that developing age-appropriate experiences designed specifically for them is far better for parents than where we are today."
If it comes to be, Instagram Kids won't be the same as Instagram, as it will require parental permission to join, it won't have ads, and it will have age-appropriate content and features. It will also allow parents to supervise their children's time on the app and oversee who can message or follow them and who they can follow, among other things.
In the meantime, Instagram is expanding tools that allow parents to oversee teen accounts (accounts of users aged 13 and over) on its app. In the coming months, the platform will announce new features built to this end.
In his blog post, Mosseri also responded to the recently contested report by the Wall Street Journal, which accused Facebook of possessing internal intel about the toxicity of Instagram for teen girls and not acting upon it. Mosseri dismissed the findings, citing an official response by Instagram's Vice President, Pratiti Raychoudhury, posted on Facebook's blog.
"We do research like this so we can make Instagram better. That means our insights often shed light on problems, but they inspire new ideas and changes to Instagram," said Instagram's head, who supported his argument, citing examples of Instagram's anti-bullying efforts like Restrict, Hidden Words, Limits, and recent changes to make Instagram accounts private by default for users under 16.
The post states that Instagram conducts research on several key issues, and it brings studies on negative body image as an example, together with the two recently launched initiatives.
The first focuses on encouraging people to look at other topics if they're dwelling on content that might contribute to negative social comparison, and the second is a feature tentatively called "Take a Break," where people could put their account on pause and take a moment to consider whether the time they're spending is meaningful.
Mosseri closed the post with a personal note saying: "I have three children, and their safety is the most important thing in my life. I hear the concerns with this project, and we're announcing these steps today so we can get it right."
---
You might also like
---
More from Instagram
---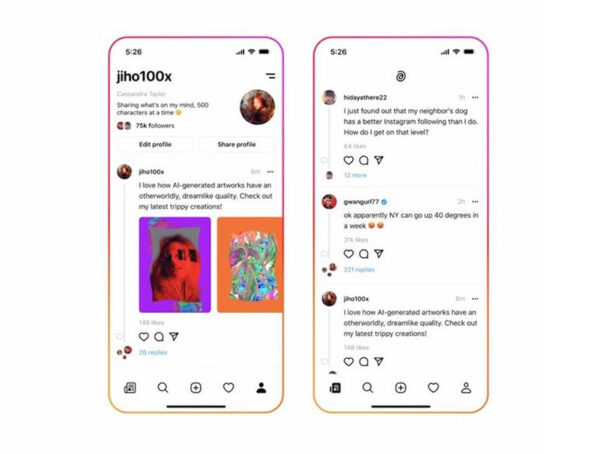 Instagram's rumored text-based Twitter competitor still does not have a name, but now we know what it might look like. The …