If you are a retail or e-commerce advertiser looking to maximise your Facebook Page's ROI, you may want to consider adding a Shop section to it. In this tutorial, we will explain how to add a Shop Section to your Facebook Page.
So, what is the "Shop" section, and why add one to your Facebook Page? A shop section is similar to a website that acts as a frictionless, immersive environment for users to "visit" your website without actually leaving Facebook. Adding a Shop section to your Facebook Page can be a great way to display your products, spark conversation for potential customers through the "message" button, and sell to people on Facebook. However, at the moment you need to be a US business to sell via your Shop section.
Adding A Shop Section To Your Facebook Page
To add a Shop section you need to go to your Page's settings, select the "Template and Tabs" section and click on the "Add a Tab" button at the bottom of the page.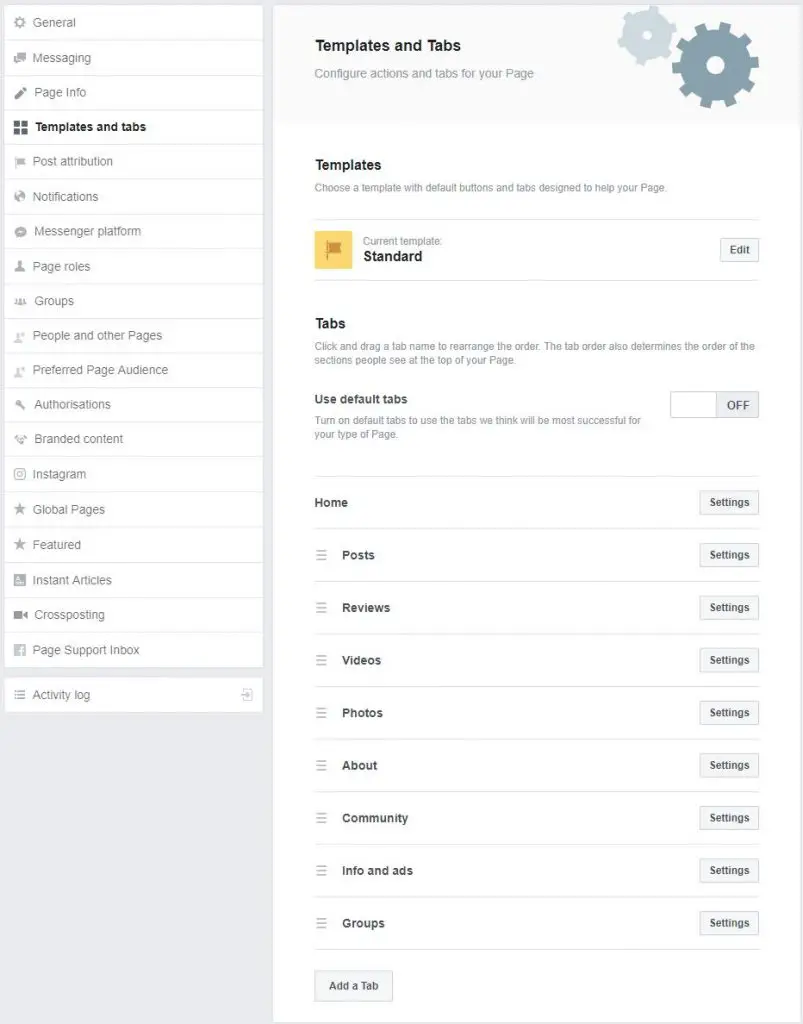 Scroll to find the "Shop" tab and click the add button.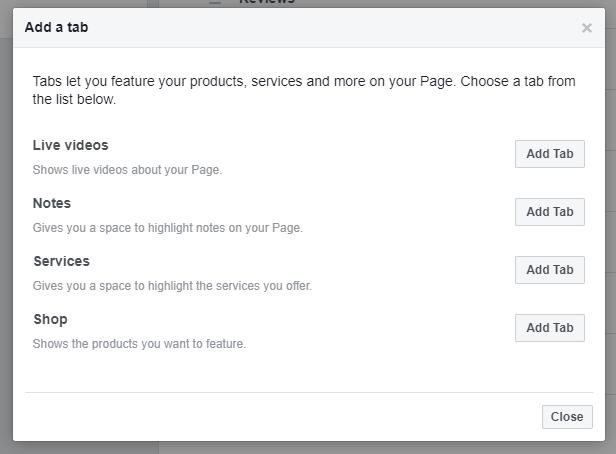 Upon clicking, you can find it on the left-hand side of your Page. Choose the newly added Shop tab and in the pop-up, check the "I agree to the Seller's Terms and Policies" button. Be sure to go over them as there are important Customer Support Policy and Delivery, Return and Dispute Policies that you need to comply with.
Next, select the checkout method and currency.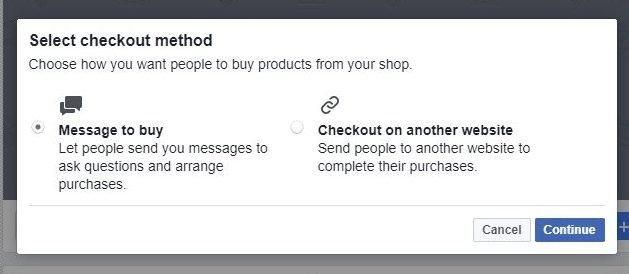 Adding Products To The Shop On Your Facebook Page
The process of adding products to your Facebook e-shop is pretty easy and straightforward.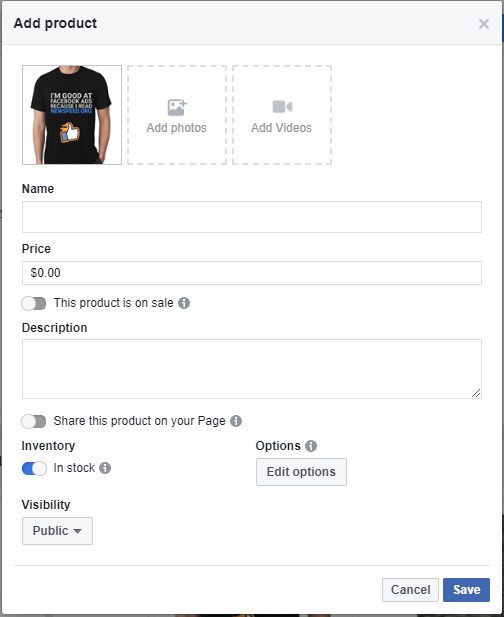 Name: Enter the name of your product.
Price: Add the price. In the case that there's a discount you can let people know by utilising the "This product is on sale" option.
Description: Add a short description.
Share this product on your page: If you are introducing a new product or service this choice can be ideal.
Inventory: Use this to reflect the current status of your product, if applicable.
Edit option inventory: Here you can enter different sizes, colours etc for your products along with their prices and inventory info.
Visibility: Choose the appropriate option based on whether you want a particular option to be visible or not to the public.
Delete product: This option deletes a product from your store.
To make the photo of the product visually appealing, you can choose to edit it by hovering over the desired photo and clicking on the "brush."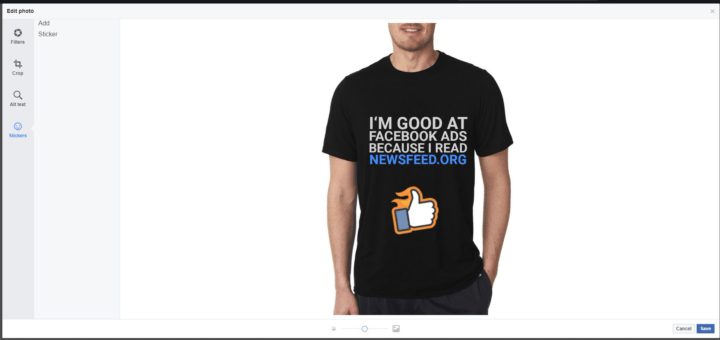 Here you can apply filters, stickers or crop them to tailor the photo to your liking. You can also insert an alt text for the visually impaired.
Once you are done, click "Save."
Each product you add needs to be processed but it won't take more than a few minutes. You will get a notification when it's done and it's visible to the public. If you have way too many products to add manually and you have a third-party website such as Shopify, you can automate this process through the integration setup.
Once you are done, be sure to test your Shop. For this, you need to hover over your Page's button (Shop Now) and click on the test option. This option offers you a preview of what your potential customers will be seeing. You will be also viewing a summary of how many views or messages were sent for that specific product.
If you'd like to delete your shop, this can be easily done by following the below steps:
Click the Shop tab
Click the drop-down and select Delete shop
Click the Delete Shop button
Have in mind that you will not be asked to confirm your choice, so make sure you don't delete it by accident!
Organising Your Products Into Collections
Once you are done with uploading your products to your e-shop, you can organise them using Collections. Collections are a great way to group your products and make it easier for your customers to browse through your products and find what they are looking for. By default, the "Featured Products" collection is created.
In order to create a collection:
Head over to the Shop section on your Page
Click on the gear button.
Click "Manage Shop."
Click on the "Collections" option.
Click "Add Collection."
Enter a name and choose visibility
Choose the products you want to include in your Collection.
Click "Save"
Keep in mind that you can have only one featured collection and each collection can have up to 10 products.
How To Access Your Facebook Shop's Insights
Once people start visiting your Shop and interacting with products, you can get valuable insights about them in the Products section. To access the insights:
Click Publishing tools at the top of your Page.
Click the Shop tab from the menu on the left.
Click Products.

Promoting Your Facebook Shop Section
Now that the Shop is all set up, it is time to raise awareness and drive traffic. You can encourage visits from potential customers in the following ways:
Share the link in your Facebook post
Click on the shop section of your Facebook Page.
Click on the gear button.
Click on the Copy Direct Link.
Share the link with the people you want to visit the Shop Section on your Page.
Tag your Shop's products in your organic Facebook posts
When posting a Facebook Post to your Page's timeline you can choose to tag your products on your photo or video. This helps them identify the displayed products and helps make your post relevant to them and increase engagement.
In order to tag a photo you:
Open your post and hover over the photo
Click the "Tag Products" icon
Choose the product you want to tag and start typing in the product's name
Click "Done Tagging" once done.

---
You might also like
---
More from Experts Talk
---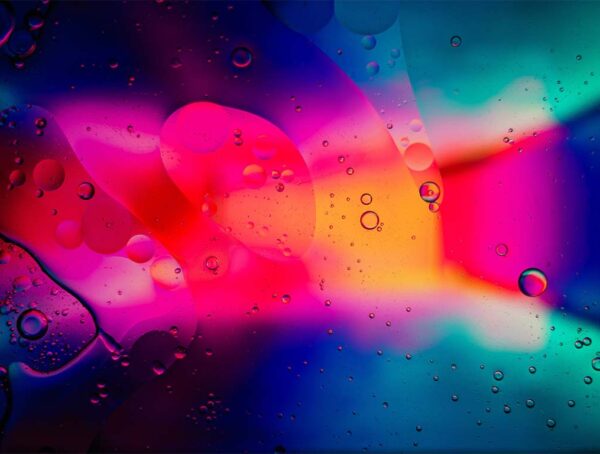 In this month's experiment, we set out to find out whether adding custom alt text on Instagram posts improves reach.