Google Ads is rolling out a new tool that allows advertisers to get insights on how their budget changes might change the performance of their campaigns.
One of the most important considerations when starting a new Google Ads campaign is its budget and how small increases or decreases might affect results. The new Budget Planner tool available through the Google Ads "Tools" menu, allows advertisers to just that. The tool is currently rolling out, so you might not have it yet. If you do, here's what to expect.
You can create a plan based on one of two metrics: clicks or conversions. You can also target clicks, spend, or average CPC (if clicks are your chosen metric), or conversions, spend, or average CPA (if your chosen metric is conversions). When selecting one of the above targets, you can choose a specific target amount manually, or choose from set target amounts – "previous period" or "same time last year."
Once you've set everything up, Google Ads will create a budget plan with a forecast chart giving you an idea of who your campaign may perform with the current settings. A forecast line will also show you how changes in your budget might change the forecast in terms of clicks or conversions. You can also see a different spend hypothesis based on different goals like "highest number of clicks for spend" or "lowest average CPC for spend."
Below the forecast chart, you can find the budgetary impact at campaign level (if you've set up multiple campaigns for forecasting) and can see specific campaign forecasts or change settings. A Compare tab allows you to see how forecast settings differ from previous performance for which you can change the specific time range.
Google explains that forecasts are updated every 24-48 hours and use your campaign history and auction data to get fed. Therefore, you might not get any results (or even be able to use the tool if you don't have enough historical data available. Also, while forecasts are more accurate if they are generated closer to the planned start date, the tool will also take holidays and seasonal traffic, as well as business-type and location into consideration.
---
You might also like
---
More from Google
---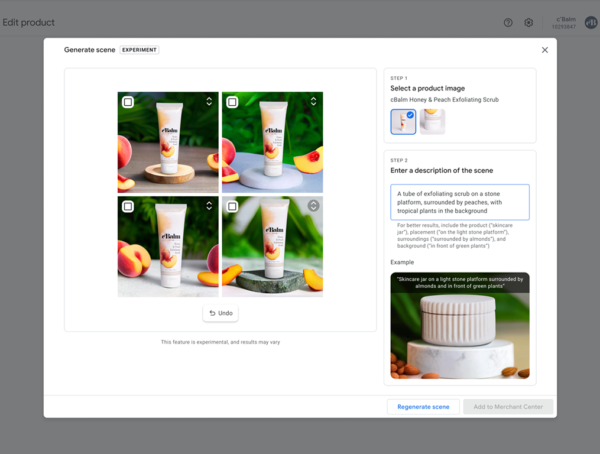 Google is launching Product Studio, a new tool that lets merchants create product imagery for free, using generative AI. Google Product …