TikTok has published a short guide as part of its Tutorial Series, to help you get started with TikTok Analytics.
One of the most important aspects of building a successful presence on TikTok is the ability to effectively monitor and measure the reach and impact of your video posts on the platform. The only way to do this is to use TikTok's inbuilt Analytics tools.
In order to use TikTok Analytics, you will first need to switch to a Pro Account. Luckily for you, the process is really fast and easy to complete.
Accessing TikTok Pro
Open the app and head to the "Settings and Privacy" page.
Choose "Manage My Account."
Tap on "Switch to Pro Account."
Finding Data in TikTok Analytics
When you switched to TikTok Pro, you'll be able to find your Analytics in the "Pro Account" page of your settings.
On desktop, however, you can find the Analytics page by hovering over your profile photo in the upper-right corner of your screen and clicking "View Analytics."
If you want to use your Analytics data in a different way – i.e. visualize it in a third-party tool – you can also download and export it directly to your computer. You can only do this when using TikTok from your desktop device.
In TikTok Analytics, there are three sections to know about: Overview, Content, and Followers.
Overview
The Overview section provides a high-level view of performance over time. Here, you'll be able to see not only the total number of times your videos were viewed, but also the number of users who follow your account, and the number of times your profile was viewed.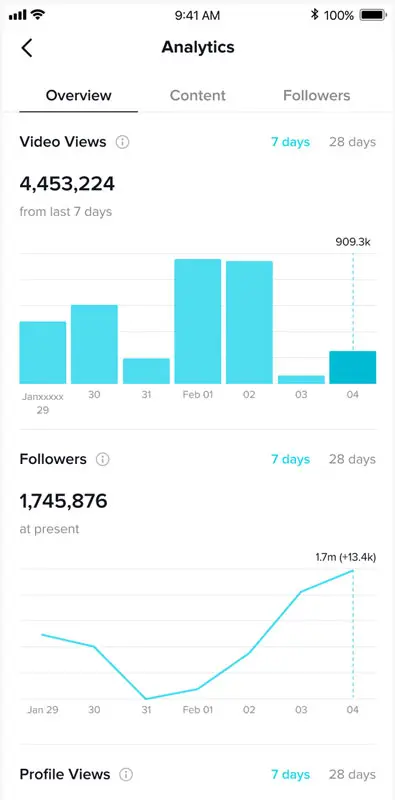 Content
The Content section provides insight on your videos from the last seven days,  in reverse chronological order. This is the view that will show you which videos are trending on your account – the top nine videos getting the fastest viewership growth over the last seven days.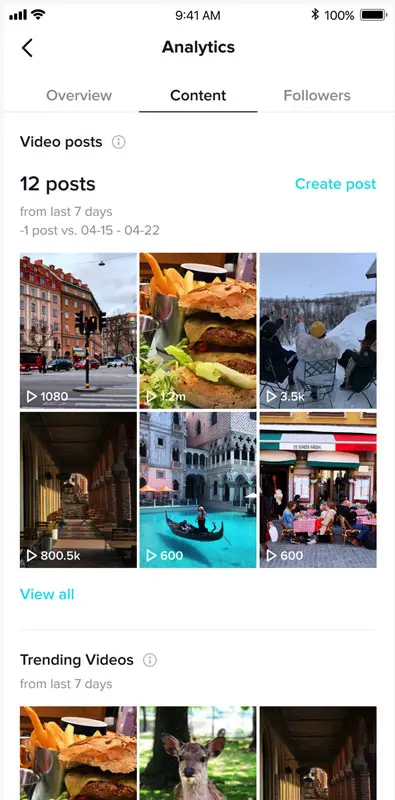 Followers
The Followers section displays your following count over time, giving you a good idea of your account's audience growth trend. This is where you can get an overview of the total likes, comments, and shares your videos have received.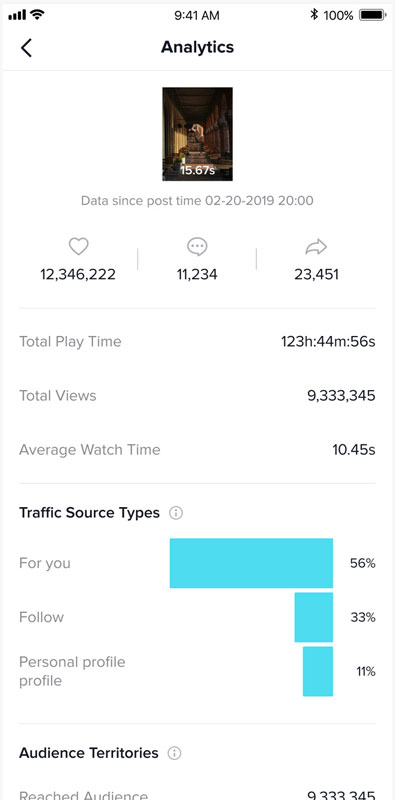 You can, however, also find analytics for each video you share. Video analytics help you get a good understanding of how long viewers watch specific videos, as well as the total views they receive, with metrics like average watch time.
Evaluating TikTok Analytics Data
As there are many factors that actually determine which content is recommended in the For You feed, you should know that no one engagement metric is actually more important. You should, however, take note of any high-level trends in your analytics to determine how audiences are engaging with your content and your account.
It is not advisable to focus on a single metric such as likes or comments. Instead, TikTok recommend considering the big picture of your video performance over time.
As TikTok explains in its tutorial blog post:
"Remember that at their core, video analytics tell a story: they represent all the ways people across the TikTok community have engaged with your creativity and self expression. As you post more videos, the numbers, stats, and graphs in your analytics will paint an image of the impact you make and the people you reach every time you share your ideas, creativity, and voice on TikTok."
---
You might also like
---
More from TikTok
--- TIkTok is pulling the plug on TikTok Now, its BeReal clone, a little over nine month after it was first …