We hear a lot about Millennials and Gen Zs these days, but what about the elusive Generation X?
Sitting comfortably between Baby Boomers and Millenials (or Gen Y), this generation has a lot of spending power. In fact, they have 75% more spending power than the next generation, with an average household net worth of $130k in 2016. Millennials are also big spenders but have a lower household net worth of $90k.
But listen to this: Over ⅓ of Millennials still live with their Gen X parents who therefore have "sway over a big chunk of the younger generation."
What does this mean for brands on Pinterest? Well, a lot! It's not a generation marketers should ignore. Let's look at the details. In a recent blog post, Pinterest announced results from research conducted by db5 on a year's worth of search and save data on its platform and results from an "online survey to identify the habits of older Gen Xers—those aged 45-54."
And you know what? Pinterest reaches "1 in 2 people in that group. And they've got cash to burn—66% of Pinners ages 45-54 have a household income of $75k or more." It's this group of people who are "looking for ideas and planning for the next stage of their lives, from empty nest-ing to retirement and beyond."
What Are They Interested In
At this point, brands have the opportunity to help them "make the most of their retirement." Pinterest is a natural place for them to plan things. They like to put their ideas on Pinterest.
Pinterest has found that Gen Xers "want brands to help them make decisions about products." 87% will appreciate it when brands guide them on how to use a product, while 84% like it when a brand shows them something unique. But that's not all. When they find ideas that are right for them, they try them. 70% say that they're willing to spend what's needed to achieve their future goals.
Furthermore, Pinners in this generation are "23% more likely than non-Pinners to indulge in luxuries now and then, and 24% more likely to shop across new categories." While treating themselves is important, they are still looking for ways to plan and save for the future. They are therefore 63% more likely than non-Pinners to report saving for retirement as their biggest priority. Also, they're 67% more likely to say that staying healthy and physically fit is a primary goal.
How And Where To Reach Them
Home
Life revolves around the home for Gen Xers, and that's why they come to Pinterest after all. It's the #1 home decor destination for Pinners 45-54. 80% of them believe their home reflects who they are, and 2 in 3 older Gen X Pinners research and plan home-related purchases often.
Brands should showcase how products help them with their at-home needs. They mostly have families, so why not highlight how your product helps cater to family life? They are ready to spend for it. Pinterest's research says that 79% want their home to be functional for children or a family. 58% purchase high-quality items for their home.
It's not a surprise, therefore, that their top saved home ideas are "mosaic stairs", "bathroom remodelling" and "decorating on a budget".
Travel
The top travel destination for Gen X Pinners who are also the primary decision makers around travel is Pinterest. 77% make most of the decisions related to family travel, and when they do travel, they spend a lot of money, with 86% buying things before travelling. Half of them say they like luxury when travelling.
Brands should add helpful info to their travel ideas as most research travel purchases for a few weeks. But it's also all about the family. Remember that 67% say that family time is the most important factor in deciding where to go. Another significant percentage of them take leisure trips with their spouse or partner.
Gen Xer Pinners' top saved travel ideas are "travel outfits", "nature vacations" and "art hotspots".
Beauty
Older Gen X Pinners use Pinterest as a top beauty spot, as they use it to look for beauty ideas actively. 40% have a personal goal of preventing signs of ageing and 30% spend $50 or more on beauty products each month.
Brands targeting this group should help them find new products that they can "add to their beauty regimens." They are open to trying different skincare products and routines (70%), and they are always interested in learning about new beauty brands and products (78%).
This beauty-conscious group's top saved beauty ideas are "makeup tips", "skincare routines" and "vegan skincare".
---
You might also like
---
More from Pinterest
---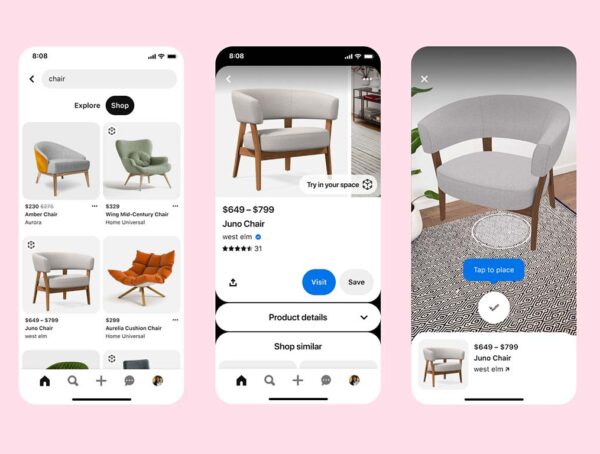 Pinterest is releasing a new AR Lens that lets users see how furniture would look in their homes before buying …