Hello, hello, have you had snow? It's been a bit cold lately so I really cannot think of a better pastime than scouring social media for fun things to share with you. Let's go!
Are you ready for this week's mashup of the funniest thing happening on social media?
James And The Rant
James Blunt is back! Yes, the one and only man we love to hate more than…Nicolas Cage. I jest of course, Nick still wins. After the shadow culture minister, Chris Bryant said James came from a privileged background, Mr Blunt bluntly told Bryant off in an open letter. The gist of it is all here  – "I happened to go to a boarding school. No one helped me at boarding school to get into the music business". Twitter is of course the arena for James Blunt's best asset, his witty comebacks to nasty tweets that is. A few of his best (and non foul mouthed) are below:
Mainly coz it's by Daniel Powter. RT @lenacoleman: Pretty sure playing James Blunt's "Bad Day" on loop is not an option.

— James Blunt (@JamesBlunt) June 19, 2014
I'm not playing. This is a serious workout. RT @chappell_lewis: James Blunt is playing in the gym. This is unacceptable.

— James Blunt (@JamesBlunt) April 25, 2014
And I'd willingly hold your hair back. RT @feebee02: @mmmhotbreakfast If a man quoted a James Blunt song for me I think I'd vomit! — James Blunt (@JamesBlunt) May 9, 2014
Insta Tattoo
Do you love your Instagram photos? Do you enjoy a tattoo or two? Well…all your Christmases have come (very) early as company INK361 released Picattoo this week. It's a service where you can create temporary tats from your artistic snaps. I cannot wait until people walk around with a breakfast on their arm and a sunset on their back! "I've got you, over my skin…"
If you like our stories, there is an easy way to stay updated:
Follow @wersm
Tumblr Fandometrics
So it looks like Tumblr FINALLY got my memo and created Fandometrics! The platform essentially compiles the top pop culture convos on Tumblr. They are partnering with Entertainment Tonight for this and as a result, the week's most popular Tumblr content will be featured in broadcasts and online. All marketers – on your markets, get set…
Vine Takes On #SOTU
On Vine it was all about Obama's State of the Union address (#SOTU for the connoisseurs) and snippets including random clapping, nose picking and a nap or two. I shall leave you with this presidential wink and a nod to the weekend!
It's good news people!
Related Stories:
You might also like
---
More from Social Fun
---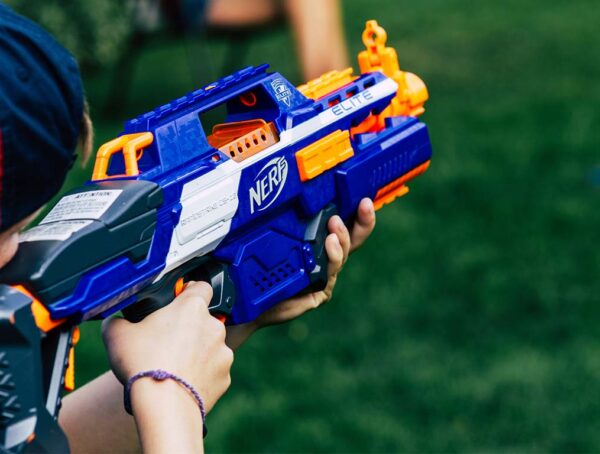 Most people have probably grown out of their Nerf obsession; if you haven't, you could become the new NERF Chief …