Happy Friday my wondrous chums, the weekend of love is upon us! I don't personally celebrate "V Day" but I do appreciate all the extra love going around. I also love a rom com, it has to be said. Although Deadpool is out today, and I definitely aim to swap the rom com for an action com this weekend… it is actually meant to be very good!
Right, here's the mashup with love…
#PostATrumpSelfie (but maybe not on an iPhone)
Twitter has been a true treasure trove of delights this week, with two wondrous funnies. First, we had people posting selfies with random stuff on their head, to mimic old Trump. Artist Moose Allan started the whole thing by posting this very inspired selfie featuring banana hair and this now famous hashtag, #PostATrumpSelfie
#PostATrumpSelfie pic.twitter.com/QFrQaljCfk

— Moose Allain Ꙭ (@MooseAllain) February 6, 2016
Twitter listened, and everyone united to create some pretty unique snaps like these…
#PostATrumpSelfie @MooseAllain pic.twitter.com/GFtRemNp3f

— wo)))uter pieterse (@Wouter_Pieterse) February 6, 2016
https://twitter.com/i_am_softlad/status/695915904979304448
@MooseAllain #postatrumpselfie pic.twitter.com/hs3FSGIX0d

— Michelle Flower (@CitizenFlower) February 6, 2016
#postatrumpselfie pic.twitter.com/WCLRD8XIDI

— Tony Cowards (@TonyCowards) February 6, 2016
Too young to Trump? #PostATrumpSelfie pic.twitter.com/bHvM769owm

— Wolfgang (@2composers) February 8, 2016
And if that wasn't hilarious enough, we also had Apple's chief honcho, Tim Cook, deleting a tweet of a blurry, amateurish photo, from the Denver Broncos' Super Bowl game vs Carolina Panthers on Sunday. The photo was taken from the 30-yard line in the Levi's stadium in San Francisco, just as celebrations got underway for the winning Broncos. Now, most people would have gotten away with a spur of the moment – kind of blurry snap – from the sidelines…not the chief exec of Apple, with its famous "shot on an iPhone 6" campaigns though!
If you like our stories, there is an easy way to stay updated:
Follow @wersm
The ridicule soon followed:
https://twitter.com/andykoh_/status/696574550193135616
@tim_cook was this pic taken with a toaster?

— Konstantinos (@KKaplanis) February 8, 2016
@tim_cook Uh… Is the message here that iPhones take terrible photos of important moments?! Because that really seems to be the msg here.

— Rich Brome (@rbrome) February 8, 2016
Unfortunately, it was all removed too quickly (some 29 minutes later) to indulge more banter. Sigh!
Puppy Love
Now, what do you get when you combine dogs and Valentine's day? A viral Facebook video.. that's what! Dewey and Blaze, two border collies from Texas, took the world by storm this week as a 19 second clip of them hugging like humans was viewed over 15 million times!
It's February! Remember to hug that special someone!Jukin Media Verified (Original)* For licensing / permission to use: Contact – licensing(at)jukinmediadotcom

Posted by Dewey & Blaze Border Collies on Tuesday, February 2, 2016
The video was so popular it was even featured on the Ellen DeGeneres show. As a result the Dewey & Blaze Border Collies Facebook page went from 200 likes at the end of January to almost 55000 this week! Woof!
Snapchat UK
Continuing with our social media love fest, we have Pepsi Max who will offer their "Chelfie" filter on Snapchat for 24 hours this Sunday. One of the first brands in the UK to adopt the Sponsored Lens feature, Pepsi Max's Chelfie
[quote]will superimpose a fizzing can of Pepsi Max Cherry over users' images and the interactive decal will then see the drink poured into the Snapchatter's mouth upon movement. The animation will end with selfies being disrupted by a "surprising and unexpected" explosion of the fruit flavoured drink.[/quote]
If you like our stories, there is an easy way to stay updated:
Follow @wersm
Over in the US, the first brand to use the new Sponsored Lenses was 20th Century Fox during the promo for The Peanuts Movie, and allowed users to superimpose images of Snoopy and Woodstock, as well as attach the series' soundtrack to their snap. It's definitely a winning combo for brands, as it exposes them to a pretty sizeable audience who loves the element of surprise. Live in the moment, right?
Fake Lovestagram
Valentine's Day can be tough/annoying/irritating for some, especially with the endless lovey-dovey snaps all over Instagram. Enter Hannah Smothers, aged 22 – a writer from New York. In the past two weeks, she has already skillfully crafted a little fake Insta romance, just in time for the love fest this weekend.
[quote]The key to this con is that it's a long one — you have to lay the groundwork early in order to really have followers believe you nabbed a doting boyfriend in time for the 14th[/quote]
she writes, in the step-by-step article she wrote for Cosmopolitan magazine.
[quote]But start too soon, and you'll find yourself backed into a corner, flustering to explain your new boyfriend to your mom by the time Valentine's Day rolls around.[/quote]
So, Hannah started out with a very 'subtle' photo of a brunch for two
https://www.instagram.com/p/BA5H9OsP-Fx
a little winking emoji next to the caption "taking refuge with a new friend", and we have lift off! Next we had the #standard flower picture
Hannah simply borrowed a bouquet from a co-worker, snapped it, captioning it: "Someone not gross sent me flowers".
If you like our stories, there is an easy way to stay updated:
Follow @wersm
Queue snap number three, a darkly-lit picture of a cocktail and a beer, with the caption "After work drinks with boy" and the couple element was introduced
"The quality of the pic does not matter nearly as much as the caption when it comes to wrangling faux-likes", Hannah comments. This is when her friends starting getting curious and got even more so after her next post
https://www.instagram.com/p/BBJNCmoP-PG
No, Hannah didn't know the guy who the arm belongs to, but again, the caption is all you need to stir that pot of Likes. Her final photo of the series — which saw her eating Thai food with a classic caption of "date night" — seemed to have finally tipped her friends and family over the edge. It's when she decided to put a stop to it as "it's one thing to lie without abandon on Instagram, but it's quite another to just straight-up lie to close friends and family."
Hannah concludes:
[quote]Now that my secret has been revealed, it's time for my Insta boyfriend and I to break up. He's been absolutely lovely, I enjoyed the likes these total lie posts brought, but we're through. Time to move on. I've missed posting my usual selfies and mirror selfies. Insta boyfriends (and IRL boyfriends) come and go, but selfies are forever.[/quote]
That's your lot, I leave you with this wonderful Vine of my favourite, Jeff Goldblum <3
https://vine.co/v/iJVhe0qUEHV
---
You might also like
---
More from Social Fun
---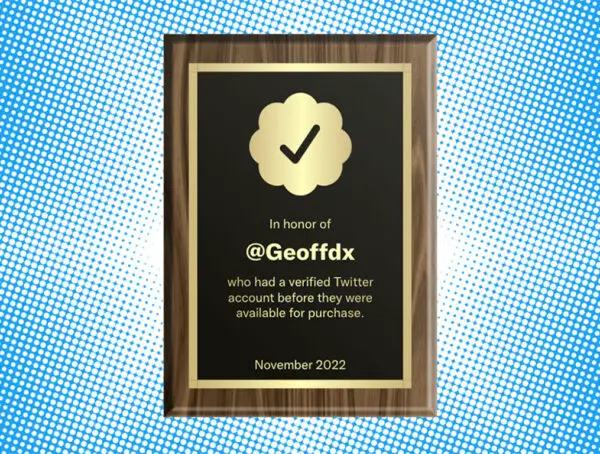 Veriforever is a web app that lets you create a personalized plaque to commemorate your Twitter verification. Before Elon takes …