Gimme an F, gimme an R, gimme an I…ah, you get it! Cue all the celebratory emojis, even the weird ones four swipes across to the right. I've had an insanely busy week at work, and my caffeine intake levels have been higher than the little balloon house in "Up".
I tried watching "Up" the other day on Netflix (no chill), but my Sky Broadband was so non-stellar, I had to quit halfway through. So no, I still don't know what happens to the Scout kid and the lovely old man.
What are weekends for though, right? Speaking of weekends, you need your roundup of social media fun of the week like my brain needs a massage. So here we go:
Uber Ugly
Now we all know Uber. Nice little U on its logo, it's called what it says on the tin. No longer! The formidable "taxi-hailing" app has unveiled a new logo and branding this week, much to the collective sigh of horrified disgust from Twitter.
In it's brand new look, it has replaced its U logo with black and white branding, with a circle for riders and a heptagon for drivers, both versions with a square "thing" inside.
If you like our stories, there is an easy way to stay updated:
Follow @wersm
Announcing the change in their newsroom, CEO Travis Kalanick said the square "thing" would be a key part of the new design. As he explains,
[quote]With the potential for many apps with many app icons, we needed one approach that connected them all. So we came back to our story of bits and atoms. You'll see that both rider and driver icons have the bit at the center, and then the local colours and patterns in the background. This is a framework that will also make it easy to develop different icons for new products over time.[/quote]
All this because Kalanick felt the old logo was "distant and cold".
[quote]Every city has its own character and our long term goal is to have unique designs for cities as well as countries. This will mean adding hundreds more colour palettes and patterns overtime.[/quote]
The design team were apparently inspired by the "Georgian architecture and lush greens" of Ireland, and the "pink and the pattern of the local tiles" in Mexico. Twitter was definitely less than inspired by it all:
Uber CEO Travis Kalanick personally helped design the new logo, and it shows. A disaster. https://t.co/oYXMFsfucX via verge

— Thebe Ikalafeng (@ThebeIkalafeng) February 2, 2016
https://twitter.com/MattDronfield/status/694639353272877056
https://twitter.com/vjanbazian/status/694929540968226816
@Gizmodo While the rest of the world tries to figure out what the new #UberLogo means, #UberDrivers already know! pic.twitter.com/Cb6i3e9GJ8

— NARDA (@FlipUber) February 3, 2016
Instavideo
Everyone loves a video, and the top apps out there have all tried their hand at making original video part of their success. Snapchat's recent attempt at scripted shows didn't go so well and it closed Snap Channel in Autumn last year, after realising it was going to be a real deal money burner.
If you like our stories, there is an easy way to stay updated:
Follow @wersm
Enter Instagram, and Shield 5, its first original video series. The show (directed by Hello Carter's Anthony Wilcox) is the nail-biting story of a security driver framed for involvement in a diamond heist. Instagram's 15-second video format of course means that you will only be getting in on the action in very small doses. The series is made up of 28 episodes, designed to roll out throughout February, with the first episode launched on Tuesday.
The whole show amounts to a total of seven minutes, so if you've ever felt that your favourite drama series has dragging on a bit…watch this! Why this move? Instagram makes money from promoted content, so if it gets you hooked, you'll come back regularly to get your fix.
Watch this space…
Facebook Play
See, I told you all the apps are doing the video shuffle. Facebook's autoplay videos are probably the most viewed but just how do you grab someone's attention with a muted clip, just enough to stop them dead "in their scroll"?
Enter Butterfingers, and its Super Bowl Facebook video ad. Part of its "Bolder than Bold" campaign, Butterfinger has been keeping its creative cards close to its chest, releasing a series of teasing clips, in preparation for the big reveal this Sunday.
[quote]You've got to stop someone's thumb as they're flipping through their feed, so there are certain things you can do with your color, font, characters, size and positioning of branding that will get consumers to stop, engage and turn on their sound,[/quote]
explains Kristen Mandel, Butterfinger's marketing manager.
Last week, the brand posted 30-second teaser with comedian Billy Eichner on Facebook and YouTube. The opening scene, showing Eichner popping out of the Butterfingers tagline, was apparently a production-tip from Facebook itself, designed to hook viewers from the very first shot.
[quote]They [Facebook] helped us get to that opening card—there were multiple iterations and [finding] the right balance between the creative components to maximize consumer engagement,[/quote]
explained Mandel.
To get around the "no sound" barrier, subtitles run along the bottom of the screen when viewed from the newsfeed, as an extra incentive to click. Once someone clicks, it expands to a full-screen view and the subtitles disappear.
And since a video wasn't enough for Butterfinger, they also went and made a GIF. The 12-second GIF uses a loop of a scene from the main ad, and has already clocked over half a million views.
According to Facebook's own research, Butterfinger is wise to be tapping into video posts, as it claims that 45 percent of people who watch the first three seconds of a video go on to watch at least 30 seconds – and 65 percent of users view at least 10 seconds of it.
Not bad numbers righ there!
If you like our stories, there is an easy way to stay updated:
Follow @wersm
Up Up and Snapchat
And since I mentioned Up earlier… Snapchat is bang on my trend! Some mighty nifty Snapchatters have
1. too much time on their hands
2. discovered that one of the app's filters, if used just right, can transform any pet dog into Dug from Up.
Here are some gems… now go create your own:
https://twitter.com/sarahbenson08/status/692217701650034689
https://twitter.com/drewhendee/status/691414914859081728
https://twitter.com/millyjblandford/status/690920674928517120
As Buzzfeed says, "what a time to be ALIVE"!
Up Up and Weekend #DoIt
---
You might also like
---
More from Social Fun
---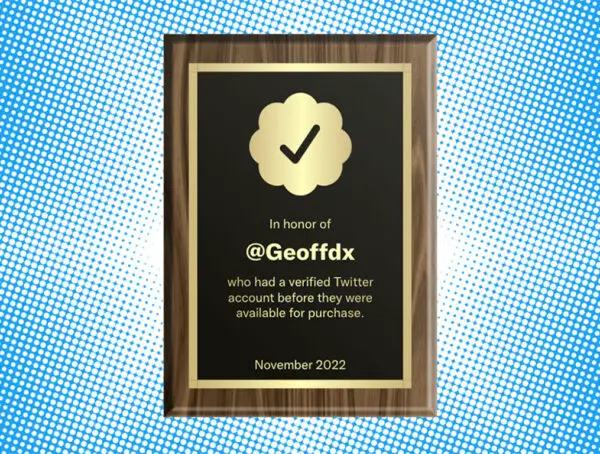 Veriforever is a web app that lets you create a personalized plaque to commemorate your Twitter verification. Before Elon takes …