Well, well, well, here we are – new year, new us! Have you broken any resolutions yet? How hard has it been getting back to work?! I tell you, going back to 6.30AM wake up times and not eating every second of the day has been a challenge. I've also started exercising again after a two-week break, and I feel like a narcoleptic worm who's eaten a dozen Krispy Kremes.
Yeah, it's THAT bad. But thankfully, the mash will make us all feel better.
#TheForceIsStillAwakening
Hey, so you know how I told you all about that parody Twitter account for Emo Kylo Ren during all that Star Wars social media madness?
If you like our stories, there is an easy way to stay updated:
Follow @wersm
Well, now we have even more exciting parody accounts to keep you nice and humorously awakened! There's Very Lonely Luke with gems like this
I've been saying for years that I can juggle.

But really I cheat and use the Force.

No wonder I don't have any friends.

— Very Lonely Luke (@VeryLonelyLuke) January 7, 2016
There's Arrogant BB8 who posts thoughts like this
*knows R2-D2 is the one who made sassy droids popular*

*isn't grateful at all*

— Arrogant BB8 (@ArrogantBB8) January 5, 2016
and non arrogant B88  with lovely tweets like these
— BB8 (@BB8) January 6, 2016
*saves the galaxy – beeps excitedly*

— BB8 (@BB8) January 6, 2016
There's Han Solo being a bad parent
Luke, stand on top of a mountain & say nothing if you think my son is THE WORST. pic.twitter.com/f9VpFzUl20

— Bad Father Han Solo (@BadFatherHan) January 6, 2016
When you finally decide Ben isn't your son anymore. pic.twitter.com/uOqQZelhZw

— Bad Father Han Solo (@BadFatherHan) January 7, 2016
And my personal favourite, Depressed Darth  with
When you try to eat a banana but can't fit it through your mask https://t.co/zyiFIeonxr

— Darth Vader (@DepressedDarth) January 7, 2016
and
What most people would use the force for https://t.co/ZXDpWhGnSH

— Darth Vader (@DepressedDarth) January 7, 2016
Insta Gets Snappy
Instagram's answer to Snapchat's Stories is here. After piloting it around Halloween and focusing on major holidays, Instagram has now decided to make Spotlight a permanent feature. What is it? In short, slideshows of the best videos related to a certain theme.
If you like our stories, there is an easy way to stay updated:
Follow @wersm
You will be able to check them out in the Explore tab and the Instagram community team has been hard at work coming up with themes. This curated, filtered channel holds huge opportunities for brands… Watch this space!
SnapStreet Journal
And speaking of Snapchat, the latest brand to join the app, and publish its content via the hippest app on the block, is The Wall Street Journal. WSJ launched its Discover channel in the U.S. this Wednesday, becoming the 19th publisher to join Discover since it launched a year ago. The Journal is the only real business publication on the service.
Carla Zanoni, the editor in charge of audience development says:
[quote]"We're obviously looking at this as a platform where we can explore delivering news to a new audience. The [Snapchat users] who are really aspirational and entrepreneurial are our next CEOs. They're the folks who will have a very long-lasting relationship with the Journal, and we're looking to meet them where they live today."[/quote]
With over 100 million daily active users, many of which are young people, adding established brands like the WSJ will appeal to an older audience too. Expect to see up to eight snaps a day, Monday to Friday.
Facebook Does Burns
Angry Scots are up in arms after Facebook added a Union Jack emoji to all status updates about Burns Night.
This most Scottish of events is available from a list of celebrations in Facebook's "what you're doing or how you're feeling" and when selected, it automatically inserts a Union Jack in the status. Facebook is becoming rather proficient at messing up emojis… Back in November, it offered users the Romanian flag to celebrate St Andrew's Day…oh dear!
Have a wondrous weekend!
If you like our stories, there is an easy way to stay updated:
Follow @wersm
---
You might also like
---
More from Social Fun
---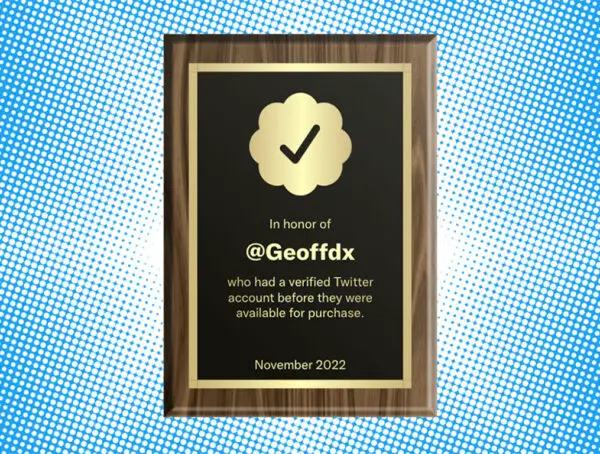 Veriforever is a web app that lets you create a personalized plaque to commemorate your Twitter verification. Before Elon takes …