Hi all, hope you are well and had a good week. We haven't spoken since last Friday and some very unsettling things have happened in the meantime. The world is getting increasingly grim, and the tension is becoming palpable.
There is a lot of anger and animosity out there and the only way I know how to counteract that is by looking for positivity. One of the main reasons I write the Mash is to add to the happy Friday feeling and to bring a smile or two to the people around me.
Without further ado, I give you the mash!
Cat Facts
Straight onto Twitter and we have cats! Woohoo! People generally forget that social networks are public spaces, and so they post details like addresses, emails and phone numbers all over the place. ALL of these can be found and used against you. A few Twitter users are currently learning this lesson, the "cat facts" way. Huh? Essentially, a privacy concerned citizen has been scraping publicly posted phone numbers and sending them interesting facts.
A lot of interesting facts about cats. The only way to stop this delightful flow of furry info is to tweet " @Snowden "Meow, I <3 catfacts"
https://twitter.com/artaimh/status/666964060936736768/
To unsubscribe, tweet @Snowden "Meow, I <3 catfacts" Stop spamming me with this!!!!!!! Ps: I hate cats!

— Paola Bisoneaux (@bisoneaux) November 12, 2015
The coder behind the project says the main aim of this " is to spread awareness of operational security".  
[quote]When people tweet pictures of their drivers licenses or debit cards, they usually understand their mistake upon someone retweeting it. When they tweet their phone number, they think nothing of it. If the messages sent to them were malicious, [they] could be exploited with ease.[/quote]
The whole process of sourcing the numbers and texting them is automated with just two scripts. Yep, it's that easy. As for tweeting Snowden to lift this cat fact bonanza? The coder simply says "why not?"
"When he joined Twitter, [Snowden] expressed his appreciation for cats," and since he is the poster boy for everything privacy, it seemed like a logical move.
Purr.
Finstagram
Let's face it, Instagram is for a lot of people a social CV designed to cause envy, produce likes and maybe lead to a brand asking you to plug in their product. Ever since Sociality Barbie, the homogenous aspects of the platform are becoming more and more apparent with authenticity fading in the heavily filtered background.
If you like our stories, there is an easy way to stay updated:
Follow @wersm
Enter a few groups of young adults who, in search for some authenticity, have created "finstagrams," or fake Instagram accounts. These locked accounts are designed to capture something very rarely seen by the followers of these same users' main accounts: reality.
[quote]Finstas are private accounts that you only let your closest friends follow… You post things you wouldn't want people other than your friends to see, like unattractive pictures, random stories about your day and drunk pictures from parties.[/quote]
says Amy Wesson, an 18-year old student at Trinity College, who has more than 2,700 Instagram followers, but only 50 finstagram followers.
Over half of the 92% of teenagers aged 13 to 17 who go online every day are Instagram users.
[quote]Before, while you were sleeping, you were sleeping. Nobody was judging you, and you weren't waking up to an entire other self that existed in this online space that's being commented on.[/quote]
explains Leora Trub, an assistant professor of psychology at Pace University. For many young people, social media has become a burden, a part of life that must be managed. Because they are locked, finstagram accounts allow you to screen your followers; so nobody can follow you without your permission not leave random feedback on your personal snaps.
In the age of easy access, are we trying to claw our privacy back? "These platforms aren't going anywhere, and we won't get anywhere by trying to fight them or say they are bad," says Dr. Trub. "We need to be aware of how they're operating for us and to build more agency around how we interact with them. That's the best we can hope for."
Have you got one?
SnapMadrid
The latest brand to tap into the Snapchat money stream is Real Madrid C.F. The world's most valuable soccer team, valued at $3.26 billion by FORBES this year, is now doing what it can to assert its dominance off the playing field as well.
The first Official Live Story for Real Madrid will capture this weekend's 'El Clásico' where the team takes on Barcelona. Spectators will have the opportunity to submit their Snaps to a Live Story on their mobile phones, for potential inclusion in the Story.
In the last 48 hours they have also launched their official Snapchat account. In the first 12 hours they averaged some 200,000 views per story posted. "We keep an eye on every single social media network and have seen how Snapchat has been growing and growing in past few months . . . especially with millennials," said the Global Head of Media for the club. "We are very keen on taking advantage of every single channel out there to communicate with our fans and capture the next generation of fans."
If you like our stories, there is an easy way to stay updated:
Follow @wersm
While Real Madrid is new to Snapchat, it already has over 85 million likes on Facebook and more than 17.5 million Twitter followers at the moment. "We have 450 million fans around the world. Our goal is to reach every single one of them regardless of whether they are here in Spain, Malibu or Alaska. This is a content driven deal. Monetization down the road may be an opportunity, but it isn't driving us right now."
Snapchat is TOTALLY the new Instagram for brands, no matter what game they're in.
TumblrChat
You know my warm, fuzzy feelings about Tumblr, so when it launched its instant messaging feature to a limited number of users on November 11th, I was excited.
And it definitely seems I wasn't the only one. The lucky few trying it out, sent more than 9 million messages in the first two days!
[quote]This has by far and away been the most requested feature,[/quote]
said David Karp, Tumblr's founder. In the first 48 hours messaging spread from 1,500 to 450,000 blogs. Twice as many messages are being sent per second as posts being created, and about 70% of messages lead to a two-way conversation.
If you like our stories, there is an easy way to stay updated:
Follow @wersm
Chat is big business, so Tumblr is tapping into a massive market here if you consider that in 2014, WhatsApp handled some 64 billion messages in 24 hours. "Tumblr didn't start off as a particularly social platform," Karp says.
[quote]It started as a publishing platform, so now to go all the way to chat and messaging is quite an evolution.[/quote]
I think it will definitely catch on, and be seen as the "cool kids" chat, the creative channel where ideas flow, and amazing projects come to life. Maybe some startups will come together and plan on changing the world on it – watch this space.
Have a peaceful weekend, enjoy yourselves!
---
You might also like
---
More from Social Fun
---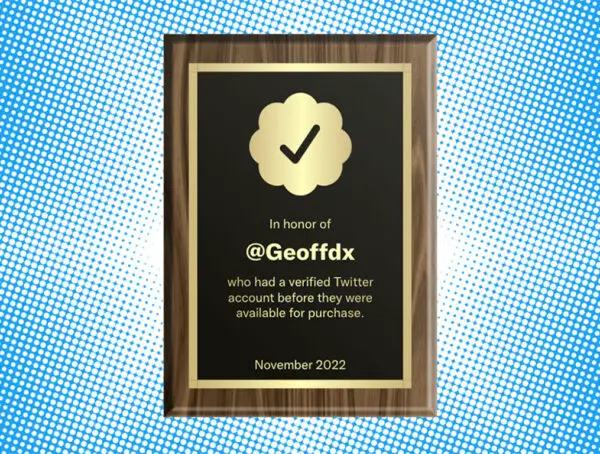 Veriforever is a web app that lets you create a personalized plaque to commemorate your Twitter verification. Before Elon takes …