Hello! Hi! Can you believe we are only two days from the end of Daylight Saving time? Extra snooze time for all of us! A few years ago, I managed to book myself flights on both days that clocks change. In March I missed the flight, in October I thought there was some weird delay they weren't talking about and I was clearly the only one at the airport thinking this. It was all very strange. I know, don't even ask.
Anyway, much to talk about this week, we had Back to the Future Day, the new Star Wars trailer came out, and everyone was really happy on social media. Let the mash tasting commence!
#BTTF
Ok so the Back to the Future movies are some of my absolute favourites ever, so the fact that Wednesday this week was Oct 21st, 2015 – the day Marty McFly gets sent to the future – was simply amazing. #BTTF was the hashtag de jour and everyone got involved on Twitter and Instagram alike!
Nike sent Michael J. Fox (Marty) the first ever pair of self lacing shoes accompanied by this letter:
The letter I received from Tinker today. Thanks @Nike pic.twitter.com/UIolXrkUVC

— Michael J. Fox (@realmikefox) October 21, 2015
Obama sent his Happy BTTF Day wishes to Fox as well:
Happy Back to the Future Day, @RealMikeFox! Ever think about the fact that we live in the future we dreamed of then? That's heavy, man.

— President Obama (@POTUS44) October 21, 2015
and Toyota proved the future is as the movies predicted:
The future we've been waiting for is here. The #ToyotaMirai hits CA streets today. https://t.co/RH4MXkcl3P #BTTFhttps://t.co/amWjhPTsRp

— Toyota USA (@Toyota) October 21, 2015
They even shot an ad featuring Doc and Marty discussing inventions that haven't yet materialised, and the one that has…
https://youtu.be/xFyY7_hc-14
Pepsi even produced a limited supply of Pepsi Perfect (Marty's favourite drink in case you didn't know) and sold it via Amazon on the day:
All you wanted was a #PepsiPerfect? Available on 10/21/15 at https://t.co/tJxg2Et8ZH while limited supplies last. pic.twitter.com/WkSSwVNGS6

— Pepsi (@pepsi) October 20, 2015
All in all, it was a Great (Scott) day for all!
AI Doc Brown
And if one BTTF day was not enough for you, Universal Pictures has setup an AI Doc Brown on Facebook for the next seven days!
The film studio's home-entertainment arm, and Imperson – an artificial-intelligence software company – have created the Doc Brown virtual character so that Facebook users can initiate real-time chat conversations with Doc. It's all part of the marketing celebrations for the 30th anniversary of Back to the Future and the re-release of the series on Blu-Ray, DVD and in theaters.
If you like our stories, there is an easy way to stay updated:
Follow @wersm
Universal's vice president of digital marketing Joe Eibert said:
[quote]For the millions of Back to the Future fans who've been waiting for today since 1989, we wanted to create an experience that let them play an integral role in progressing Doc Brown's time-bending storyline forward. With Imperson's AI-powered character technology, we were able to develop a virtual Doc Brown in all his likeness, to truly bring the iconic movie character to life.[/quote]
What will you ask him?
The Force Awakens
And if that delicious serving of film greatness wasn't enough, we also had the release of the new Star Wars movie trailer this week! Released on YouTube on Tuesday.
The Force Awakens teaser has already been watched over 37 million times and the movie smashed records for advance ticket sales at US and UK cinemas. with many early screenings being completely sold out.
If you like our stories, there is an easy way to stay updated:
Follow @wersm
I for one, am ridiculously excited as Star Wars was a staple in my childhood, and I wanted to be Princess Leia so bad! I used to get my mom to style my hair into the iconic plait-bun earmuffs. I know. I might recapture it all for Halloween. Which reminds me, next week's MASH will be bloody frightening. Muahahaha.
Where we are going, we don't need alarm clocks!
---
You might also like
---
More from Social Fun
---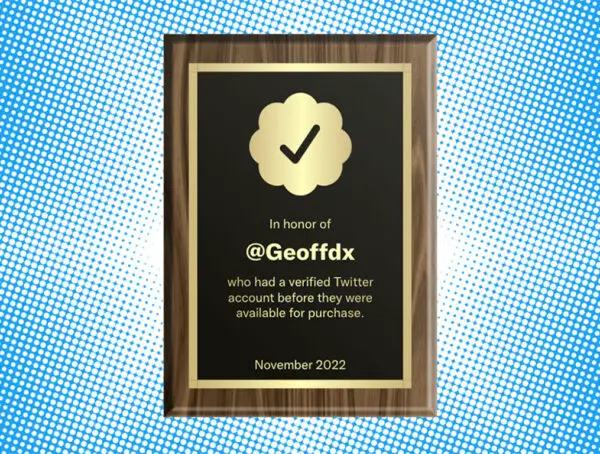 Veriforever is a web app that lets you create a personalized plaque to commemorate your Twitter verification. Before Elon takes …