Do #ForYou Page hashtags work on TikTok? Hootsuite's Senior Social Marketing Manager, Amanda Wood, and her team seek the answer.
If you've seen popular TikTok videos, you've probably noticed TikTok influencers tagging the "For You" page using tags like #foryou and #fyp. For non-TikTok users, the "For You" page is the equivalent of Instagram's Explore page – a personalized, scrollable feed of content that serves as the platform's main content discovery tool.
The "For You" page is also known for its fine-tuned algorithm that produces accurate recommendations based on each user's actions on TikTok. Hashtags indicate (for both users and algorithms) that a piece of content relates to a specific topic or belongs to a category.
Hashtags also help make content discoverable in on-platform searches and effectively reach more people. So, does the TikTok algorithm consider For You hashtags when deciding which content is worthy for the coveted "For You Page"?
There's only one way to find out.
We tested this in our latest social media experiment around whether or not For You hashtags help generate more reach. As always, we teamed up with our friend Stacey McLachlan to conduct this experiment.
As platforms and algorithms continue to evolve, I find myself learning new things about social platforms all the time. We hope you find these experiments as helpful as we do in strategizing and managing your social media every day.
The Experiment
First, we developed a hypothesis for our experiment. Despite the wide usage of the For You hashtags in content, we generally know how the TikTok algorithm works. Therefore, it seems unlikely that simply using these tags would actually drive an increase in reach or impressions.
While TikTok recommends hashtags, the platform uses hashtags to recommend videos that are "based on content that you tend to seek out."
We found that there are many For You hashtag variations, such as #FYP, #ForYou, #ForYouPage, that users use in an attempt to make it onto the For You page, where seemingly all the TikTok stars are born.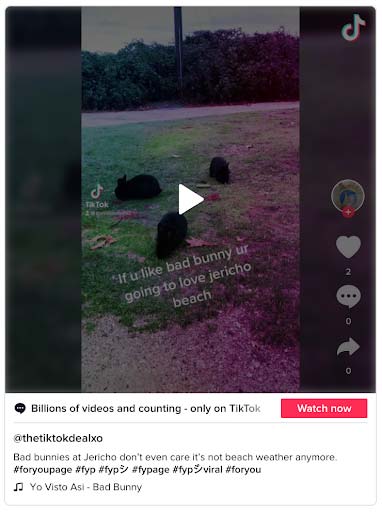 Using a test account, we posted a few TikTok videos using no hashtags and left them up for a week to see how they would perform. After the week was up, we removed the videos from our account and reposted the same videos with all the For You Page-related hashtags we could find.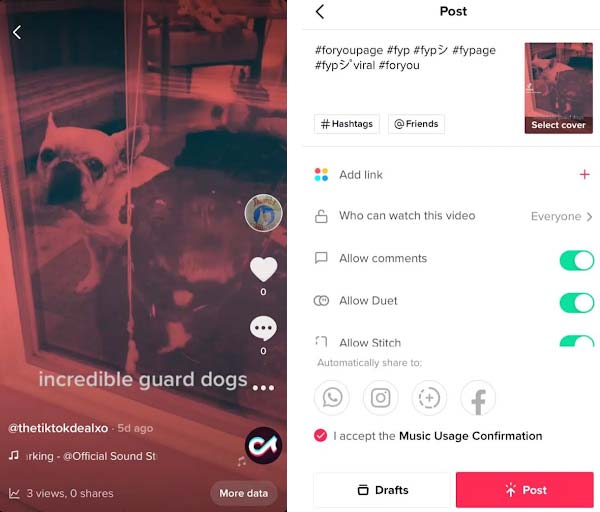 We didn't use any other hashtags aside from the For You hashtags to make the comparison as accurate as possible. Stacey also included captions in a few of the posts, but the same caption was used in the non-tagged videos to ensure all the content stayed consistent.
All the non-tagged videos were posted one after the other, and Stacey waited six days to round up the results. She repeated this timing with the tagged videos the following week.
Key Learnings
So, what did we discover? As we hypothesized, tagging videos with For You Page-related hashtags similar to the ones we had seen other influencers use didn't increase our reach at all.
While there was one tagged video where we did receive a few more likes, other untagged videos generated more views. But, according to Stacey, "the difference is so negligible, I don't think we can draw any conclusions from either."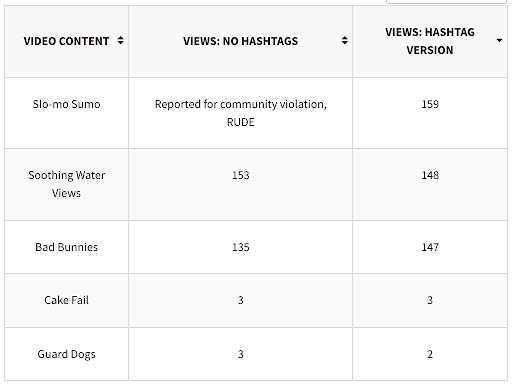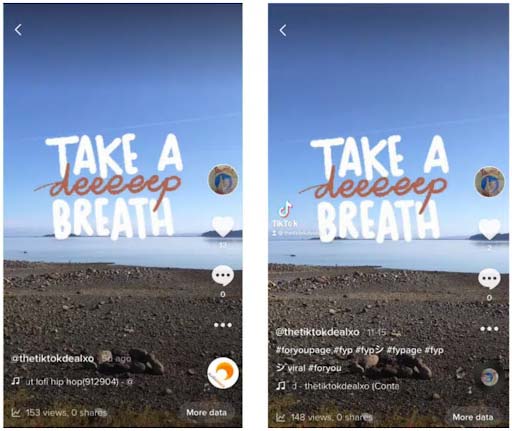 Though the hashtags didn't generate any extra views, they also didn't seem to hurt the videos that Stacey posted with the For You Page tags. Stacey expressed the conclusion of her experiment brilliantly:
"If I were worried about squeezing the full potential out of every single character in my limited caption space, I would think twice about using those generic types of hashtags in the future," she says. "Each letter I plug in there is eating up precious digital real estate I could've used for more specific tags like #sumobutts or #cutedogs that might've gotten me attention from new audiences."
So, how can you use hashtags effectively on TikTok or generate For You Page-worthy content?
Well, just like buying followers has proven to be ineffective, simply using a popular hashtag won't trick TikTok's complex algorithm into sending more likes, comments, and shares your way. Aside from jumping on trending audios and creating content that's entertaining and relatable for your audience, use hashtags that are relevant to your content, use a social listening tool, study your audience's hashtag habits, try a mix of different TikTok hashtags, or even create your own branded hashtag.
At the end of the day, that is really what will get you the likes and views on TikTok. We've even created a guide around the TikTok For You Page!
As I've said previously, hashtags can take up space, and this space could be better used to ask questions, show your brand's personality, or tag other brands to engage with your post.
We hope you found this experiment helpful! Check out the Hootsuite blog for more experiments, industry updates, and social media news.
Amanda Wood
manages the brilliant Social Marketing team at
Hootsuite
. With over seven years of experience in social marketing, she's been at the forefront of driving brands to adopt a social-first mindset. Amanda is responsible for setting the organic and social boosting global social strategy and oversees publishing and engagement on all brand social channels.
---
You might also like
---
More from Experts Talk
---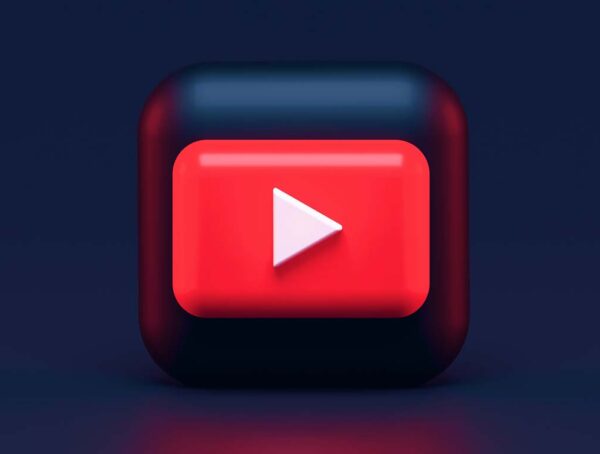 In this month's social media experiment, we set out to find out whether posting YouTube links on other platforms results …