Reports suggest that WhatsApp's "Dark Mode" is imminent. If you can't wait though, there's a simple workaround to simulating it in your chats.
So many apps and operating systems are going dark these days. YouTube, Twitter, or Telegram for example (surprisingly not Facebook) have a Dark Mode. I mean why wouldn't they? The amount of screen-time we get on a daily basis is so very tiring on the eyes! Since September it has been rumoured that WhatsApp on iOS will soon get an upgrade that will bring Dark Mode to the app, much to the delight of its 1.5 billion users.
At the time, after finding "secret references" in updates, WABetInfo tweeted the news.
https://twitter.com/WABetaInfo/status/1040644441340608512
But so far nothing has materialised, making us all hope that it's going to be added in the app's next update in 2019. We know now that it's not going to be part of iOS update 2.19.10.21 which brings Stickers on images, videos, and GIFs, the ability for all chat participants to reply privately (available in Android's 2.18.335 beta update), and 3d touch actions for Status.
WhatsApp beta for iOS 2.19.10.21: what's new?
Place personal and content stickers on images, reply privately feature enabled and other important improvements!
Available the next week on the App Store!https://t.co/fnY903Z06y

— WABetaInfo (@WABetaInfo) January 4, 2019
You can read more about these new features here. Here are a few screenshots of what WhatsApp's Dark Mode may look like.
While no official release date has been set for WhatsApp's Dark Mode, and the company hasn't commented on it at all, the good news is that you can try a little "hack" to simulate Dark Mode in chats. All you have to do is choose a black background for the chat page. Go to Settings, tap on Chats, then Chat Wallpaper, and pick one of the "Solid Colours." Pick a dark colour and tap Set to apply.
You could also create your own dark image to use as a background, save it to your camera roll and simply use it instead of a solid colour in the Chat Wallpaper settings. While this solution only applies to the message background, it doesn't solve our problem. For that, we need to wait for WhatsApp to announce its proper Dark Mode finally.
---
You might also like
---
More from WhatsApp
---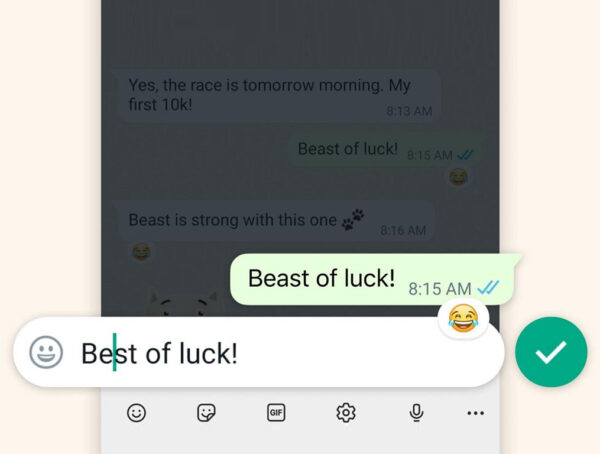 WhatsApp announced today it will finally let users edit messages, one of the most anticipated features. You will have 15 minutes, …