Google now lets businesses add More hours for services like delivery, takeout, drive through, and pickup, in Google My Business.
To help businesses adjust to current and future challenges, Google is rolling out a new feature that lets businesses specify a different set of hours when certain services are available. For example, a restaurant might be open from 12 noon until 12 midnight, but takeout or pickup is only available from 5 pm on Tuesdays and Thursdays.
The owner of the restaurant in question can now modify hours the Google My Business profile to add the takeout or pickup hours to the existing regular hours. Then, when users search for the restaurant, they will be able to see the new extra hours on Google Maps and Search results. The only thing they would have to remember is that More hours will only show up if regular hours have been specified.
Furthermore, Google specifies that certain More hours can only be set for specific business types.
Set More hours In Google My Business
Here is how to set More hours for services like delivery, takeout, drive through, and pickup – on selected days of the week – and surface to customers on Google Maps and Search.
Sign in to Google My Business.
Open the location you'd like to manage.
Click Info.
Click the Edit pencil next to "More hours."
Click on the type of hours that apply, in the "More hours" box under "Add hours."
Check the box and enter your hours, next to the day of the week you want to change.
Click "Apply" after entering all hours.
More Hours Vs Special Hours
You might need to temporarily change your business hours on Google My Business for holidays, special events, or other "exceptional circumstances." Again you will need to have regular hours to be able to have your special hours show up. If you set Special hours, your business' regular hours will not change.
You should confirm your hours for official holidays even if those hours are the same as your regular hours. This way, customers will know that your holiday hours are accurate. It might be a good idea to check the list of holidays on Google by country and region to set these up.
If your business provides specific services at different times (e.g. senior hours, delivery, takeout), it's best to use More hours.
Set Special Hours on Google My Business.
Sign in to Google My Business.
Open the location you'd like to manage.
Click "Info" and then "Special hours." (You'll only be able to see this if you've already set regular hours.)
Next to an upcoming holiday, click Confirm hours. Or to choose a different date, click Add new date.
Enter the opening and closing times for that day.
To mark the location as closed all day, slide the circle to "Closed." If you're open 24 hours, click "Opens at," and from the drop-down menu select "24 hours." If you enter closing hours past midnight, make sure to set them properly.
When you've finished entering all of your special hours, click Apply.
Please Note:
Special hours will appear to customers on Google only for the designated days.
For 2 sets of special hours on the same day, enter them in separate rows. To add another row of hours, click Add hours.
You can also set Special hours via spreadsheet, or set hours that extend into the next day. You can find out here how to do that.
---
You might also like
---
More from Google
---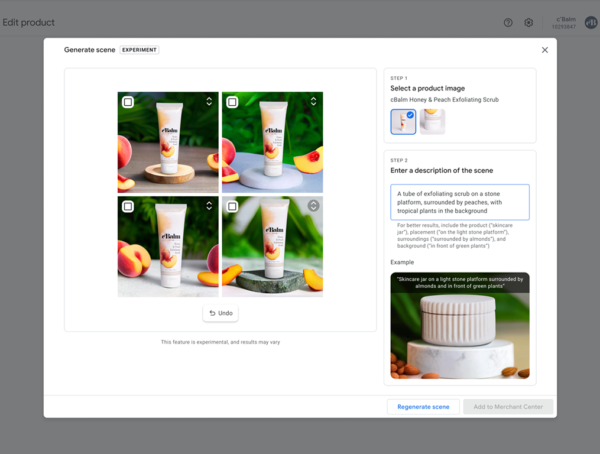 Google is launching Product Studio, a new tool that lets merchants create product imagery for free, using generative AI. Google Product …