If you're wondering how you can get more engagement from Facebook in 2019, here are three key factors that will help you figure it out. 
For its 2019 Guide to Facebook Engagement, BuzzSumo looked at 777 million Facebook posts throughout the past year and found answers to some of the perennial "burning questions" that all social media marketers want the answers to: "What is the best type of Facebook post?", "What is the best time and day to post on Facebook?", and "What is the optimal length of a Facebook post?" You might already know the answers, but these are three of the most important factors that will lead to Facebook engagement.
The Best Type Of Facebook Post
No surprises here, as the most engaging type of Facebook post in 2018 was video. I say "no surprises," since video has remained the most engaging type of Facebook post for the last few years. Nothing has changed in this time, and it is highly unlikely to change anytime soon. After all, Facebook places a lot of emphasis on the format and considers video views to be meaningful interactions – and that's what Facebook is aiming for on its platform.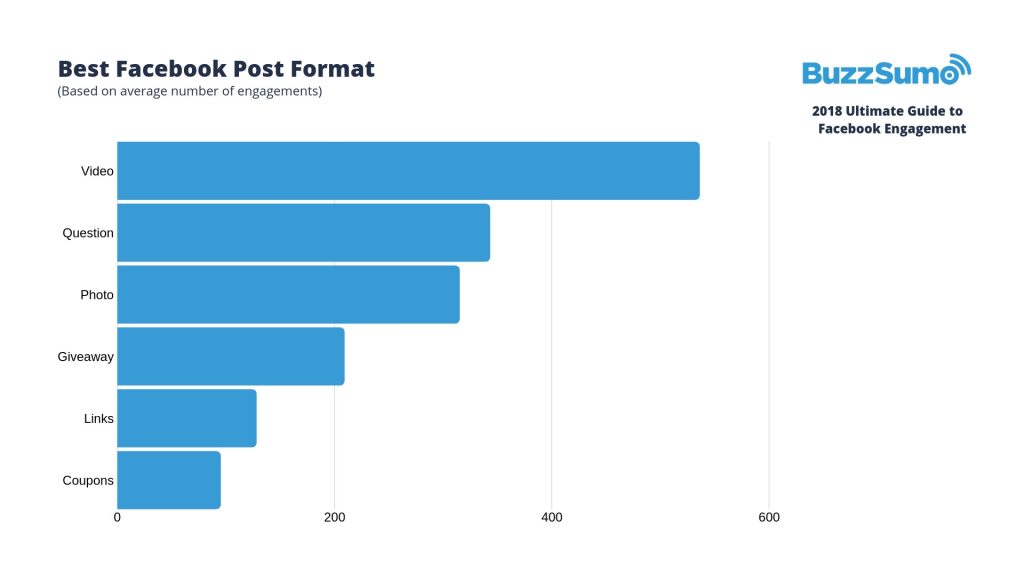 According to BuzzSumo's study, video posts received at least 59% more engagement than other posts types on average. Images, which most marketers still consider to be one of the most engaging post types, were outperformed by 73%!
You may argue that video – and longer video in particular – might be expensive and time-consuming to produce. It is, especially if you're trying to produce lots of it. However, quantity shouldn't be your goal here. It may be ideal, to post less (and less often), aiming for reach and engagement. As Mari Smith, Facebook Marketing Expert, explains,
"Rather than increasing the volume of your Facebook posts to try and get more reach and engagement… publish fewer posts and focus on the ROI of each individual post." Furthermore, to maximise engagement using the various content types, Mari suggests a "content type ratio for 2019" at "70% video posts, 20% image posts and 10% link posts. Video and image posts can still include links and CTAs."
The Best Time And Day To Post On Facebook
Which is the best time to post on Facebook is a question as old as the social network itself – or at least ever since businesses began using the platform. And although we tend to generalise the answer, the truth is that audiences and their habits differ so significantly (as do industries), that we should always take these as a starting point rather than gospel.
In any case, according to BuzzSumo's study, posts published between 9 pm and 11 pm EST seem to perform the best. As such, the recommendation is to test, factoring in specific audience routines.
The following table and graph provide only general guidance.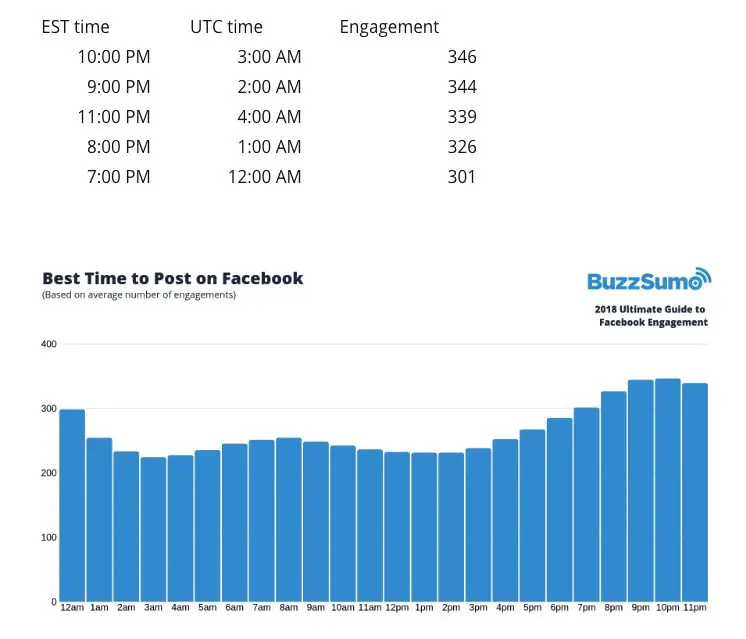 Regarding the best day to post, BuzzSumo found that Saturday and Sunday provide the most engagement. As mentioned above you should take this with a pinch of salt and test with your audience. Your social media manager might not like it, but how about trying it out and posting during the weekend?
The Optimal Length Of A Facebook Post
According to the study, the optimal number of characters for a Facebook post is up to 50 characters. This means that "less is more." Brevity is important, as BuzzSumo's Susan Moeller explains:
"Facebook consumption is extremely passive, and attention spans are short. You need to be able to grab people's attention quickly and effectively if you want to be noticed."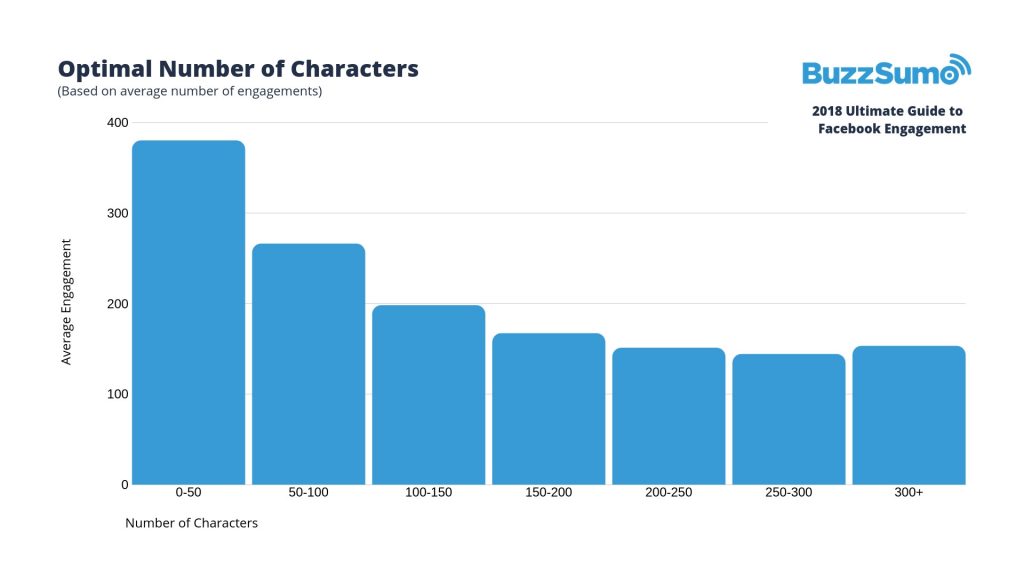 On the other hand, BuzzSumo found the ideal length of video posts to be 3-5 minutes – with the sweet spot between 3 to 3:20 minutes. Still, the main role of text is to grab attention and convince a viewer to watch the video.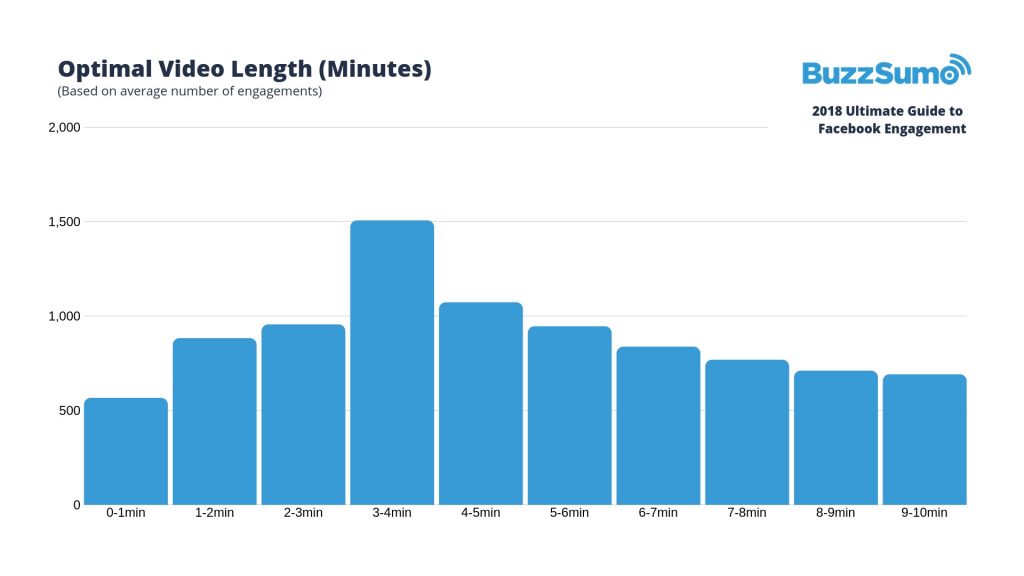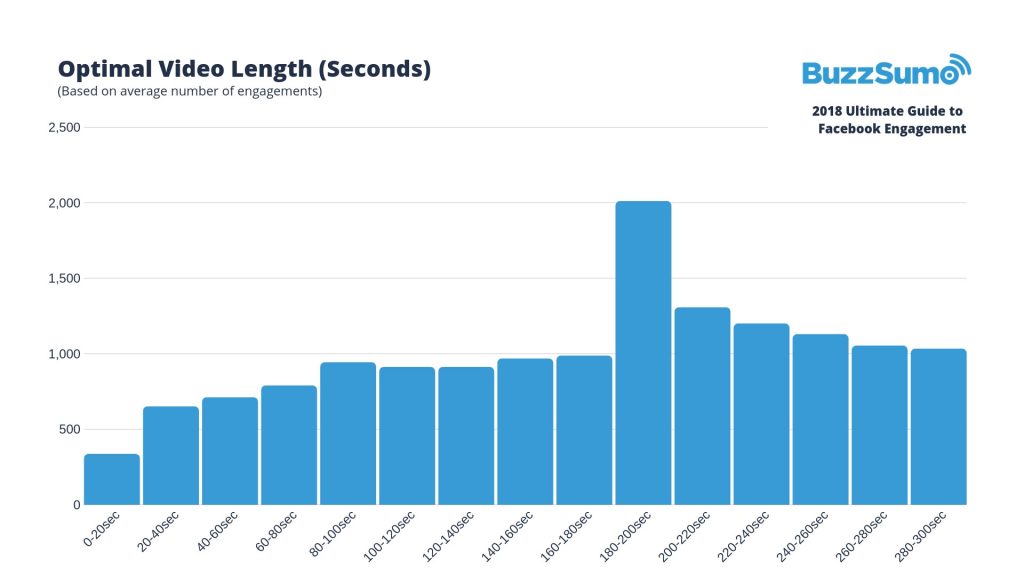 Again, remember to test these results with your audience, and only use them if they make sense for you.
---
You might also like
---
More from Experts Talk
---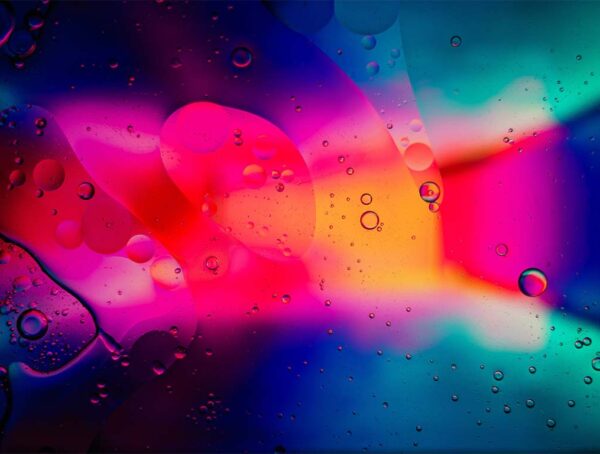 In this month's experiment, we set out to find out whether adding custom alt text on Instagram posts improves reach.