Please welcome this week's 12 Questions Expert Spotlight guest, Director of Brand Strategy & Marketing at Blue Magnet Interactive, Stephanie Hilger.
Throughout her career, Stephanie has gained valuable experience working as a social media manager and marketing coordinator in a number of industries including film, real estate, and event planning.
Aside from social media, her specialties include SEO, website management, and creating multi-channel digital marketing strategies. Over the years, she has spearheaded a number of successful campaigns and promotions, in addition to facilitating significant online community growth for clients.
Currently, as Director of Brand Strategy & Marketing and Director of Social Media at Blue Magnet Interactive, she is responsible for developing and supervising the company's social media processes and standards, as well as ensuring that her team provides clients with consistent, high-quality social media services.
Here are her answers to the 12 questions we ask all our experts!
1. Which is your favorite social media platform, and why?
Instagram. I love that its main focus is visuals; however, pairing those with short, witty captions is a must to succeed here! With that said, I enjoy seeing what brands (and my friends and family) have to say and share! All of the added features (Stories, shopping, etc.) have made Instagram a very exciting place to "be" in both my personal and professional life.
2. What social media platform is used most by your brand/agency?
Facebook, predominantly. All of our clients have, at a minimum, a Facebook presence. For my organization as a whole, we use Facebook, Instagram, Twitter, and LinkedIn – but each channel has its own goal/ focus, making them equally important.
Both Facebook and Instagram have been great recruiting tools. They are places where we celebrated our employees, and let our company culture shine. We use LinkedIn to (hopefully!) better connect with clients – share our blog posts, important company updates, etc. Our focus on Twitter is connecting with the industry as a whole. Twitter is a great place for news, sharing articles, and connecting with like-minded individuals.
3. In your opinion, what is the future of social media and what platforms will lead the way?
When I read this question in articles, I see a lot of, "video, video, video!" While I don't disagree, I think the future is also going to have a heavy focus on in-app or in-network shopping. I envision the shopping features on Instagram and Facebook continually improving, and there being an even bigger focus on and call to action for purchasing directly within Facebook and Instagram.
By "purchasing," I don't just mean consumer goods – booking trips, reservations for restaurants, and so on.
4. Tell us about one social media campaign you liked most in 2019.
I recently came across an image on social media of Burger King's King and Ronald McDonald holding hands – I am not a fast-food fan (most days) but it caught my attention. The campaign was called, "A Day Without Whopper" and the "feel good" factor of the entire idea has stuck with me.
Essentially, Burger King advertised that they were going to stop selling Whoppers for one day in order to support McDonald's supporting Children With Cancer (for every Big Mac and signature burger that they sell, they donate to the cause).
5. What about the latest campaign your brand or agency was involved in
We've been focusing on marketing campaigns that involve multiple channels and encouraging our clients to take a holistic approach to promote the special offers they are running or goals they are looking to achieve.
One exciting campaign my team was involved in was the recent rebrand of a restaurant in the Southwest region. It was exciting to see how they were able to drum up engagement and get locals excited about the upcoming changes on social media and by building them a new website.
6. What is the most important thing brands and agencies need to keep in mind, in order to build a successful social media campaign?
Don't lose your voice. Stay true to your brand and focus on the goal you are trying to achieve. There are a lot of "distractions" on social media – shiny new features or channels, trends – and not everything are going to work for your brand or help you achieve your objectives.
It's important to continually evaluate what you are doing, what's working, and what's not – and not just focus on what's hot at the moment.
7. In your opinion, what is the most important KPI you look for to determine success on social media?
The most important KPI depends on your goal. If you're using social to increase brand awareness, account growth and impressions/ reach are important to look at. If your goal is to increase sales, implementing tracking and consistently checking on the correlation between social and your website analytics is important.
Some of the common metrics we focus on at Blue Magnet are conversions (on website traffic from social) and overall engagement. At the end of the day, if people aren't engaging with your content, you need to re-evaluate your strategy and the type of content you are posting.
8. What will be the role of social media in the marketing mix of the future?
I think its importance in the overall marketing mix will continue to increase over time. In addition to its core function, social media is also a reputation management tool and a communication tool.
At some point in time (if not already), there will be more people contacting your brand via messaging than picking up the phone to ask questions, for more information, or facilitate their feedback.
Social media is a search engine, to a degree, as well. Often times, if I am looking for a recommendation, I'll run a search on social versus Google. Looking for a recipe? Inspiration for an event? You can find me SEARCHING on Pinterest or Instagram. Social media plays so many roles, more than people give it credit for!
9. What would you say the biggest obstacle faced in social media?
Standing out above the noise. There are many brands doing a great job out there, and to get noticed on social takes a lot of hard work, dedication, and creative, engaging content.
10. What is one piece of advice you would give someone just starting in the industry?
Network offline as well! Attend conferences and networking events. While it can be intimidating at first, meeting and talking to people in the industry is so important. The bigger your network, the more opportunities will come your way. I remember in college, one of my professors took our class to a one-day marketing conference.
The assignment wasn't your traditional take notes and share your "takeaways" from the seminars. Instead, we were instructed to talk to five people, get their business cards, and follow up after the conference with an email. I remember being so nervous and thinking – there's no way I can do this. Once I did, I felt more confident going into future events and striking up conversations with colleagues and influencers in the industry.
11. In your opinion, what ad format will lead the future of social media marketing?
Ads on platforms/ features like Snapchat and Instagram Stories. I think there are still many untapped opportunities there, especially once they feel more organic/ interactive and less intrusive. I am also interested to see where ads placed in messenger go!
12. Finally, what is a 'Fun Fact' we wouldn't find on your social media profiles?
Every year, a couple of my cousins and I make a (lip-sync) music video to Mariah Carey's "All I Want for Christmas." It started out as a joke when none of us were sending out Christmas cards a few years back, but has turned into quite the production (and our family and friends look forward to seeing with what we come up with every year now). Needless to say, our 6th annual video is currently in production!
---
You might also like
---
More from Interviews
---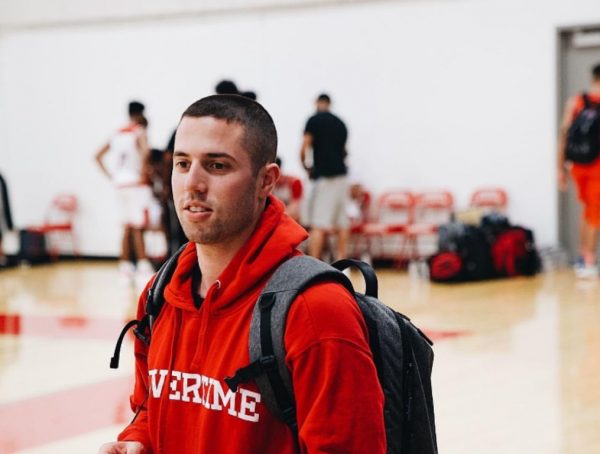 Please welcome this week's 12 Questions Expert Spotlight guest, Head of Social Media at Overtime, Thomas Weingarten. Thomas is an all-in …