Social media and the campaigns that drive brand success, are nothing without the people who make things happen!
Each week we profile one innovative industry executive and get them to answer 12 questions. Then, we share their insight with you!
And this week is no different – I had an awesome chat with Daniel Rae, Head of Social Media at PSONA Social!
Hi Daniel!
Hello Linleigh! Fabulous to chat! As you suggested above, I am a social media specialist with 7+ years of strategy, content production, community management and analysis experience, most recently heading up the social media service of one of the UK's largest integrated agencies, PSONA. I have worked on both agency and client-side with a variety of organisations across a number of different industries – Amazon, RBS, Nationwide, L'Oreal, Maybelline, Cisco Systems, Fisherman's Friend, Thai Airways, Scottish Enterprise, The Scottish Parliament and NHS Borders, to name a few
Oh wow! Amazing! Sounds like you will have quite a bit of insight to add! Let's dig right in!
About Social Media In General
1. Which is your favorite social media platform? (please briefly explain why)
This might be a bit "boring" with so many newer social networks out there, but I've got to choose Facebook. It's a platform that has constantly evolved since its incarnation, and even since the start of 2016 has changed fairly dramatically, with algorithm updates, support for 360 photos, the introduction of bots for the Messenger Platform, Canvas ads and Facebook Live.
2. Which social platform is used most by your brand/agency?
Facebook is the platform used most by the agency. We have many clients who use Twitter, Instagram, LinkedIn and Pinterest, but I don't think we work with any clients who don't have a Facebook page. And you can't blame them – recent studies have shown that over 90% of social shares come from Facebook and that the most popular social network in most countries is Facebook.
3. In your opinion, what is the future of social media, and which platforms do you think will lead the way?
I can see a few social media trends already starting to take shape. Direct social media – more intimate conversations between customers and brands – are on the rise. Facebook Messenger is on the rise, and we've seen some brands also use WhatsApp quite effectively for one-to-one conversations. Twitter DMs and Snapchat also feature in this category. Instagram is a platform that I particularly enjoy using (for work and personal use) and being owned by Facebook, it's here to stay. The recent launch of Stories, despite being almost identical to Snapchat's Stories, is quite a powerful tool for brands, and coupled with the Instagram ad-targeting options and metrics already available, makes it a bit more attractive to brands and agencies. Finally, I think advocacy will grow further – influencer outreach as well… whether influencers use blogs, YouTube channels or Instagram, they will always be more trustworthy than brands. I believe employee advocacy – encouraging or incentivising employees to share their employers and other relevant social media content – will grow over the next year or two as well.
If you like our stories, there is an easy way to stay updated:
Follow @wersm
About Great Social Media Campaigns
4. Please tell us about the one social media campaign you liked the most this year 
Despite it being for a US-based company (I've never set foot in one of their stores!), the #LowesFixInSix was a clever use of Vine & stop-motion photography to create fantastic 6-second "home" tips. Perhaps it spoke to the DIY lover in me! The videos can be used on Twitter via Vine, and work just as well on Facebook.  They could have worked on Instagram too.
My personal fave #LowesFixInSix…
5. What about the latest campaign your brand or agency was involved in?
While there have been a number of smaller campaigns – and there are a few in the pipeline – the most remarkable one was late last year. It was actually the world's first interactive Twitter video (Yes really!) and it was created for the well-known lozenge brand, Fisherman's Friend. The concept was that people clicked through to the campaign landing page and connected their Twitter profile. Then, a personalised video featuring two fishermen (Hans Niderf and Sven Fleetwood) would be created. Your Twitter profile image appeared on a mug inside the fishing boat, your Twitter timeline appeared on one fisherman's phone (as if he was looking you up on Twitter) and your Twitter handle appeared on a life-vest. Clever stuff! Unfortunately, you can no longer make your own personalised video, but there's a review and a great example here. The campaign even got featured on Twitter's blog; That was a proud moment for the agency!
6. What is the most important thing brands and agencies must keep in mind, in order to build a successful social media campaign?
For me, the most important thing is knowing your audience, knowing your brand, and keeping things practical. While it's great to push the boundaries, you need to be able to execute and manage a campaign for it to succeed. It's all too easy to come up with far-fetched wacky ideas, but someone has to manage the work. Quite often, there's an element of bringing ideas back down to earth, so that they can work on social media as well. Planning, practice, and always asking "what if", helps. Preparing for the worst is good practice!
7. In your opinion, which is the most important KPI to watch during a social media campaign?
That's a tough one to answer – every campaign… and maybe even every single post, has its own objective. For awareness, impressions/reach and CPM are important. For campaigns that aim to generate engagement – number of engagements, engagement rate and more specifically, types of engagement, are important. Clicking a photo isn't nearly as valuable to a brand as a share or comment, so look at the types of engagement achieved – they're not all equal. And finally, if you're trying to sell something, clicks and conversions are obviously key. Measuring conversions allows you to measure part of the ROI of a campaign.
About The Future of Social Media Marketing
8. What will be the role of social media in the marketing mix of the future?
I think in terms of mass awareness, social media will overtake (if it hasn't already) traditional media like newspapers, radio and TV ads. The beauty of social media in that respect, is that it's measurable, and people can instantly respond to it publicly. On top of that, social media will continue to provide real feedback to brands, as it already does. I'm a big believer in "people power", and I believe that social media will facilitate people's power over brands, products, and their direction in the future – as it already does to some extent.
9. What would you say is the biggest obstacle within the field of social media marketing
I've got two answers for this one. For brands, the hardest thing is creating content that cuts through and resonates with their intended audience. Organically, it's getting harder and harder to get your message in front of the right people – paid social is no longer a luxury. It's essential. And for brands, measurement and reporting continues to be a bit of a headache. I've been analysing social media data for 6+ years now and while there are tools and services that make it a bit easier, time-consuming manual reviews and spreadsheet exports are still key to gathering real, meaningful findings that can help bring content and engagement improvements.
10. If you had to give one piece of advice to someone who has just started out in the industry, what would it be?
Broaden your knowledge as much as possible – social media really is a "jack of all trades" profession, and having knowledge of multiple areas really helps. From graphic design and video editing, to data manipulation and spreadsheet wizardry, many different skills can help! And if you're working in an agency, always put yourselves in the shoes of the client and their audience. What would they want? What matters to them? Would they really care? Questioning yourself is a good thing!
11. In your opinion, which is the "ad format of the future"?
I'm impressed with Facebook's Canvas Ads – they're a bit of a hybrid that can provide rich-content like video, and look very nice on mobile. Beyond the technical delivery of ads, I think anything that can leverage personal relationships will work best. IF you've two ads side-by-side for similar products, but you see that one shows that it's been liked or reviewed by friends or family, then you're likely to choose the one with the personal recommendation.
Fun Fact
12. Finally, tell us one thing someone would NOT be able to find about you from looking at your social media profiles.
During university my dream was to be a web designer! At the time, way back in 2004, web technology was moving really fast (CSS came out and database-driven websites were kind of new!) and without any industry experience, I never got into the field. My degree touched on lots of the creative parts of IT – multimedia, graphics, video, animation, coding, design – jack of all trades, master of none. However, working in social media, that broad skillset now serves me well!
Haha. Amazing! Thank you so much for chatting with me Daniel! It was brilliant! 
Have any questions for Daniel? Join us this Sunday for an opportunity to dig in, during our weekly #WeRSMchat on Twitter, starting at 8pm BST!
---
You might also like
---
More from Interviews
---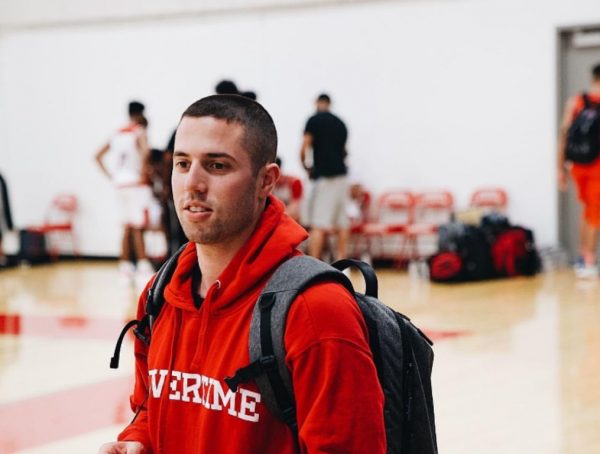 Please welcome this week's 12 Questions Expert Spotlight guest, Head of Social Media at Overtime, Thomas Weingarten. Thomas is an all-in …