Social media and the campaigns that drive brand success, are nothing without the people who make things happen!
Each week we profile one innovative industry executive and get them to answer 12 questions. Then, we share their insight with you!
This week we invite you to Florida, where I chatted with B2B Content Marketing professional, Shayla Price and caught her insights on the future of social media.
Hello Shayla!
Hi Linleigh! So as you said, I'm a B2B Content Marketer. I help companies with content strategy, social media marketing, and professional development. A few of my current and past clients include Datanyze, Yotpo, AgoraPulse, Shopify Plus, and HostGator.
My major accomplishments include increasing lead growth by 30% with strategic calls­-to-­action, and boosting social media presence by 20% through interactive content. I've also executed cross-­channel marketing campaigns generating 50% in revenue growth.
Volunteering is an integral part of my life. I served as an AmeriCorps VISTA and performed research in Kampala, Uganda. I also teach students how to earn college scholarships.
That's incredible! By the sounds of it that you're quite busy, so let's get started!
About Social Media in General
1. Which is your favorite social media platform?
Twitter. The platform offers bite-sized pieces of content that can be consumed in seconds making me decide quickly whether I want to engage more or move on. Plus, Twitter is a hotspot for building direct connections with people.
2. Which social platform is used most by your brand/agency?
Instagram is used by most of my clients. Their customers desire the visuals, and like the simplicity of the platform. With photos, brands aren't always forced to tell the stories; it's a chance for the audience to create their own version.
3. In your opinion, what is the future of social media, and which platforms do you think will lead the way?
"Episodic storytelling" is the future of social media. Consumers appreciate content arranged in a series. It lets people take an ongoing journey. This type of content appeals to returning customers and builds brand credibility. Check out Kate Spade's YouTube series #missadventure.
In regards to what platform will be leading the way, I think it will be Snapchat. The platform is made to share cliffhanger stories. It's ripe for showcasing TV format content in a quick, yet drawn out manner; and would also be great to tease your audience a bit.
About Great Social Media Campaigns
4. Please tell us about the one social media campaign you liked the most this year.
I enjoyed Chase's #MasterTheOpen campaign. The financial institution is a major sponsor of the US Open. Their team did an effective job at telling stories and engaging with their audience. I felt like I was living the experience with the fans and athletes.
The photos and videos they used in their Tweets were incredible. Here is one of my favourite from the campaign. It feels like you're standing right there, right?!:
Tag #MasterTheOpen with your favorite #USOpen moment! pic.twitter.com/GdKv87715a

— Chase (@Chase) September 8, 2016
The amount of engagement fans and players contributed with the hashtag was incredible, and really made us all a part of their experience. Check it out: #MasterTheOpen.
5. What about the latest campaign your brand or agency was involved in?
I'm under confidentiality agreements with my clients. However, I can share another campaign I personally admire. That's Starbucks.
I like how the brand promotes content on Facebook, especially its new original collection of short stories, films and podcasts called Upstanders. It's inspiring with compelling visuals.
If you lived in Baldwin MI your kid's college would be covered—how'd they do it? #Upstanders https://t.co/ySpv1WZX5V pic.twitter.com/HQ2GCikijb

— Starbucks Coffee (@Starbucks) September 26, 2016
6. What is the most important thing brands and agencies must keep in mind, in order to build a successful social media campaign?
Customer perception is important in building a successful social media campaign. Your team must gather data to learn how your consumer thinks and feels. You need to know before your launch if people will be receptive to your campaign. This may involve testing your ideas with a small focus group.
I'm a fan of Domino's #EasyOrder. The company turned tweets into commerce. Customers can request delivery of their favourite pizza simply by tweeting an emoji to the Domino's Twitter account.
7. In your opinion, which is the most important KPI to watch during a social media campaign?
KPIs vary based on the objective of your social media campaign. You may focus on shares, comments, likes, or clickthroughs. Whatever the KPI, concentrate on achieving your desired result throughout the entire campaign.
About the Future of Social Media Marketing
8. What will be the role of social media in the marketing mix of the future?
Social media will play a complementary role. Like any other marketing channel, you can't just place all your eggs in one basket. Your team must be well-versed in understanding every aspect of your marketing mix. This may include email marketing, in-store displays, or event promotions.
9. What would you say is the biggest obstacle within the field of social media marketing
Creating content worth your audience's attention is a major obstacle. Your team must really study your audience's behaviours to understand their likes, dislikes, and lifestyles. It's important to appeal to their emotions and be mindful of how they will consume your content.
Lowe's produces awesome content via its #LowesFixInSix campaign. The retail chain uses stop-motion and animation to share clever home improvement tips in six seconds.
10. If you had to give one piece of advice to someone who has just started out in the industry, what would it be?
Learn quickly. Social media marketing is always evolving. I suggest learning by reading, doing, and asking. Read the latest trends from major blogs. Do the work and experiment with multiple platforms. Ask peers and influencers about their experiences. To gain a pulse in the industry, you must be engulfed in the learning process.
11. In your opinion, which is the "ad format of the future"?
Realistic fiction is the ad format of the future. People want to experience a semi-real environment where they can truly relate to characters. And it is a great opportunity for brands to insert their values and products into those stories. General Electric is already ahead of the trend, with its fictional sci-fi podcast The Message.
Fun Fact
12. Finally, tell us one thing someone would NOT be able to find about you from looking at your social media profiles.
I'm obsessed with lighthouses. I don't know why.
---
You might also like
---
More from Interviews
---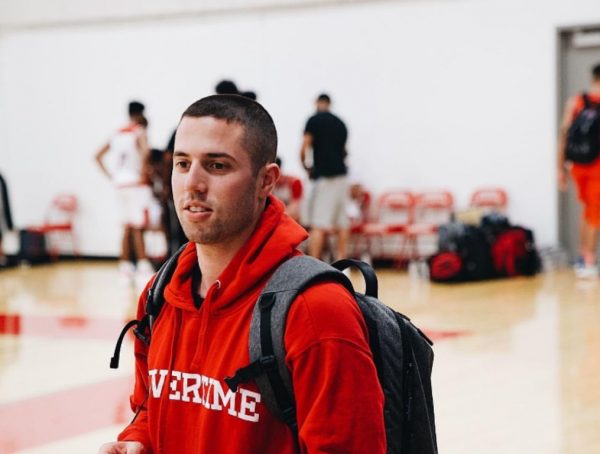 Please welcome this week's 12 Questions Expert Spotlight guest, Head of Social Media at Overtime, Thomas Weingarten. Thomas is an all-in …