After years of speculation, WhatsApp is finally rolling out its business app. It's called WhatsApp Business, and it's available for free. 
We know that WhatsApp's been planning a version of the app for businesses for some time, and we've all waited very patiently. And now, we know that WhatsApp really "means business." After testing several business features over the last years, WhatsApp has finally released its app, especially for businesses. WhatsApp Business is available for free on the Google Play Store, and it can be downloaded in four countries for now: Indonesia, Italy, Mexico, the U.K. and the U.S.
In its announcement for the launch of the app, WhatsApp says that it "will make it easier for companies to connect with customers, and more convenient for [its] 1.3 billion users to chat with businesses that matter to them."
Here are the features that will make this possible:
Business Profiles: WhatsApp Business will have business profiles helping customers with useful "information such as a business description, email or store addresses, and website."
Messaging Tools: WhatsApp Business will have smart messaging tools with quick replies, providing fast answers to questions that people ask often. Also, messaging tools will include greeting messages that introduce customers to a business, or away messages that "let them know you're busy."
Messaging Statistics: WhatsApp Business also offers the ability for businesses to review simple metrics – i.e. the number of messages read – this can show businesses what's working in their messaging.
WhatsApp Web: To make things significantly easier, businesses can also send and receive messages on their desktop through WhatsApp Business.
Account Type: Accounts will now be listed as businesses if they are verified as such. So, people will know they are talking to a business. WhatsApp says that "over time, some businesses will have a Confirmed Account once it's been confirmed that the account phone number matches the business phone number."
Current users of the app don't have to do anything. They can continue to use their app as usual. The app will roll out globally in the next few weeks.
---
You might also like
---
More from WhatsApp
---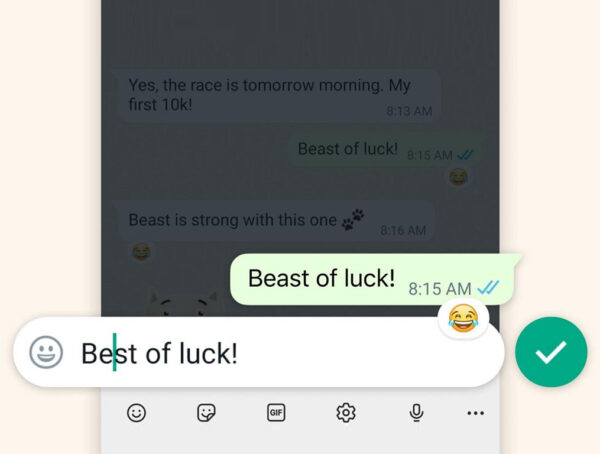 WhatsApp announced today it will finally let users edit messages, one of the most anticipated features. You will have 15 minutes, …