In an effort to fight misinformation, WhatsApp is further limiting the number of people you can forward viral messages to.
It goes without saying that will billions of people around the world stuck at home due to COVID-19, unable to see their friends and family in person, are turning to various social platforms to stay in touch. One of these is, of course, WhatsApp, where all messages and calls are end-to-end encrypted to keep personal conversations private.
However, WhatsApp has become a breeding ground for misinformation, and the Facebook-owned app is responding in various to fight it.
One of its measures is "the concept of messages that have been forwarded many times" introduced last year. These messages – labeled with double arrows to show that they did not originate from a close contact – are typically less personal and more likely to contain misinformation.
To constrain the virality of these messages, WhatsApp increased the friction of forwarding last year, limiting forwarding of such messages to five other users. That measure led to a 25% decrease in message forwards globally.
Now, WhatsApp is taking this one step further, with the introduction of a new limit – allowing these messages to be only forwarded to one chat at a time.
But all forwarding isn't bad, right? True. As WhatsApp explains in a recent announcement:
"We know many users forward helpful information, as well as funny videos, memes, and reflections or prayers they find meaningful. In recent weeks, people have also used WhatsApp to organize public moments of support for frontline health workers."
However, there has also been "a significant increase" in forwarding that users can feel overwhelmed by and "can contribute to the spread of misinformation." WhatsApp says it wants to slow down the spread of such messages and keep its platform as "a place for personal conversation."
In addition to this latest limit, WhatsApp says it's working with NGOs and governments to make sure people have access to accurate information on the COVID-19 crisis. Hundreds of organizations have used WhatsApp to send hundreds of millions of messages to people who are asking for information and advice on the current situation.
Apart from keeping misinformation from its platform, WhatsApp is also working hard to keep the messaging app and systems "running reliably" during the pandemic, something of a challenge as billions of users are flocking to it (and other platforms) daily.
---
You might also like
---
More from WhatsApp
---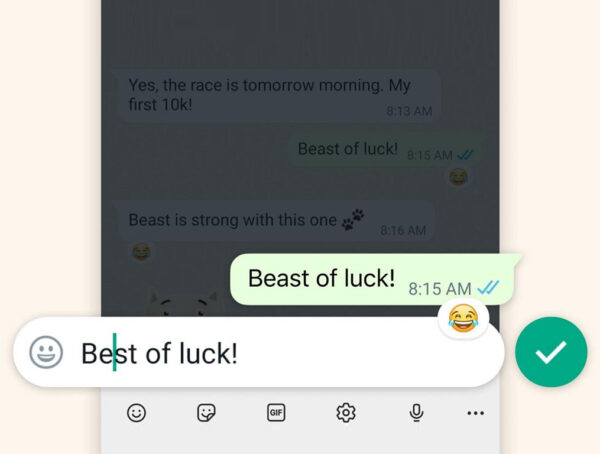 WhatsApp announced today it will finally let users edit messages, one of the most anticipated features. You will have 15 minutes, …