UPDATE: WhatsApp announced the rollout of this feature on November 5, 2020.
WhatsApp is rolling out a new disappearing messages feature that users can turn on or off in their chats.
According to WABetaInfo, WhatsApp is testing a new "disappearing messages" feature that lets users send and receive messages that delete themselves after seven days. A slightly different feature was spotted by WABetaInfo last year, but a new FAQ page on WhatsApp's website explains the current feature in more detail.
Users can turn disappearing messages on or off in one-on-one conversations, but group admins are only able to do this on group chats. WhatsApp also clarifies that turning the feature on doesn't affect messages that were previously sent or received.
With disappearing messages turned on, there are ways to keep media or content from disappearing messages. For example, if you reply to a message that is meant to disappear, you will still be able to see the quoted version.
When you forward a disappearing message to a chat that has the feature turned off, the message won't disappear in the forwarded chat. If you don't open WhatsApp within the seven-day period, the message will disappear, but a preview might still display in notifications until the app is opened.
If you create a backup before a message disappears, the message will be included in the backup but will then be deleted as soon as that backup is restored. Media received in WhatsApp is automatically downloaded to your photos by default, therefore if disappearing messages are turned on, media sent within a chat will disappear.
However, it will still be saved on the phone if auto-download is on. To avoid this from happening, you can turn auto-download off in Settings > Data and Storage Usage.
Another important loophole to consider is that you can also screenshot or take photos of disappearing messages, as well as copy and save content from disappearing messages before they disappear. So use disappearing images with "trusted individuals."
According to a Business Insider report, WhatsApp has confirmed "that a small number of users are testing the feature" and "hopes to roll out globally soon."
Disappearing messages (or variations of it) are already available on other encrypted messaging apps, such as Telegram, or Signal. However, these offer much better control over when messages disappear.
---
You might also like
---
More from WhatsApp
---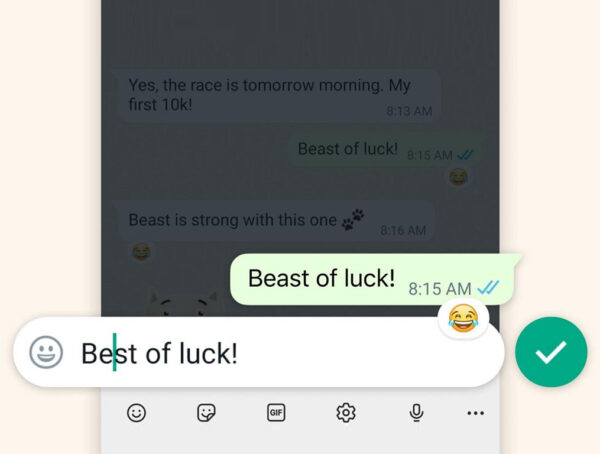 WhatsApp announced today it will finally let users edit messages, one of the most anticipated features. You will have 15 minutes, …