Tinder plans to launch voluntary ID verification for its members, in order to create a safer and more authentic community.
After extensive consultation with experts, Tinder has announced plans to launch a voluntary ID verification program.
Just like with photo verification, applying to become ID-verified will be free for all users, and Tinder will also use this process to strengthen safety by cross-checking if a user is registered as a sex offender locally, or in another country.
Tinder has already been cross-checking identities with details from credit cards of those who subscribe to a paid membership, though with much less precision – something that will be improved immensely once the ID verification feature is rolled out.
Tinder's terms of use mention this policy, and clearly state that when using the app, it requires that users "have never been convicted of or pled no contest to a felony, a sex crime, or any crime involving violence and that you are not required to register as a sex offender with any state, federal or local sex offender registry."
As part of the process, the dating app will stipulate which documents will be required for the application, on the basis of each country's laws and regulations, and will review the approach periodically on a test-and-learn approach.
Tinder promises to ensure that the verification process is inclusive and "privacy-friendly."
The feature was initially introduced in Japan, in 2019, where users have been voluntarily and safely uploading their identification documents to verify that they are above the age of 18.
"We know one of the most valuable things Tinder can do to make members feel safe is to give them more confidence that their matches are authentic and more control over who they interact with," said Rory Kozoll, Head of Trust & Safety Product at Tinder. "And we hope all our members worldwide will see the benefits of interacting with people who have gone through our ID verification process. We look forward to a day when as many people as possible are verified on Tinder."
You might also like
---
More from Other Platforms
---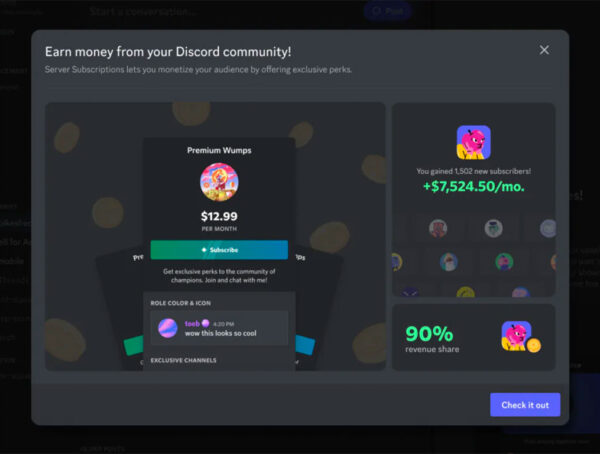 Discord server subscriptions are available for all servers whose owners are in the US, ranging in price from $2.99 to …