Unfollow Trump to help silence him on Twitter. That is the genius idea behind this viral campaign started by UK indie creative agency Creature.
Trump has employed Twitter as a powerful tool to circumvent the media and spread fake news and falsehoods during his presidency. And he continues to do so now that he has lost the election.
But there is one way to help put an end to it: encouraging as many people as possible to unfollow him.
'The Great Unfollow' – a movement started by UK indie creative agency Creature – has gone viral with the quest to disarm Donald Trump on Twitter. It does what it says: encouraging people across the world to unfollow Trump.
The creative depicts an irate Trump in diapers surrounded by (angry) Twitter birds and with the headline 'Twitter's biggest Loser'. The campaign explains: "It's time to turn his most powerful weapon against him, stripping him of its influence. And, at the same time, hitting him where it hurts: square in the ego."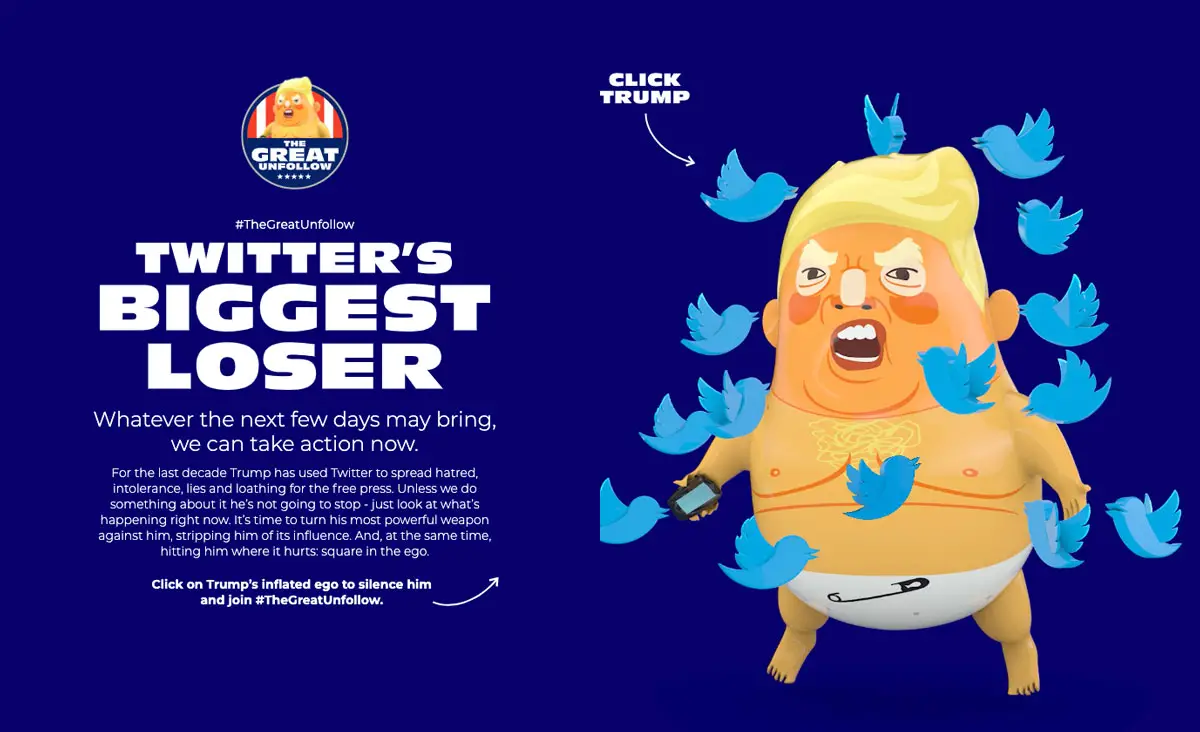 You are then invited to 'pop' Trump's ballon by navigating a blue Twitter bird. Clicking will not only deflate Trump (not his ego, unfortunately) and direct you to his official Twitter profile where you can easily unfollow him.
The campaign has gained a lot of momentum despite a lack of budget, with Twitter superstars Caitlin Moran, Gina Martin, and Adam Kay all helping to spread the word.
Twitter took a stronger stance recently to hide many contentious tweets posted the day after the US Presidential election, replacing them with an official warning stating: "Some or all of the content shared in this tweet is disputed and might be misleading about an election or other civic process."
After losing the election, Donald Trump will no longer be protected by a Twitter policy that bars 'newsworthy individuals' from being banned for violating community standards. Yes, that means he could finally be banished in the future.
---
You might also like
---
More from Featured
--- TIkTok is pulling the plug on TikTok Now, its BeReal clone, a little over nine month after it was first …