In 2020, 176 songs topped 1 billion video views on TikTok with some passing the mark in as little as 3 days!
Now we get it, TikTok is a music video platform…
This year showed just to what extent music is one of the most vital components of TikTok's platform. With its 2020 US music report, TikTok: Music 2020, TikTok explained that 176 songs topped 1 billion views on its platform.
"Music is TikTok's universal language, each song representing a flourishing web of emotions, in-jokes, and dances. As the spaces where people normally enjoy music were impacted by the pandemic, TikTok helped fill the need for communal musical experience in the U.S. Powered by its community, TikTok became America's go-to platform for music discovery, as well as a launching pad for smash hits by artists of all genres." – TikTok wrote in its Music 2020 report.
Not only these songs racked up billions of video views, but some also did so at exceptional speed, for example, three days for "Toosie Slide" by Drake, two weeks for "WAP" by Cardi B and Megan Thee Stallion.
The 10 songs that made The Playlist in Year on TikTok: Top 100, which was released earlier this month, tallied over 50 billion video views on more than 125 million creations, with five of those tracks reaching No. 1 on the Billboard Hot 100.
The 10 fastest songs to reach 1 billion video views were:
"Toosie Slide," Drake
"WAP" (feat. Megan Thee Stallion), Cardi B
"Therefore I Am," Billie Eilish
"Let's Link," WhoHeem
"Say I Yi Whole," Ying Yang Twins
"Where Is the Love?," The Black Eyed Peas
"Whole Lotta Choppas," Sada Baby
"Adderall (Corvette Corvette)," Popp Hunna
"Mood Swings," Pop Smoke
"THICK," DJ Chose and Beatking
TikTok also analyzed the top music being used on its platform by genre. Without surprise, Hip-hop was the top genre, followed by pop. Latin and Country music were among the fastest-growing on the platform.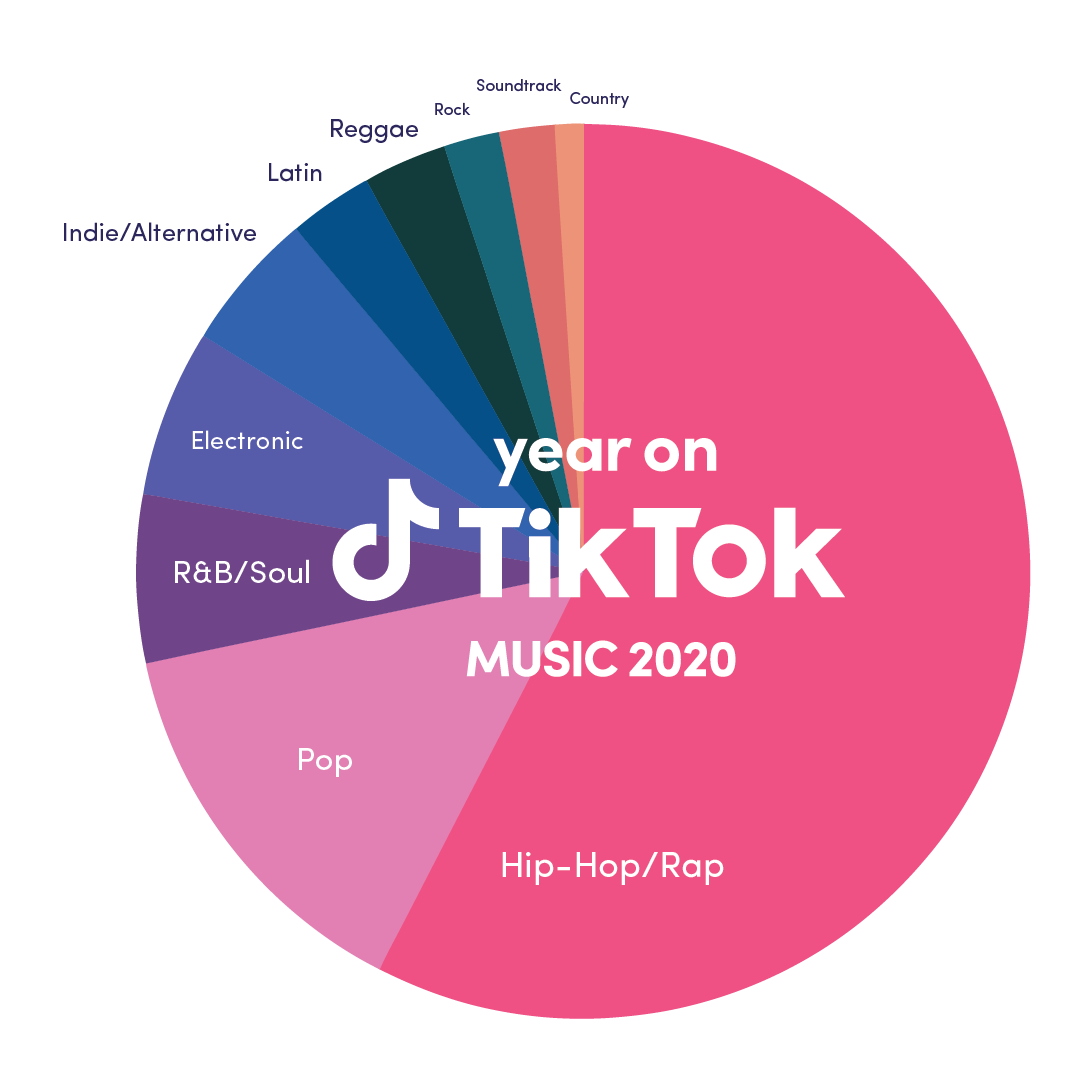 TikTok global head of music Ole Obermann wrote in the report, "We at TikTok share our community's passion for music, and we're dedicated to providing a platform where artists and fans can interact and thrive. It has been inspiring to watch our community bring new talent to the forefront, help send songs up the charts, and use music to create an oasis of joy during a trying time. We will continue to work hard to make TikTok a platform that supports artists and encourages musical engagement and discovery."
---
You might also like
---
More from TikTok
--- TIkTok is pulling the plug on TikTok Now, its BeReal clone, a little over nine month after it was first …