I converted my folding bike into an e-bike with Swytch, the world's smallest and lightest conversion kit. I love riding my bike again!
I own a Dahon folding bike that has really served me well over the years – and still has a lot to give. However, despite wanting to use it more often, I'm often put off by the amount of effort it takes to get anywhere. If you live in a place with steep hills, like me, you'll understand.
Sometimes, I just want a little boost to make those hills effortless, help me go further, and allow me to do more (using the car less). Buying an e-bike is a good but expensive option, but I've already got a bike I paid dearly for, so I thought, could I just convert it into an e-bike?
That's when I remembered a London-based Indiegogo project called Swytch. Its promise, to let you "convert any bike into an e-bike," with an e-bike conversion kit.
Swytch is no longer just an Indiegogo campaign, and you can actually order an e-bike conversion kit to fit on your own. You pick between two different kits – Universal or Brompton – depending on what bike you have, and they send you a kit consisting of everything you'll need, except for the tools, of course.
The Universal Kit is built to be compatible with as many different bike types as possible – even mountain bikes with disk brakes. The Brompton Kit is designed for, you guessed it… Brompton folding bikes.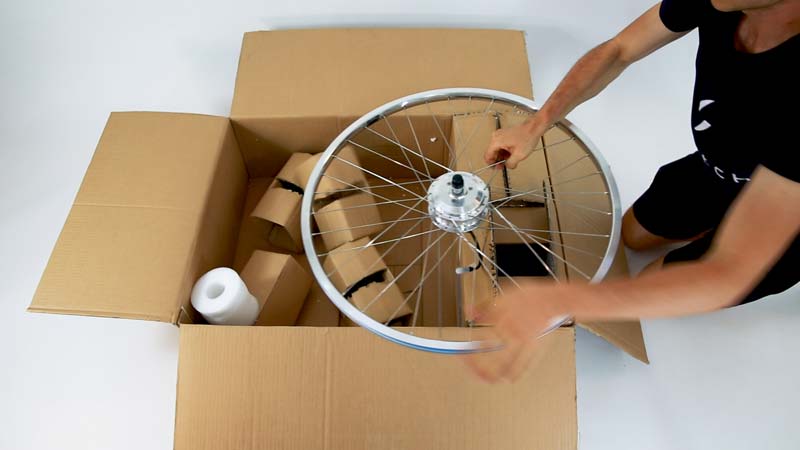 The main things you get in either Swytch e-bike conversion kit are a motorized front wheel with an integrated electric motor, a battery pack to power it, a charger, and a pedal sensor system that functions as your "gas pedal." Then there's all the stuff you need to mount the kit; cables and cable ties, nuts, spacers, etc. Plus a few goodies, of course, neatly packed into a box.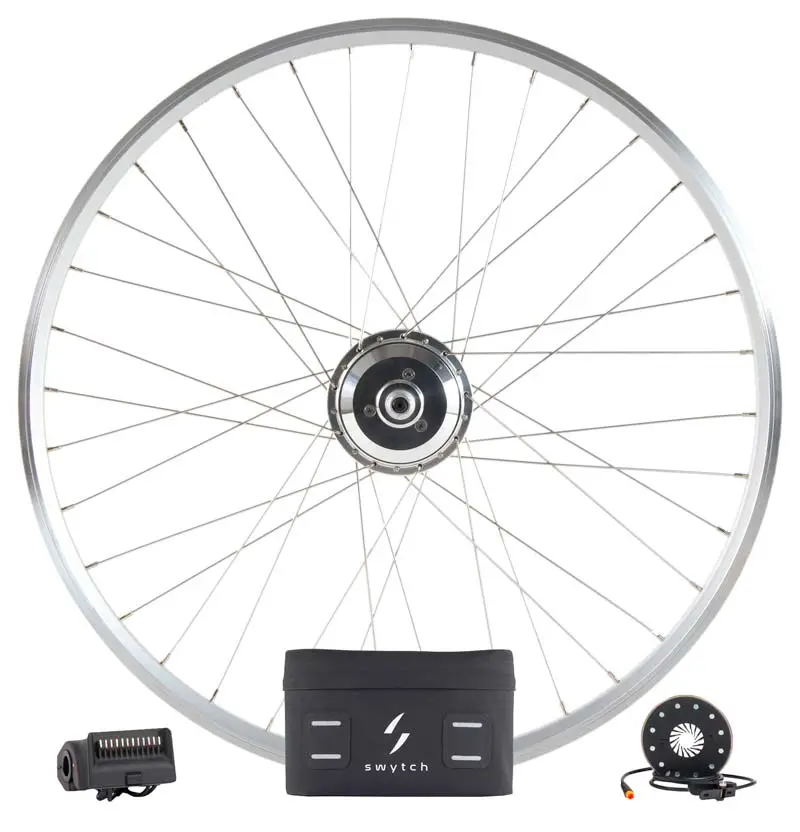 Depending on which kit you choose, you'll have a few custom pieces in there to fit your bike (or help the kit fit your bike). Therefore, the way to fit each kit also differs. For anything else, there are other optional accessories that you can buy extra.
So, earlier this summer, the friendly people at Swytch were kind enough to send me a kit to test and share my views on it. Read on for my honest review and recommendations below.
Getting Organized
Once you have your kit, make some space somewhere and lay it all out, as it's important to know what you have and what you don't. Getting halfway and realizing that you're missing something important is not a position you want to put yourself in.
You should have a motorized wheel, a battery (with battery mount and charger), and a pedal sensor. Your kit will be useless without them. Remember to unpack any other bits from the kit, organize them, and tool up. You'll need a tire lever, spanner, Allen keys, scissors, and a bicycle pump.
Naturally, I was missing a few tools, so I had to cancel my first attempt but eventually got it all together. I skipped using a tire lever – you can do without it if you're a little more experienced.
Installing the Swytch E-Bike Conversion Kit
I haven't changed a bike tire in a while, and I'm not the person you could rely upon fixing things in general, so I was a bit apprehensive. I asked myself several times whether there's some trick I should know about as not to screw things up.
I can now assure you that there is no trick; you follow the instructions. I did – and finished up in around two hours. Reasons it took so long? Mainly because I was taking my time, being extra careful, and a bit obsessive about placing everything perfectly.
Despite this, the process did prove a bit "fiddly." Let me explain.
Firstly, I had to use special spacers for the wheel axel to fit my forks. Keeping those spacers in place while tightening the wheel was a challenge; they didn't want to stay put. Eventually, I was able to get everything lined up perfectly and put the motorized wheel on straight.
When fastening the battery mount on the handlebars, I faced another issue. My bike is a special edition, so its handlebars get thicker in the middle – too thick for the grips on the battery mount. I was eventually able to fasten the mount but not before making a small custom adjustment. Again, no biggie.
I had really gotten the hang of it at that point, so placing the pedal sensor and cabling was pretty simple, but it took some practice to get the sensor aligned perfectly. I had already charged up the battery, so I gave it a try. The electric motor immediately sprang to life.
After tying down all cables and cleaning up, I took my first ride.
Swytch E-Bike Conversion Kit: First Impressions
Installed, the kit looks great! At least on my bike, which is black, every part of it looks like it belongs there. I went with the satin black motor and spokes, which completes the look nicely.
Aesthetically, apart from the removable battery, which hangs at the top of the steering column, you wouldn't notice anything to make you think you're looking at an e-bike. This means it shouldn't attract extra attention from thieves.
Functionally, steering is altered slightly when the battery is present, as the handlebars get top-heavy with the extra 1.5kg there. However, it doesn't get uncomfortable; it's just something to keep in mind. The bike itself also gets heavier due to the battery and motor in the front wheel (+1.5kg); that is something you can really feel if you carry your bike around sometimes – i.e., on public transport.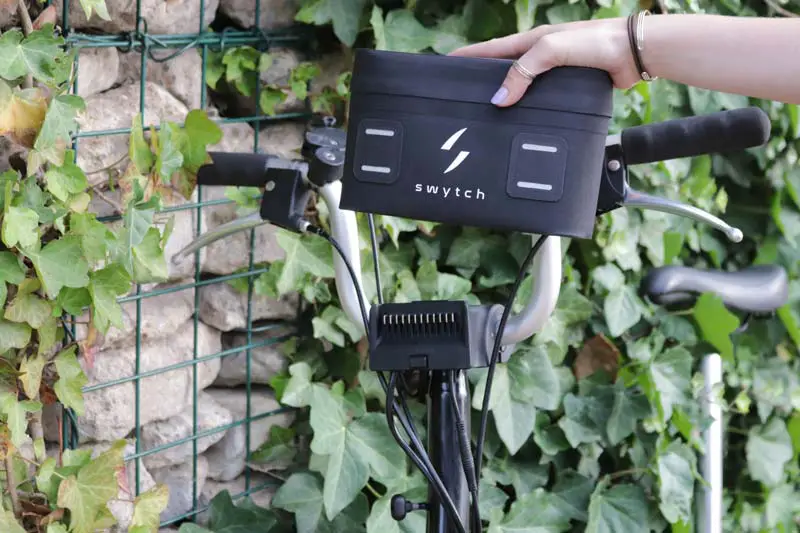 Carrying an e-bike around with you really defeats its purpose, though, so that's a non-issue.
The extra weight melts away when cycling, as the motor is powerful enough to handle anything you throw at it – steep hills included. Those were previously totally impossible to ride for me – even in the lowest gear.
While I was concerned that I wouldn't be able to pedal fast enough for the electric motor to kick in, that hasn't been an issue at all. I get consistent power as long as the pedals are turning. Another concern that the pedal sensor might get in the way – and possibly not work all the time – is unfounded. It works perfectly with no interruption.
The battery can be programmed to your particular wheel size to calculate and output power, but as far as I know, this isn't necessary. There are two battery types: ECO and PRO, and they differ only in terms of range (35km vs. 50km respectively) and top speed (15mph and 20mph, respectively).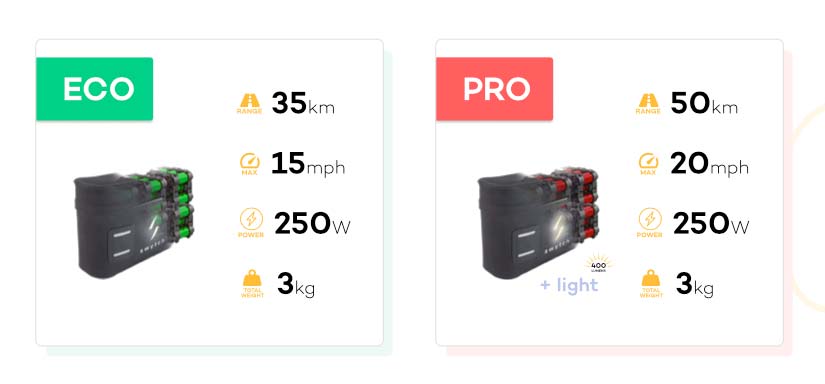 While I received the PRO battery pack for my review, I'm sure that the ECO version would suffice for most. Either way, after 2 months of using the kit on my bike, I can say that I'm pleased with the range and speed – even on a medium power level in challenging situations.
Going up even the steepest hills is effortless as the motor kicks into action.
Price & Other Details
Your Swytch Kit's pricing will differ according to your location and the extra accessories you choose. In the US, Canada, Australia, and the rest of the world except the EU and the UK, you can expect to pay between $999 (Universal ECO) and $1,499 (Brompton PRO) full price. Depending on where you are, you will also have to pay taxes and duties separately.
However, now and then (approximately every 2 months), Swytch opens up pre-orders with a 50% discount, which means that you could get your kit at a significantly lower price – if you're prepared to wait around 3 months for delivery. To register your interest in a pre-order, go to swytchbike.com.
In terms of other accessories, you can purchase a separate handlebar throttle that can be used in conjunction with the pedal sensor and brake sensors (for cable or hydraulic brakes) to immediately cut power from the battery when you brake. Swytch also has spares for all components within their kits, if you need them.
Summary
A Swytch Kit is obviously a great option for anyone who already has a bike and doesn't want to give it up. The e-bike conversion kit gives you a new way to enjoy your bike and other reasons to use it more often – whether you're riding to the shops or commuting to and from work. Sure, the full price is comparable to that of some lower-end e-bikes out there, but you can always pre-order to save money.
If you're on the market for an e-bike – and don't have a bike to convert – you'll probably be examining other options. It makes little sense to buy another bike to then pay to convert.
For people like me, who already have a great bike at hand, a Swytch Kit is an excellent option.
You might also like
---
More from Lifestyle
---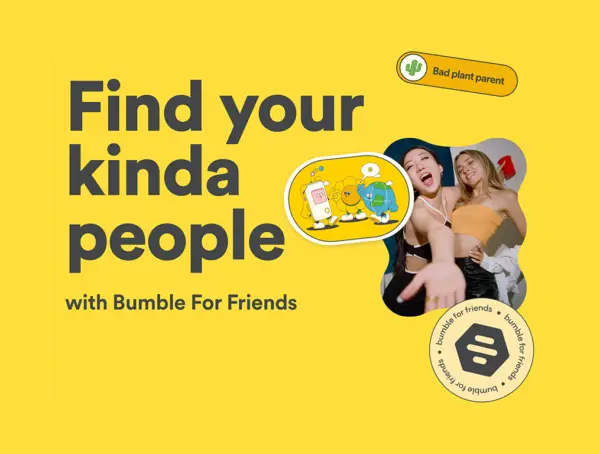 Dating app Bumble said it is testing a separate app, Bumble for Friends (BFF) in select markets to help users …