Just a week ago, Oxford witnessed a new kind of social media takeover; an artist took to the streets, marking them with social media and Internet-inspired signs. Vandalism or Art? You be the judge. But prepare yourself. His message isn't what you're expecting.
Reminiscent of March's Didcott Road sign doctoring featuring places such as Narnia, Middle Earth, and Gotham City, the same anonymous artist, A34 has taken to the streets of Oxford – but not in the way one might assume. Again, no spray paint needed – just art. And you certainly won't find this installation in an art gallery. Not just yet anyway!
Instead, over 20 social media-inspired street signs such as Instagram Avenue, Facebook Row, Emoji Alley, Google Walk, Twitter Lane, Selfie Passage, WTF Lane, and more, have taken up residence across the city causing a bit of a fuss.
In his statement to the BBC, A34 made it quite clear this isn't a display of affection. In fact, quite the opposite:
"I view the likes of Facebook, Google and other social media companies as vampires who continually suck data from us and that data is the blood that keeps the heart of their companies pumping. These signs are an expression of our fascination with social media."
Ouch! Brutal yeah? Well, forget the message. His installation is causing confusion, and the city of Oxford isn't happy about it.
I've been busy working on my next project. Tomorrow all will be revealed. pic.twitter.com/HjLLKZKAan

— A34 (@Athirty4) May 5, 2018
As for art? Fun? Or vandalism? According to the city of Oxford, it makes no difference, because the signs make their streets hard to navigate. So, while they won't be up for much longer, who fancies a walk down Emoji Alley?!
---
You might also like
---
More from Social Fun
---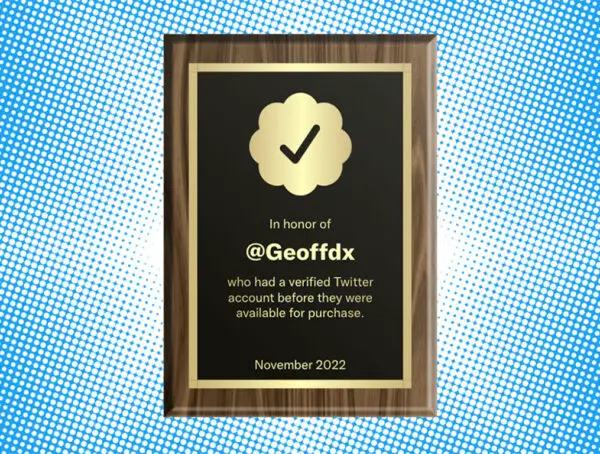 Veriforever is a web app that lets you create a personalized plaque to commemorate your Twitter verification. Before Elon takes …