If you need to create professional-looking online banners, engaging social media visuals, or engaging ad creatives for your social media campaigns – and fast – Bannersnack has you covered.
Although I can easily find my way around tools like Adobe Photoshop or Illustrator, I am definitely not an expert at them – and while I understand design principles, I am NOT a graphic designer. However, like many other marketers out there, I can use my skills and tools to put together a decent static or animated visual for my social channels or design a basic HTML5 banner for display ads. The problems begin when a. I don't have time or b. something better than "decent" is required. The solution? Bannersnack: a powerful online design platform that will help you maximise your productivity when creating online banners and social graphics.
Bannersnack offers several pricing plans for individuals and teams that start at $7 per month billed annually ($12 per month billed monthly), but for our review, we were provided with a free PRO plan. The plan offers unlimited banners, all main features, plus access to its "Banner Generator" tool. It doesn't allow you to save your own banner templates, or have multiple workspaces (a team feature).
No biggie! In most cases, this is the plan you will need. You can, of course, try Bannersnack on the Free Plan, but you will be very limited in what you can do.
So, What is Bannersnack?
In a nutshell, Bannersnack it's an easy-to-use online design tool that will let you create static or animated HTML5 banners (in multiple sizes, all at once!) to use for Google Display Ads, as well as ads and shareable visuals for Facebook, Instagram, Twitter, Youtube, IAB, Pinterest or LinkedIn. You are not limited to HTML5 as a format though, as you can export your banners as JPG, GIF, PNG or MP4 (and recently AMP HTML) as well. This makes your creations compatible pretty much all major ad networks, and this gives you a lot of flexibility. Want to create a Facebook or Pinterest post, a LinkedIn cover, a YouTube video thumbnail, an Instagram Story? You can do those too!
Generating banners or other visuals with Bannersnack's banner maker is very simple, allowing you to drag and drop – and edit – images, text, buttons, and other visuals into place, and animate them at will, on the timeline.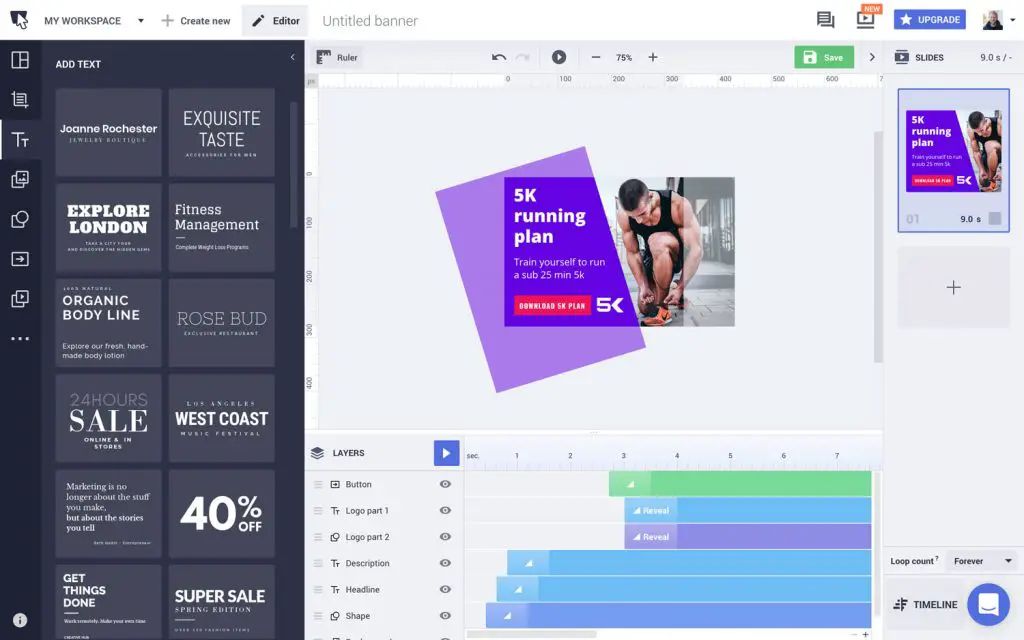 The UI is really intuitive, and you should be able to figure everything out within just a few minutes (if not seconds).
How to Use Bannersnack
After signing up – and provided you're on a PRO plan at least – you are asked if you'd like to create a single banner or a "banner set," which is a collection of banners in different sizes that you can generate and edit all at once. When creating a single banner you get to choose between 17 preset "display" banner sizes or 17 preset "social media" sizes. In each case, you can also create your own custom size. When generating a banner set, you can choose multiple or all 22 sizes that can be static or animated.
After generating the sizes you want to work with, you can then choose one of the hundreds of static or animated ready-made templates for Bannersnack's library – or start on a blank template instead. Working on a blank template or editing a ready-made template automatically updates all sizes at once, however, all elements within a template can be controlled and/or edited independently – or globally, as can their order on the animation timeline (in the case of an animated banner template). You can pretty much do whatever you want to your design – and so easily!
You can then proceed to save your finished banners and export them at will.
Important Features
Bannersnack's main features are fully evident as soon as you start using the tool, however, several important ones really stand out, and are worth noting.
For example, you can easily create and edit awesome cross-browser compatible HTML5 animations, using 32 ready-made animation presets or Bannersnack's "Magic Animator" tool, which simplifies the process significantly.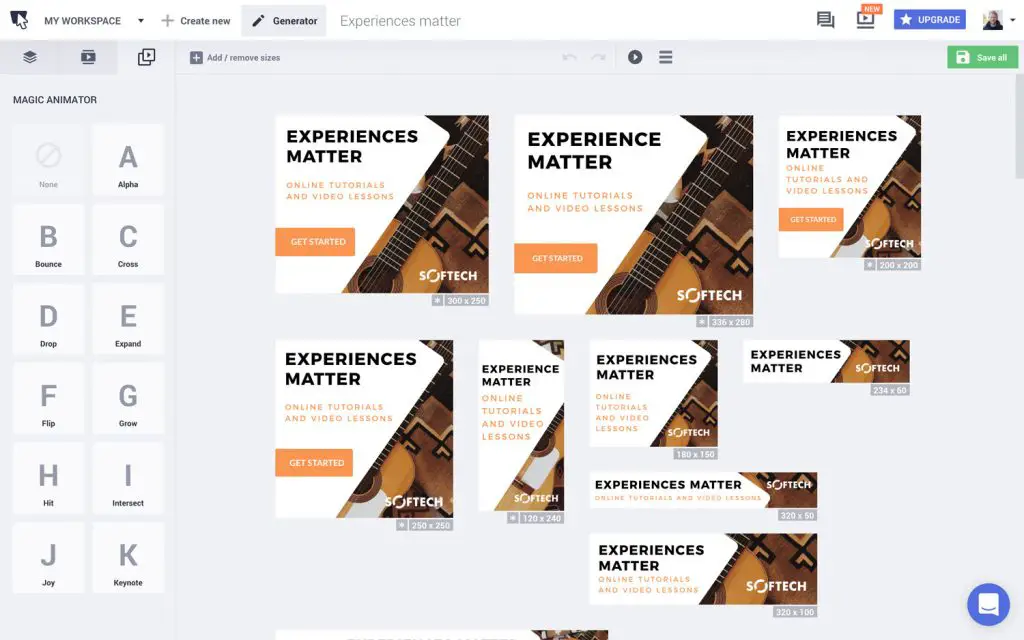 Another major feature is the "Banner Generator" tool I mentioned earlier, which uses AI to edit multiple banners at once with just a few clicks, and saves you LOTS of time! Then, work can be delivered in multiple formats or as custom embed codes.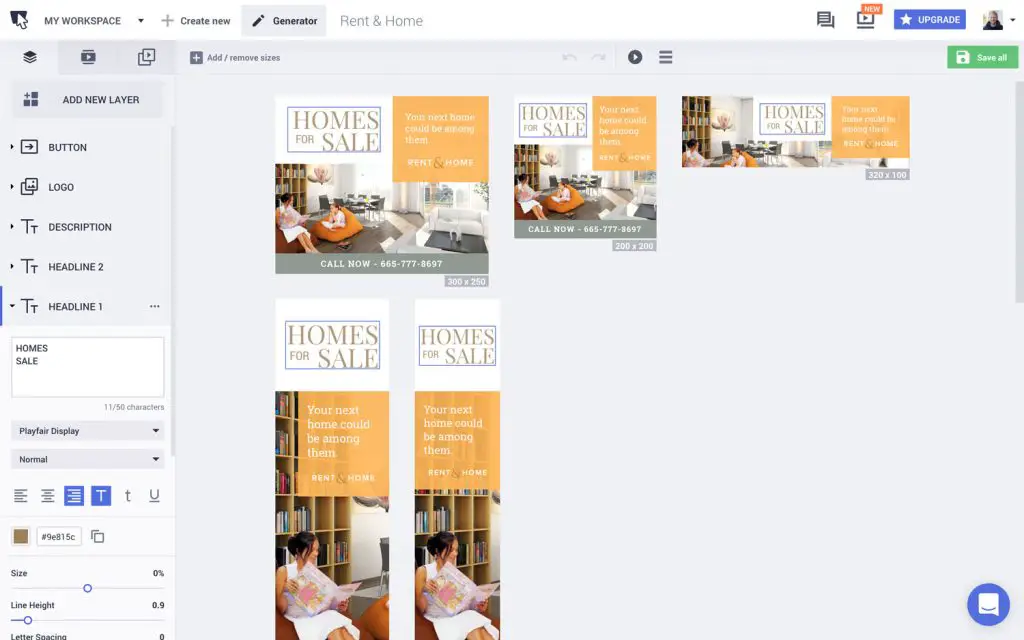 For teams, Bannersnack offers special Team plans that allow copywriters, marketers, and designers, to collaborate by sharing assets, designs, and workspaces. They also allow team members to get feedback and approval from each other – and from clients, making design fully collaborative. Brand assets (including custom fonts, templates, and colours) can be uploaded and used whenever they are needed, and banners can be shared with branded links as well. Team plans also offer priority support, dedicated account managers and full access to a database of FAQs and information.
Finally, Bannersnack also offers real-time banner analytics and banner heatmaps that can really help you understand how audiences interact with your banners.
Conclusion
In the spirit of full disclosure, at this point, I'd like to say that we've been paid by Bannersnack to give their product a full and impartial review. Our policy has always been to give you the facts and be honest about whether we'd recommend you use a product or service, or not.
Would we recommend it? Yes, we would! If you're a busy marketer looking for ways to speed up your banner design process – but don't have a huge budget to hire extra team members, or the time to do it yourself – Bannersnack is the way to go. The prerequisite, of course, is that you design banners often. If you're a social media marketer who just wants to create social media visuals, there are other online tools that let you do so – for free.
While Bannersnack's free version is very limited, it's enough to let you try it and see how easy it is to use. You will need to be on a paid PRO plan to really see it shine.
---
You might also like
---
More from Reviews
---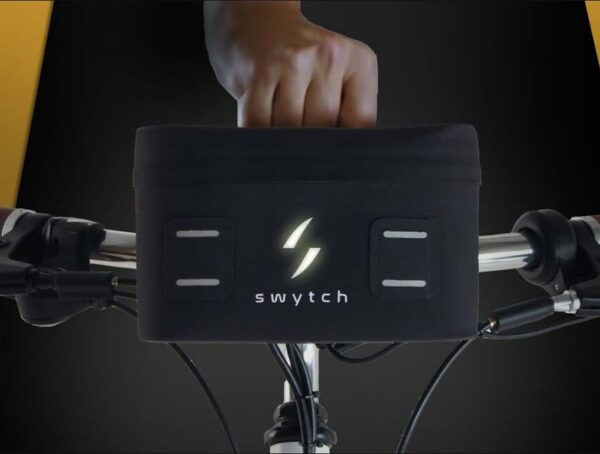 I converted my folding bike into an e-bike with the world's smallest and lightest conversion kit. I love riding my …