As we look back at what an awesome year 2017 has been, Pinterest has announced its top trends to try in 2018. Here are some important ones – so take note!
It's that time of year again – the time to look back at the year that's passed, and look forward to what trends tell us about the year that's ahead. Pinterest provides inspiration to millions of users each month, and is highly qualified to give us predictions for 2018. So, let's take a look at the emerging Food, Style, and Beauty trends that people on Pinterest are excited about – and how these trends will shape interests in 2018.
There are 100 trends, and you can explore all of them here. In the meantime though, you can read along for a summary three very important ones.
Food
Yes, #foodporn isn't just for Instagram. Foodies absolutely love Pinterest. And there's a reason for that, as food and drink is one of the platform's largest categories with over 19 billion ideas. And it's growing all the time, with a 46% increase last year. But, it's not about any kind of food. It's about making healthier choices, finding great things to eat and how to make them fast.
It's no surprise that things like diet-friendly frying, souping, super coffee, North African spices, Korean condiments, plant proteins and vegan desserts are on the rise – big time!
Women's Style
Pinterest is big on style. Especially women's style. People use Pinterest, to find styles – and buy them. In fact, 70% or female Pinners visit the platform at least once a week to search for, save, and  create "their personalized look book one Pin at a time." There are over 16 billion ideas in this category, making it another of Pinterest's most popular categories.
Trends to look out for in 2018 include, logos ("logomania" is back), oversized earrings (the bigger the better), wide-legged bottoms and crops, berets, big cozy sweaters and jackets and long layered clothing in general, lucite and patent leather, 100% cotton denim, and… sheer socks!
Men's Style
In terms of men's style, Pinterest might not be well-known, but there's been a 50% increase in the last year, of male Pinners and an increase of 80% in terms of Pins saved. Men on Pinterest are influenced by brands and style experts. In fact, 72% of men say they're influenced by brands.
Trend's to look out for include mini prints and patterns, clean-cut beards, workwear, flex pants (men are seeking comfort, function, and style), as well as leather backpacks and messengers. Also, cufflinks, glasses, and rings, are back, as big style trends among men. Also, monochrome is becoming a big trend – denim on denim, neutrals and blacks, etc.
Beauty
There are 48 million beauty Pinners looking to the experts to find the best products to try and buy, tips and tutorials and more. The beauty category on Pinterest has increased 75% in one year, and you can't afford to stay away from the trends that shout: "The bolder the better."
Brows are a big trend, as are long lashes, cleansing oils for softer skin skin, smoother hair, and shinier lips. Foundations are getting more and more shade-inclusive, and saves for "long hair" and "pixie" are on the rise. Bright eyes with neon underliners and geometric nail designs create edgier, bold statements. Facial rollers and all-in-one kits are also increasing in popularity.
Want to continue exploring all 100 trends? See the complete Pinterest 100 board, and start making your own personal to-try list for 2018.
---
You might also like
---
More from Pinterest
---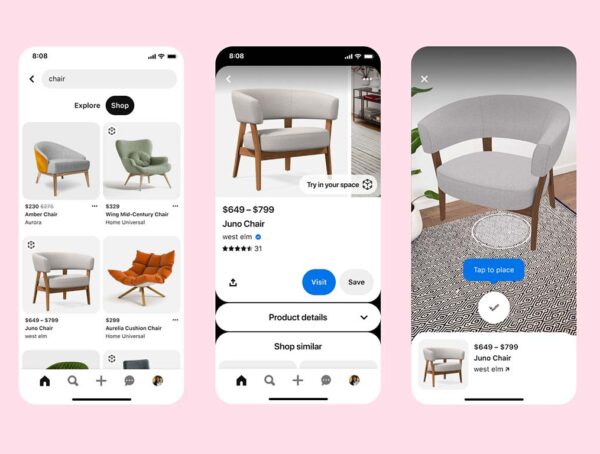 Pinterest is releasing a new AR Lens that lets users see how furniture would look in their homes before buying …