Pinterest has published its Gift Guide, looking at products topping wishlists this holiday season by generation.
Pinterest has put together a list of Pinners' most searched and wishlist-saved gifts for this Holiday Season breaking it down by generation. The new insights into this year's gift trends on Pinterest cover products in fashion, beauty, and gadgets.
Gen Zs' fashion and beauty winner trend is "fairy grunge," a topic that has grown 362% this year with related searches for whimsical elements such as beaded necklaces and gothic styles.
Black platform boots are also on the rise, along with "Goblincore sweatshirt," cozy sweater vests, and silky room wear, as Gen Zs look forward to getting comfortable at home during the holidays.
The case for Gen X is slightly different. Pinners in this generation are looking into more prestigious fashion items. For example, searches for "luxury handbags" have increased 4x, while searches for "men's luxury watches" have increased 3x.
When it comes to Baby Boomers, Pinterest reveals that this group of users is interestingly searching for items like "faux leather skirts" (5x) and "antique gold jewelry" (12x).
A look into beauty trends on Pinterest reveals that younger consumers are searching for "Retro 70's makeup" (39x), and Millennials are keeping their looks more conservative with searches for "soft glam makeup" up 41x.
Men are looking for "beard styles" (3x), something upon which the lockdown had a lasting effect.
In terms of homeware, Gen Zs seem to focus on "earthy aesthetic rooms" (63X) this year, while Millennials are pushing the trend for "cozy farmhouse ideas" (200x).
Pinterest also offers statistical insights into the generational preferences for interior design. For example, the most trending style among Gen X this year is "eclectic minimalist décor" (5x), while Boomers are looking at eclectic but vintage styles for their interior design.
Finally, Pinterest took a look at which tech gadgets are the talk of the town and populating Pinners' wishlists. In general, Pinterest has seen a 45% increase in interest for searches around gadgets. Cool gaming rooms and house gadgets are their front runners.
---
You might also like
---
More from Pinterest
---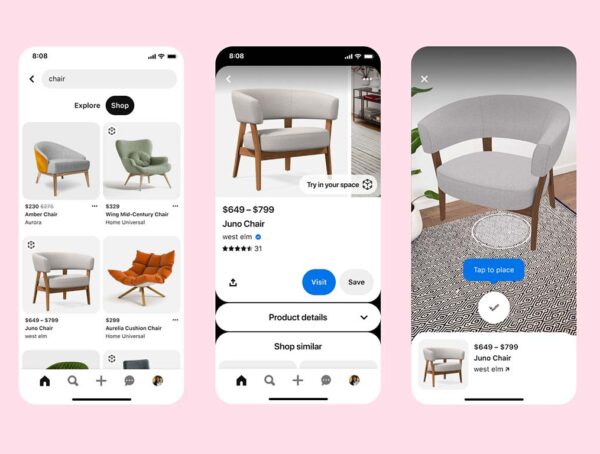 Pinterest is releasing a new AR Lens that lets users see how furniture would look in their homes before buying …