Pinterest is launching a new campaign to inspire people to come out of the post-pandemic blues and try new experiences.
Pinterest has always been the platform for visual inspiration, but it doesn't just want to be a place where you can get ideas about your next DIY project or recipe.
Instead, it wants to be perceived as the place where you can also rid yourself of the post-pandemic numbness – and launch yourself into trying experiences you never even thought of.
To make this possible, Pinterest is launching a new brand campaign that aims to change perceptions and inspire people to try new things and new experiences – and discover what can potentially substitute a 2020 feeling of "languishing" with a 2021 feeling of "personal fulfillment."
"We realize our mission to bring people the inspiration to create a life they love means getting off of their phones, so our success is defined by how we make people's lives better off of the platform, not views or metrics," explains Celestine Maddy, global head of consumer and brand at Pinterest.
"On Pinterest, you may come to explore mid-century modernism, find maximalism and end up loving cluttercore. Our campaign defies the perception that Pinterest is just recipes, DIY projects, and wedding dresses, and instead is an invitation to invest in discovering something new or try something you'd never thought you'd try."
Pinterest enlisted the help of award-winning creative agency, Droga5, to create the campaign that will run across the US and UK and will include high-impact OOH, audio, podcast, and provocative social media ads.
For media strategy and media buys, Pinterest chose the global media agency Mediahub, which has already purchased TV ad space in the UK. The OOH campaign will appear in New York City, Chicago, Los Angeles, and London.
The campaign video, named "Discovery," is directed by Yann Demange and filmed in Mexico City and Los Angeles and "takes the audience on a fast-paced journey of exploration focusing on one woman's discovery before branching out into an unbroken, energetic thread of other characters' experiences."
A further series of 15-second films expands on this, taking the audience on a fast-paced journey where characters discover the excitement of exploring new experiences. – i.e., a chef discovering the fusion of burgers and sushi, a teen trying out flame nail art, and more – all aimed at sparking inspiration from the Pinterest community about what experience to try next.
For the campaign, Pinterest is also partnering with various media outlets like CRWNMAG, a hair culture and lifestyle magazine for Black women, and NTWRK, a mobile-first video shopping platform that seamlessly blends entertainment and commerce.
Finally, Pinterest will also be launching a similar brand campaign in Japan, asking people to "find the Pin" on Pinterest to inspire users to bring their own aspirations and projects to life.
---
You might also like
---
More from Pinterest
---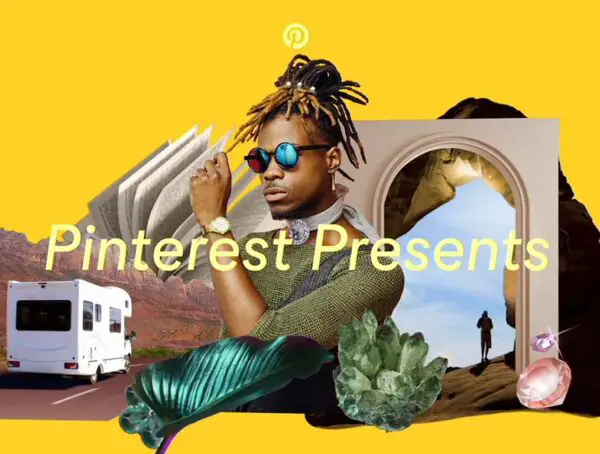 On March 10th, marketers and executives will gather to hear Pinterest's updates on its work across shopping, creators, trends, and …