Pinterest has launched several new features that make planning recipes, virtual events, and future activities easier and more automated.
More and more people nowadays are using Pinterest not just to look for ideas or get inspired, but also to plan for next events in their lives – upcoming celebrations for example. As the platform's traffic surges, most people use boards to organize their ideas and thoughts and plan for life events. Today, more people than ever are creating and engaging with boards as they look ahead.
Last month alone, there was a 60% increase in the number of boards created (compared to the same time a year ago), and engagement with boards is now up almost 75% globally year-over-year – and nearly 50% month over month.
To make the experience more rewarding, Pinterest is now enriching boards with new organization features, that help Pinners take control of how they organize and celebrate upcoming life moments.
The improvements make it easier for people to take action on the ideas they are saving on their boards:
Board notes
With board notes, users can add details like ingredients from a recipe and refer to them when they go shopping. Alternatively, they can use notes to write out full to-do lists right within their boards. Finally, Pins can now be added as notes to boards, as visual reminders within each project.
Add a date
Most projects have a beginning and an end and the ability to add dates on boards can help users track the timeline for any of their projects. Furthermore, they can archive a project board once they're done with it or completed it. Board notes, and the ability to add dates to boards, allow users to take control of their projects and track their timeline.
Automatic grouping of Pins into sections
Instead of manually organizing boards, Pinners can now rely on Pinterest to suggest sections to organize their boards. This feature makes boards feel more like "personal assistants," as they remove a big chunk of the manual work required when organizing Pins.
Section templates
When a user saves a Pin, Pinterest will now offer a new guided experience to start a project from the moment the first Pin was saved. Pinterest uses the billions of ideas saved and labeled by Pinners in collaboration with machine learning to determine exactly how Pins should be grouped according to a specific theme.
While this is challenging, Pinterest uses machine learning and its own "PinSage technology," to build a "Pin-clustering solution" which decides how Pins should be organized. This leads to similar Pins being grouped together which the system can also suggest new board sections with relevant names.
New board features started rolling out globally last week, on the web, iOS, and Android.
---
You might also like
---
More from Pinterest
---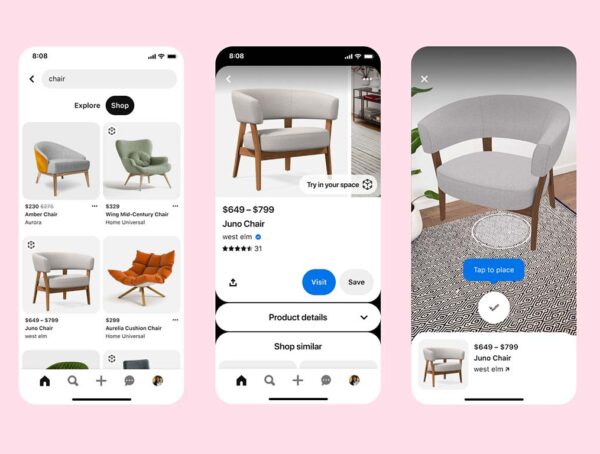 Pinterest is releasing a new AR Lens that lets users see how furniture would look in their homes before buying …