Joining the long line of social platforms to "embrace the darkness" Pinterest has announced the launch of its own dark mode.
It saves your battery life and is a lot easier on your eyes when looking at your screen at night. Yes, I'm talking about dark mode. It seems that most social platforms nowadays are introducing the feature. Just last week, for example, Google introduced dark theme on its Gmail app.
Now, Pinterest is launching its own dark mode, darkening the app's interface on the latest versions, on both iOS and Android.
Pinners say that they spend most of their time on Pinterest at the end of their day, "looking at inspirational plans and calming Pins before dozing off." Searches for relaxing videos are up 474%, and searches for calming phone backgrounds are up 77%, so it's evident that Pinners are looking for things to wind down to.
To make the experience even more relaxing, Pinterest is now turning down the white background that can be too bright late at night.
Now, Pinners have the option to turn on dark mode – "which can be easier on the eyes, better for nighttime browsing and in some cases, helpful with battery life." According to Pinterest, dark mode was on the top of the list for many of its users and is now launching globally.
To enable the dark mode on Pinterest on iOS, go to your device's settings, and pick "Display & Brightness." There, toggle the dark mode option, and the Pinterest app will follow your device's theme by default. On Android, select dark mode in your Pinterest app settings or your phone's settings, and the app will also follow the dark theme.
Apple recently introduced dark mode in iOS 13.
---
You might also like
---
More from Pinterest
---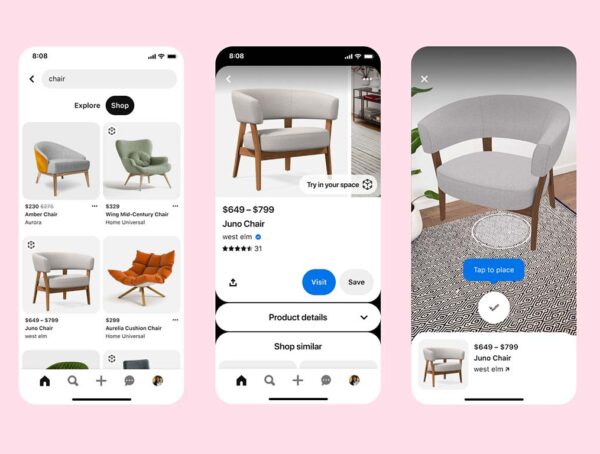 Pinterest is releasing a new AR Lens that lets users see how furniture would look in their homes before buying …