A new TikTok feature will help people who have epilepsy filter out photosensitive content that could trigger seizures.
The platform also warns Creators if their uploads contain effects that could trigger photosensitive epilepsy.
The Epilepsy Foundation of America says that 1 in 26 people in the US will suffer from epilepsy at some point in their lives. The foundation also says that 10% of these people will be affected by seizures.
It is a known fact that video content that involves flashing lights and colors (photosensitive content) can trigger seizures. Because social platforms, like TikTok, are pushing content to users through an algorithm, it can become impossible for users to avoid such content in their feeds. Unless the algorithm itself is trained to filter them out for the right users.
TikTok is the first platform to take a step in helping people who have epilepsy avoid potentially dangerous content. The app was already warning Creators if their uploads contained effects that could trigger such seizures. Now, this type of content will also be flagged in the feed and users will have the option to opt-out of viewing such content in their feeds.
Users can also opt-out now before any content is flagged in their feed, via the app's accessibility settings: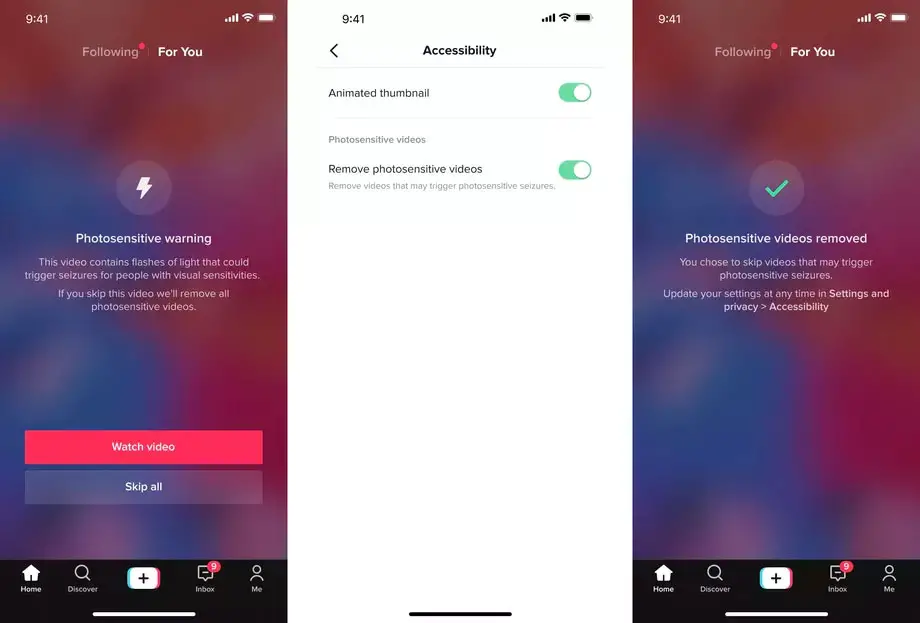 "While the population of those with photosensitive epilepsy is small, the impact can be quite serious," says Laura Thrall, president, and CEO of the Epilepsy Foundation. "It is great to see TikTok addressing this issue by making changes to their platform so that people in our epilepsy community can feel protected when viewing content on TikTok. We are proud to have worked with TikTok on this initiative and truly appreciate our continued collaboration."
TikTok has been working with epilepsy organizations across the world who, in turn, have been providing feedback on how to make the app safer for all.
---
You might also like
---
More from TikTok
---
TikTok Tako is a new AI chatbot that could "radically change search and navigation" in the app. News of the test …