McDonald's is bringing back its "no logo" campaign with new minimalist pixel art ads.
The executions come with the tagline "Guess who's back." The campaign promotes new restaurant openings in France.
How many brands are so well-known that they don't even have to show their logo or product anymore? The answer is probably not many. But McDonald's is definitely one of them. The latest ads from the brand hide its star products in pixel art. And the brand did not even bother with adding its logo. Instead, they chose to insert an enigmatic tagline: "Guess who's back."
Created by TBWA\Paris, the ads feature some of McDonald's most emblematic products like the Big Mac, Filet O'Fish, cheeseburger, and fries. And despite being highly pixelated, they are still recognizable through the artwork.
McDonald's began its global "no logo" strategy in 2013, with a campaign by TBWA\Paris consisting of classic menu items photographed up close with no branding at all. It has since taken a similar approach across markets including France, Germany, and the U.K.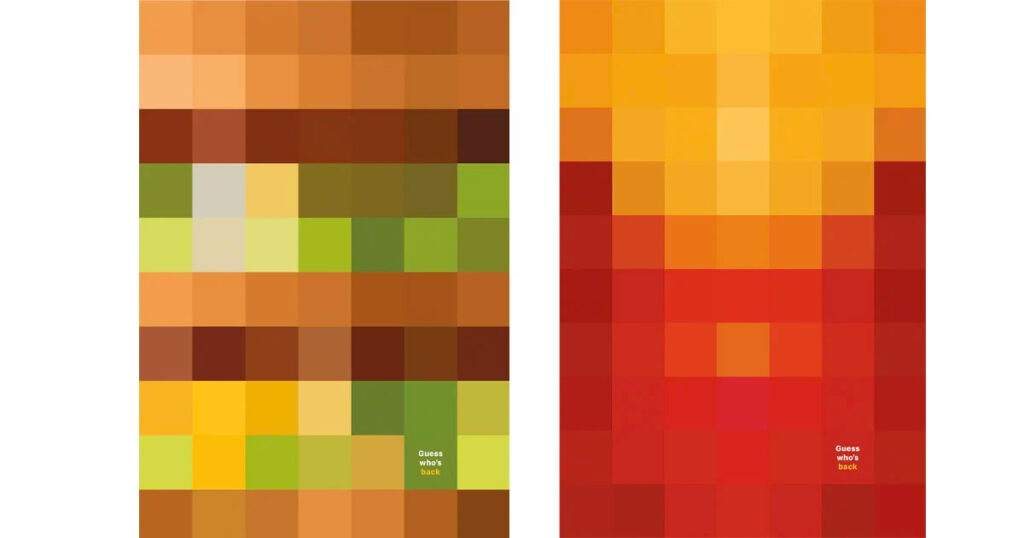 CREDITS:
Brand: McDonald's France
Agency: TBWA\Paris
Brand Managers: José Jacinto, Benoît Kolb, Sandy Rousseau
Agency Managers: Jonathan Serog, Emmanuelle Escalere, Louis Mainbourg
Strategic Planning: Basile Viault
Executive Creative Directors: Benjamin Marchal and Faustin Claverie
Artistic Director: Olivier Mularski
Copywriter: David Philip
Assistant Artistic Directors: Richard Ghanem and Alexandra Fremin
Producer: Camille Naulleau
---
You might also like
---
More from Featured
---
Images leaked by app researcher Alessandra Paluzzi show that Instagram is working on an AI chatbot. According to the images shared …