LinkedIn announced last week that it's moving its "three core talent tools" onto one platform, making the hiring experience more streamlined to recruiters.
LinkedIn is looking to make life easier, more efficient, and more aligned to the needs of recruiters, and in order to do so it's for bringing its three core talent tools – Jobs, Recruiter, and Pipeline Builder – "under a single roof" so to speak.  Moving the tools onto one single platform isn't the only thing it's doing though. According to a recent LinkedIn announcement, the company is "also taking the opportunity to address other customer needs and build some truly exciting new functionalities."
These new features – to start rolling out in the middle of 2019 – will include over 15 new product enhancements for LinkedIn Recruiter and Jobs that will "help recruiters and their teams collaborate better, […] help them to be more productive, and […] provide them with smarter results." Furthermore, recruiters will soon be able to see all candidates "in one unified pipeline," and all products "will be able to learn from each other, getting smarter with every click" and providing more "proactive recommendations."
The features described in more detail:
1. A single pipeline, allowing candidates (and their sources) to be managed in one place – so that recruiters don't have to jump from one tool to another. Once a project has been created, recruiters can see all results from all sourcing channels (search results, job applicants, media leads) in one single tab called "Talent Pool." The new "slide-in profile view," allows recruiters to review candidate profiles without having to open each in a new tab.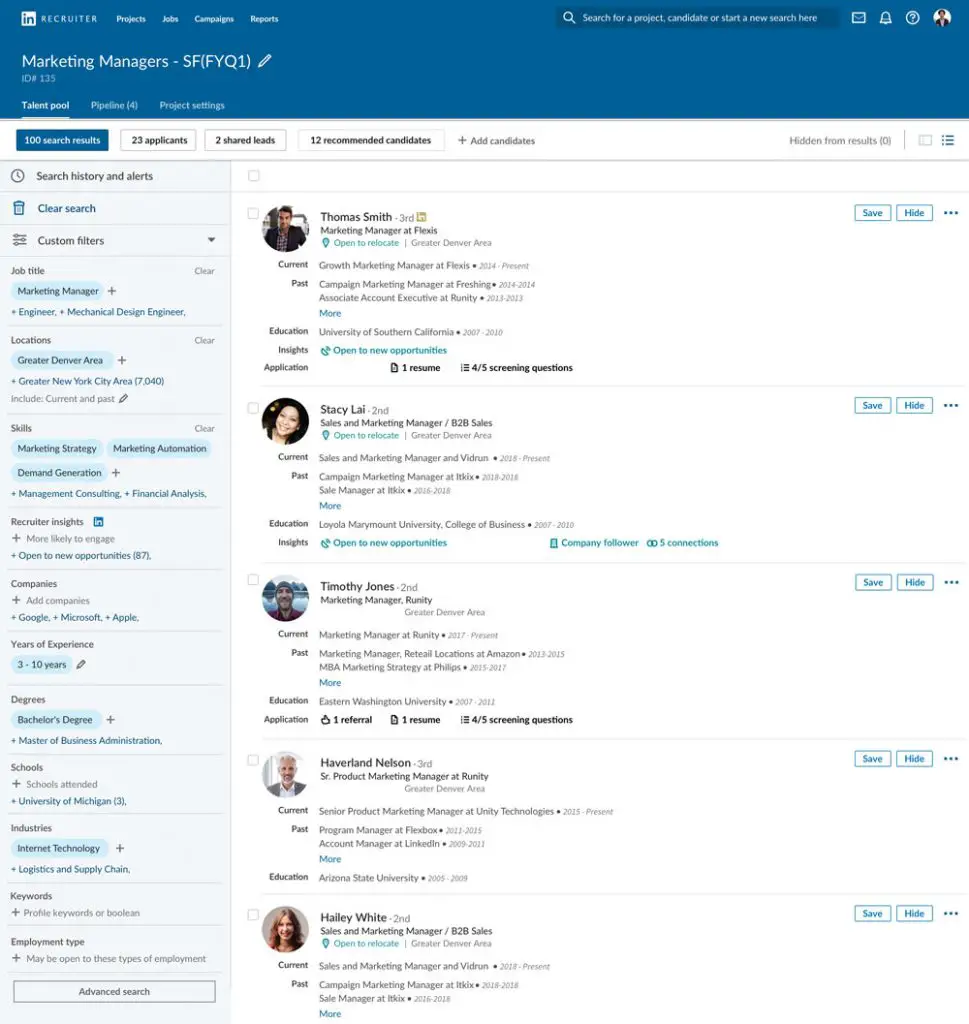 2. Candidate recommendations that will automatically surface relevant candidates after learning what a recruiter is looking for in a specific role. As explained above, LinkedIn's "core hiring tools will soon be able to talk to one another and leverage machine learning to simplify the hiring process." For example, tools will learn about which candidates a specific recruiter hides and which they send InMail messages to, making recommendations for relevant.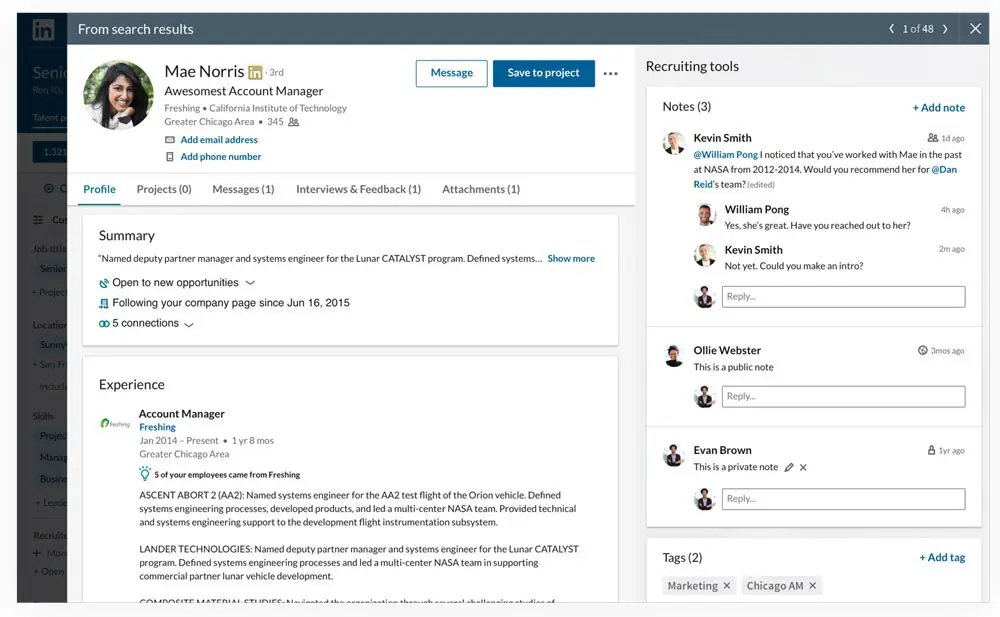 Furthermore, the applicants, leads and search results recruiters interact with will help LinkedIn's intelligent hiring experience automatically build lists of recommended candidates.
3. Shared messages that will help recruiters and candidates communicate more effectively, as the "new feature […] shows the entire communications stream with a candidate in one place."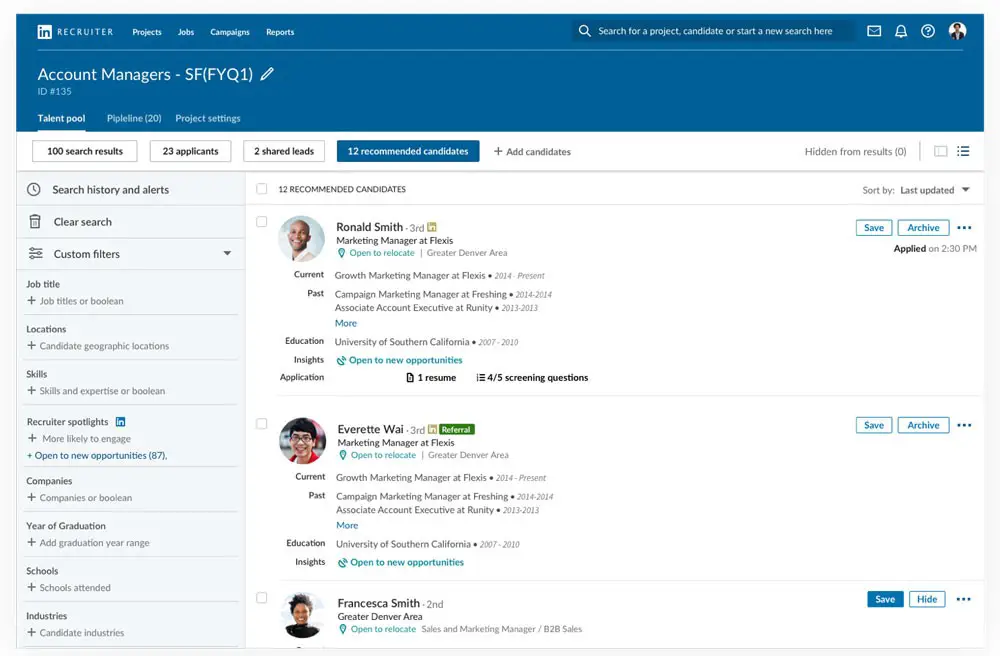 For example, as LinkedIn's VP of Product Management for Talent Solutions, John Jersin explains,
"Carolyn and James at Acme are both talking to Mae, a candidate for an account manager role. James asks Mae for some time slots during which the Acme team could set up interviews. She gets right back to him with three possibilities. James sends her a follow-up InMail message to let her know he's checking with the interview team and will get back to her with a time that works for all the people she'll be speaking with."
4. A "Closing the Loop" feature that makes it easier for recruiters to let applicants know that they won't be going forward in the application process. Since leaving people hanging and not knowing their status is such bad business, LinkedIn wants to help recruiters send rejection messages to applicants individually or in bulk using just a few clicks. Applicants will appreciate the gesture.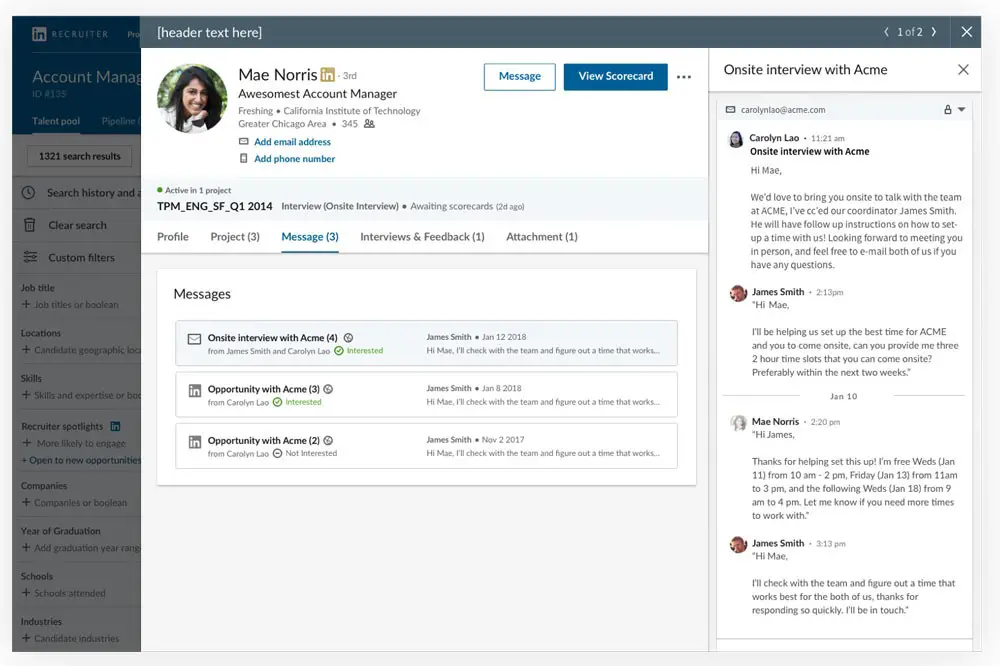 ---
You might also like
---
More from LinkedIn
---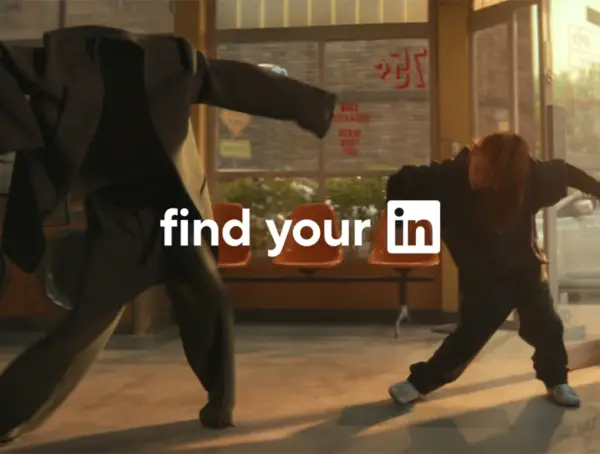 'Find your In,' LinkedIn's latest advertising campaign, created by Droga5, invites everyone to find their ideal career pathway. The campaign takes …