In an effort to keep up with its competition, Instagram is adding two new audio options to Reels that are already available on TikTok.
Instagram added two new audio tools to Reels last week: Voice Effects and Text-to-Speech. The features are already available for users to try out and get creative when making clips.
With the new Text to Speech feature, an artificial voice reads any text overlays creators type on their Reel clips. An additional personalization element allows them to select between two voice options to read their texts.
The audio feature, which is already very popular on TikTok, is lagging almost a year behind the Bytedance-owned video-sharing app, which launched it back in December 2020.
In addition, only a day after Instagram announced the arrival of the two additional audio tools, TikTok coincidentally upgraded its text-to-speech tool by introducing five new Disney character voices in which users can choose to have their texts read.
Before partnering with Disney to add more voices to the feature, TikTok also offered alternative voice options after a legal battle with Bev Standing, the voice actor who interpreted all inserted texts since the feature was first launched.
Legal battles aside, the release of alternative voices has been welcomed by a community of creators with increasingly higher expectations for personalization options and is growing tired of hearing the same voice narrating texts for the popular feature.
On the other hand, Instagram opted for a voice that sounds quite generic, though, again, it lags behind TikTok's offerings as it only provides a female voice.
Creators can use the new text to speech option by adding text to a clip and then tapping on the text bubble at the bottom of the composer screen where the 'Text-to-speech' option can be selected.
The second audio feature introduced by Instagram last week is Voice Effects. The feature is already available on TikTok and provides an additional creative element to Reels clips. With it, creators can now alter their recorded voice and make it sound like they have inhaled helium, become a robot or a giant, and more.
---
You might also like
---
More from Instagram
---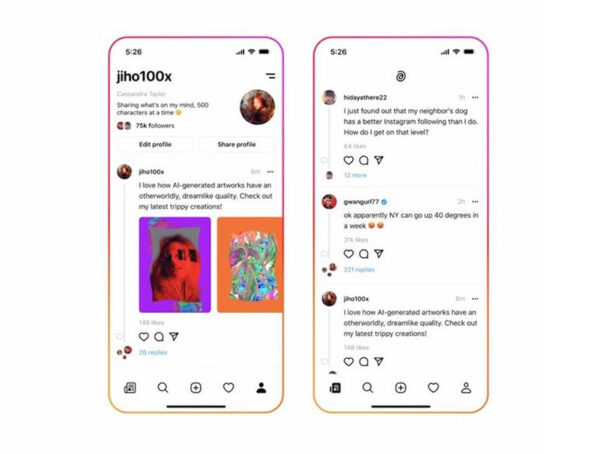 Instagram's rumored text-based Twitter competitor still does not have a name, but now we know what it might look like. The …