Instagram Nametags are an easy-to-use feature that can help businesses promote themselves. Here are some practical examples of how they work, and how you can include them in your marketing activities.
Even though Instagram introduced Nametags last year, and you may see the Nametag symbol in your application every day, many users still don't know how to use them. Instagram Nametags are similar to QR codes, in that users can scan them in order to quickly and easily find Instagram profiles and start following them.
Some usernames on Instagram are complicated and difficult to remember, as they may contain unusual dots, abbreviations, or underscores. Nametags make the searching process for users easier, without having to remember profile names. For businesses, Nametags are also great promotional opportunity.
How To Create Your Nametag
Open the Instagram app, tap on the upper right-hand corner, and find the Nametag icon in the tools menu. After opening the feature, a Nametag code will be created based on the name of your Instagram profile. By tapping on the colour button at the top of the screen, you can edit the design and change the Nametag's colour, insert emojis, or take selfies with different effects.
Nametags can be shared with the send button as a message, an email, on Facebook, on WhatsApp, on Messenger or on Instagram. You can also save the Nametag on your mobile device and keep it for later.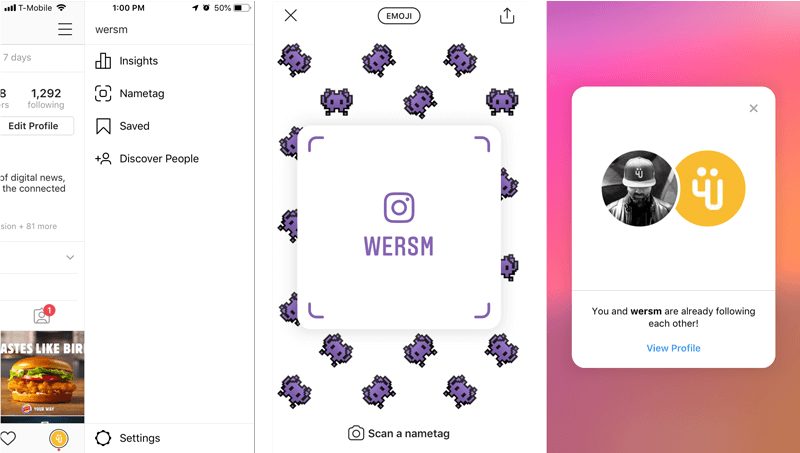 Another available feature is "Scan a Nametag," which is used to scan someone else's Nametag. Once the code has been loaded, you will automatically see the Nametag owner's Instagram profile that you have scanned, which you can easily access and start to follow.
How to use Nametags to get new followers and visually promote your Instagram account
On your website
The first place you can raise awareness of your Instagram Nametags is on your website, where you can place a Nametag in a contact form, in a pop-up window, in the header or footer, or on a blog or in other appropriate website categories.
On Social Media
If you decide to work with Nametags, remember that you can use all other social accounts to share them. You can include Nametags in posts and Stories on Instagram and Facebook, posts on Twitter, Pinterest, Google My Business, LinkedIn, Stories on YouTube, WhatsApp, and Messenger, live streams, as well as videos on all social networks. You can also promote your Nametag through collaborations with influencers.
Elsewhere online
Nametags can be promoted off of social media as well. Just tap into your marketing creativity and you can put Nametags in e-mail signatures, PPC campaign banners, PPT and PDF documents, or even your newsletters.
With special offers
You can combine Nametags with special offers, and think of some competitions where you give to users a gift or discount if they share your Nametag.
On printed materials
You can promote Nametags offline as well – on printed business materials for example – Business cards, brochures, posters, leaflets, corporate bags, stickers, roll-up banners, cars, Instagram Nametags are an easy-to-use feature that can help businesses promote their activities, or even product packaging.
At conferences and other events
You can also promote your Nametags at various conferences, workshops and fairs. At these events you can reach a high volume of potential customers and business contacts with whom you can establish online connections. Apart from having your Nametag on printed materials, roll-up banners, and other types of banners, you should have your Nametag saved on your phone, which you can use immediately in personal conversations with new contacts.
There are many ways to use Nametags effectively. As in any marketing activity, it is necessary to use imagination and creativity to incorporate Nametags into your communication strategy. The more visible the Nametag is, the greater the likelihood that people will notice it. Of course, you should use Nametags in accordance with your corporate identity… Oh, and try to not spam users.

---
You might also like
---
More from Experts Talk
---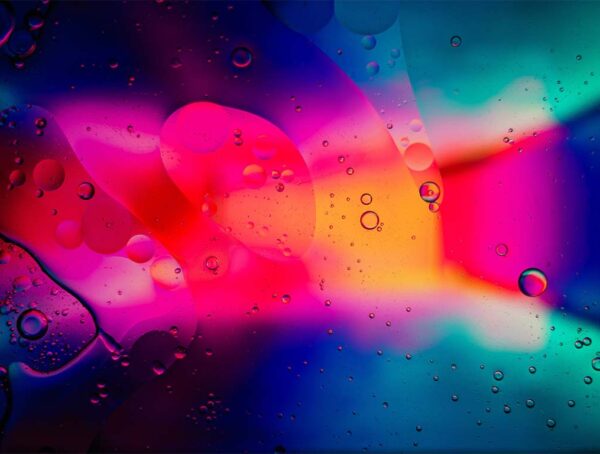 In this month's experiment, we set out to find out whether adding custom alt text on Instagram posts improves reach.