With Google Play Music's impending shutdown later this year, it's time to transfer your music library to YouTube Music. Here's how.
Google has been preparing for Google Play Music's demise for the last two years or so but it has just announced that the shut down will take place later this year. Therefore existing users will need to soon make the transition to YouTube Music – before they lose access to Google Play Music.
As of last week, Google has officially started inviting Google Play Music users "to effortlessly transfer their music libraries, personal taste preferences and playlists to YouTube Music." Although they will have access to both services, for the time being, Google wants to make sure that people have time to transfer their content and get used to YouTube Music.
How to Transfer your Google Play Music Library to YouTube Music
Google offers a simple way to move music and podcast libraries to YouTube Music. You will soon receive an email with detailed instructions on how to begin doing so, but the process will involve the following.
Download the YouTube Music app (iOS or Android).
Click on the transfer button in YouTube Music, and your uploads, purchases, added songs and albums, personal and subscribed playlists, likes and dislikes, curated stations, and personal taste preferences will move over to the app.
Updated recommendations will show up immediately on the YouTube Music home screen, but Google will notify you via email and notifications when your music library transfer is complete and your music is in the "Library" tab.
The other option is to visit https://music.youtube.com/transfer and click Transfer.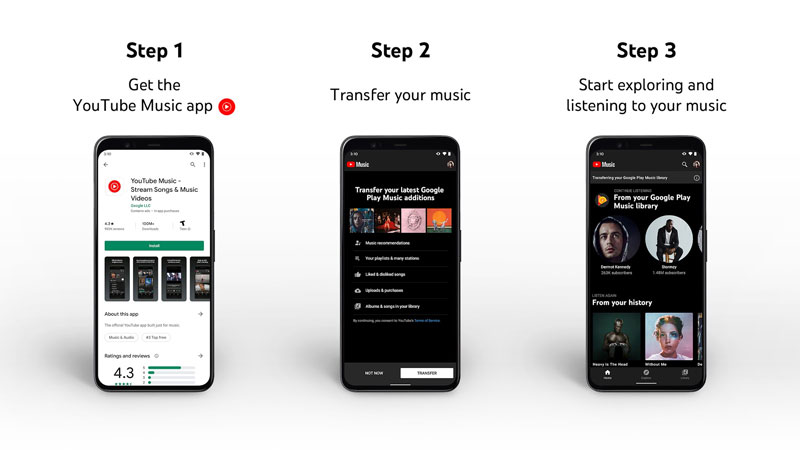 Limitations / Things you should know
To migrate your music, you may need to create a YouTube channel if you don't have one, and you want to transfer your playlists.
Google Play Music accounts can't be transferred to YouTube Brand Accounts. You'll need to switch to another account to complete the transfer.
YouTube Music has different account eligibility requirements than Google Play Music. Make sure you and those you share the account with are eligible here.
The transfer process is not supported in Venezuela and Belarus.
You can also watch the video detailing the transfer process below.
What's included in the transfer:
Your Google Play Music library includes,
Uploaded & purchased songs
Playlists & many stations
Albums & songs in your library
Likes and dislikes (songs you've given a thumbs up or down)
Billing information for your subscription if you're a current Google Play Music subscriber
After the transfer is complete, you will still be able to access your Google Play Music account as it's included with a YouTube Music Premium or YouTube Premium subscription. If you're using a free Google Play Music account, you'll continue to have the same access after the transfer.
How to Transfer Your Podcast Subscriptions To Google Podcasts
If you're a podcast listener, Google offers an easy way to transfer your subscriptions and episode progress to Google Podcasts – a dedicated podcast player (Android and iOS), and accessible from Google Assistant, Google Search, Google Home and more.
You can begin by visiting this page.
Benefits of Transfering To YouTube Music
Switching to YouTube Music brings many benefits especially if you're doing it right now. YouTube Music also offers some notable upgrades. Playlists have now been increased from 1,000 to 5,000 songs, and the limit of personal tracks in your library has been doubled from 50,000 to 100,000.
Pricing
Current pricing is the same between Google Play Music and YouTube Music, so you can use the ad-supported version of YouTube Music for free, or pay for a membership on YouTube Music Premium for $9.99 per month. Alternatively, you can try YouTube Premium to extend ad-free, with background listening and offline playback for $11.99 (USD).
When transferring from Google Play Music Unlimited you will be automatically placed in the equivalent tier on YouTube Music Premium or YouTube Premium. The level will depend on the level of benefits in your current subscription but will remain at the same price. However, if your currency rates fluctuate you may end up paying more – or less.
For most Google Play Music subscribers your monthly rate and billing details (including billing date) will stay the same. You may, however, need to confirm your billing information before finishing your transfer.
---
You might also like
---
More from Google
---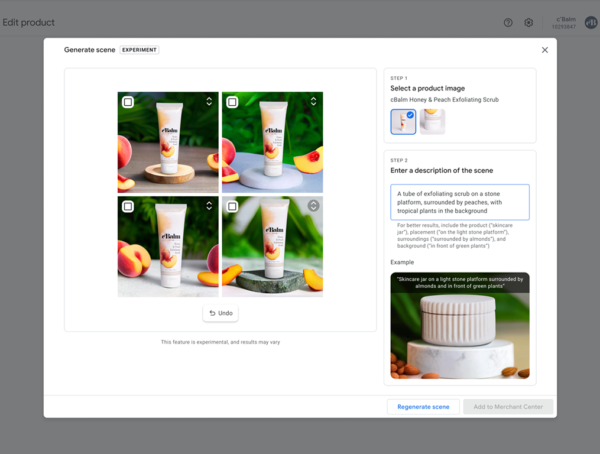 Google is launching Product Studio, a new tool that lets merchants create product imagery for free, using generative AI. Google Product …