Google is testing a new process using a combination of AI and a web page's assets to automatically create videos that you can use as ads. 
Businesses already spend a lot of time and money on building websites that contain "rich representations about their services and products," and Google believes these can be repurposed, saving both time and resources.
As part of its effort to use AI to produce multimedia content, Google is now testing a new way to create video content from existing assets like those available on a website.
To make this possible, Google is working on a new "research prototype pipeline" called URL2Video that lets you automatically convert websites into short videos that can be used as ads. As Google explains,
"URL2Video extracts assets (text, images, or videos) and their design styles (including fonts, colors, graphical layouts, and hierarchy) from HTML sources and organizes the visual assets into a sequence of shots, while maintaining a look-and-feel similar to the source page. Given a user-specified aspect ratio and duration, it then renders the repurposed materials into a video that is ideal for product and service advertising."
URL2Video automatically chooses key assets from a URL and decides the "temporal and visual presentation" of each. It does this, using methods from an interview study with designers familiar with both web design and video ad creation. These use common video editing styles, "including content hierarchy, constraining the amount of information in a shot and its time duration, providing consistent color and style for branding, and more."
The pipeline then analyzing the website's content and chooses important text or images, preserves their design styles, and organizes them according to a set of video specifications that a user provides. URL2Video does this by extracting the page's document object model (DOM) information and related multimedia materials. Based on how these are structured, the pipeline then puts them together hierarchically.
Users can choose to provide constraints like video duration (seconds) and aspect ratio (16:9, 4:3, 1:1, etc.) and then review the result, reorder materials, change colors and fonts and adjust constraints before generating the final video.
Up until now, Google has found that URL2Video is effective in terms of extracting and selecting elements from a web page, and in supporting designers "by bootstrapping the video creation process."
URL2Video is still experimental, so it's not clear when (or whether) it will become a product open to users.
---
You might also like
---
More from Google
---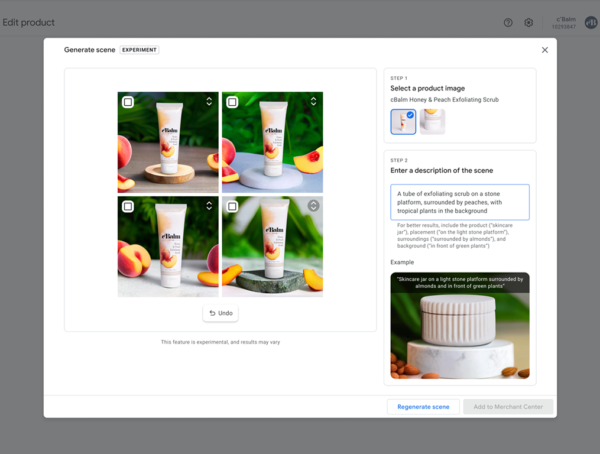 Google is launching Product Studio, a new tool that lets merchants create product imagery for free, using generative AI. Google Product …