So I thought it would be a wondrous adventure for us to recap the most memorable social media moments of the week! Here is the first mashup, do let me know likes, favourites, comments and anything you'd like to add or share!
To start us off, it's feisty Facebook. Zuckerberg's baby, after invading the workplace and launching its Groups App, is now planning to become everyone's favourite newspaper.
Facebook Newspaper
The aim is to create "the perfect personalized newspaper for every person in the world." This essentially means that all editorial decisions about what you and I will see in our daily feed will be made not by a journalist, but through a complex algorithm that determines which items are likely to be of greatest interest to each person.
"Classic" news media is of course arguing that this is not journalism per se, rather just content organised based on accumulated personal information observed, stored and analysed by ONE organisation. Freedom of speech might then be curtailed through the sheer process of omission. I would argue that tailored news is lazy news and that for a lot of us, easy might not mean better…Also, how will I know there will be a crossword?!
Twitter Town
Twitter next and apparently, "Twitter Town" or the four block stretch of Market Street, San Francisco, home to the bluebirded company, is one of the dirtiest in San Fran! It narrowly avoided getting the award for "smelliest" as well purely because someone could smell a rat…the next block down. All those tax breaks have not made it to the sidewalk yet it seems.
Staying in the Twitter sphere and Anthony Noto, the company's CFO, delivered a seemingly failed DM about some sort of purchase…
He has a plan and is not afraid to use it! The message was promptly deleted but around 8,000 Twitter folk screen grabbed it for our pleasure. Comments started flying, is it Snapchat, is it news startup Mic? No official comment as yet but the world at large was quick in with suggestions:
@finansakrobat Maybe @anthonynoto should consider Facebook Messenger for secure comms.

— Ola Marvin Leier (@OlaMarvin) November 24, 2014
Rumor is that Twitter is in talks to buy company that would significantly reduce the number of user DM fails. — danprimack (@danprimack) November 25, 2014
I personally think it's about Christmas presents (maybe puppies as they are NOT just for the holidays) and the "meeting" in question is with Santa. Unfortunately there seems to be some sort of sinister plan about potentially bribing the jolly old fellow…
Instagram Gladiators
Is it just me or is Instagram the absolute top arena for public disputes and celebrity "Gladiators"? This week it was 50 Cent taking a swipe at Puff Daddy after partnering up with Effen Vodka and promoting it heavily on his Instagram account. Since Puff is the brand ambassador for Ciroc Vodka, 50 thought it would be sensible to diss the competition through a non-PC MEME he deleted a mere two hours later…stand by your meme is what I say!
With Instagram pitching itself as "the new shop window" with money to be made through followers, this guerilla tactic might be something we see a lot more of.  Not quite the inspiring message Instagram itself had in mind when chatting sales though – "We feel like focussing on inspiring people first is the most important thing to do and we'll figure out the rest later."
Vine Journalism?
Now on to Vine and its speedy transformation into a journalism tool instead of the cluster of comedy we know and love. There is of course a hefty percentage of humorous hashtags and giggles left! Like this here which is one of my favourite Vines of all time:
Several news stories are being reported from the riots in Ferguson, last week's student protests in London to quite a few clips regarding Ebola. Footage filmed on the app is short and low res so the files are small and easily uploaded with a relatively slow connection. I vote for Vine clips to be integrated in the Facebook newspaper…in an ideal world!
Related Stories:
You might also like
---
More from Social Fun
---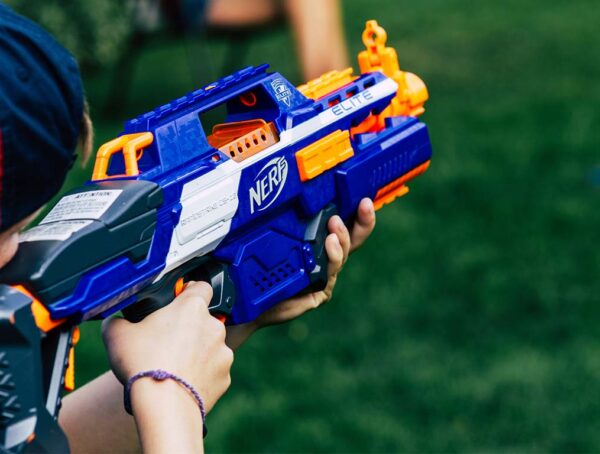 Most people have probably grown out of their Nerf obsession; if you haven't, you could become the new NERF Chief …