Holy, moly, macaroni – it's been a busy week! When's that bank holiday already? Hurry up with that chocolate, easter bunny. But enough of this wishing it was next week, let's enjoy Friday, and bask in the lovely sunshine – spring is definitely around the corner.
#BeatTheBuzz:
The world's greatest agencies and most exciting brands gather in London, on April 14th.
Book your place now
!
And whether you're on a health kick or still enjoying the comforts of winter food, here's some nice, fun, clean social mash to get you in shape for the weekend.
#NewIndianaJonesMovieTitles
Put your hand up if you were really happy to see Harrison Ford in the new Disney Studio production of Star Wars? Me, me, me! I love ol' Harrison, I think he is swell. But this Tuesday, Disney announced that it would reunite with ol' Steven Spielberg for a fifth Indiana Jones movie.
If you like our stories, there is an easy way to stay updated:
Follow @wersm
The planned release date is July 19, 2019, which will make Ford exactly 77 years old at the time of the film's premiere… he might as well run for office at this point! And since no title has been announced for this 5th instalment of the beloved saga, Twitter was abuzz with a whole range of possible ideas, all under the hashtag #NewIndianaJonesMovieTitles.
Here is a fine selection for you, see if you can come up with any others!
#NewIndianaJonesMovieTitles Raiders of the Social Security Trust Fund

— Physics Geek (@physicsgeek) March 15, 2016
https://twitter.com/liars_never_win/status/709802133940338688
https://twitter.com/mustacheofdoom/status/709807813602775041
Indiana Jones and the Fountain of Prune Juice #NewIndianaJonesMovieTitles

— Tomas (@tamfilm) March 16, 2016
Will you go and see it? The Kingdom of the Crystal Skull killed it for me so I probably won't. Unless Sean Connery is in it too as the great grandad!
50 Out/Kanye (Maybe) In
You might have heard that 50 Cent has been in a bit of a pickle lately, monetarily speaking. He might have filed for bankruptcy, but ever since he did so back in July last year, his Instagram account has been FULL of photos where he is surrounded by cash. They include spelling "Broke" out in stacks of bills and even a video about not being able to see his legs because… they were covered in cash.
If you like our stories, there is an easy way to stay updated:
Follow @wersm
He is now being investigated over potentially counterfeit money being featured in said photos…sigh! Anyway, he announced he's done with IG and that his staff at Effen Vodka will be managing his account – and boy did they clean it up of all the gems.
Before his departure, he said this on the issue (now deleted):
[quote]I have millions of dollars in my company's, the court knows this. I was accused of committing fraud with nothing but a IG photo. I can careless what these people think of me but it's not right. Now someone from secret service is asking if prop money was counter fitted. How the fuck would I know that shit head? Smh #EFFENVODKA #FRIGO #ThisImageIsCourtApproved.[/quote]
Here's the photo in question –
So 50 is out but Kanye might want in! The rapper posted this on Twitter on Monday
https://twitter.com/kanyewest/status/709408385163268097
https://twitter.com/kanyewest/status/709408940908486657
And since his tweets are a form of "contemporary art", brace yourselves for all those Instagram masterpieces…
Temping Facebook
Last year was all about that temporary profile photo. From pride colours to the Paris solidarity tricolore, everyone used them. This week, Mark Zuckerberg introduced us all to the permanent feature of the temp profile frame.
If you like our stories, there is an easy way to stay updated:
Follow @wersm
Speaking about the ICC World Twenty20, the cricket tournament currently hosted by India, Zuckerberg wrote:
[quote]Fans around the world are going to facebook.com/profilepicframes and using a profile frame to show support for their favorite teams. But fans from India and Pakistan are doing something different. Hundreds of thousands of Indian cricket fans are putting the Pakistani frame around their picture. And Pakistani fans are doing the same thing — showing support for India. They're using the hashtag #ProfilesForPeace.[/quote]
You can set the filters to expire in one hour, one day, a week or more. The option is available on mobile and the Web. So far there's mainly sport, some causes, and two Star Wars frames. Not exactly Snapchat level…
Viral Vine
Let's face it, the chances of having content go viral on social nowadays seem smaller than the odds of winning the lottery. But a 15 year old from Connecticut named Justin has managed to get his Vine looped over 14 and a half million times.
If you like our stories, there is an easy way to stay updated:
Follow @wersm
"It all started as a joke" says Justin,
[quote]my sister is in college and I always make her laugh, so I send her the most random, spontaneous Snapchats to cheer her up while she is away from home. This one in particular was of me on the toilet, singing 'Break Free,' by Ariana Grande (who happens to cause 99.9 percent of my asthma attacks). In the video, my voice cracked mid-song. For some odd reason, I decided to save and post it on my Vine account just for fun[/quote]
https://vine.co/v/OAB2llQ0umX
The one person who I really wanted to see the Vine was Ariana Grande herself, but I can understand if she would be offended by. Right, that's my plan for this weekend – get a viral Vine down. See you on the other side!
---
You might also like
---
More from Social Fun
---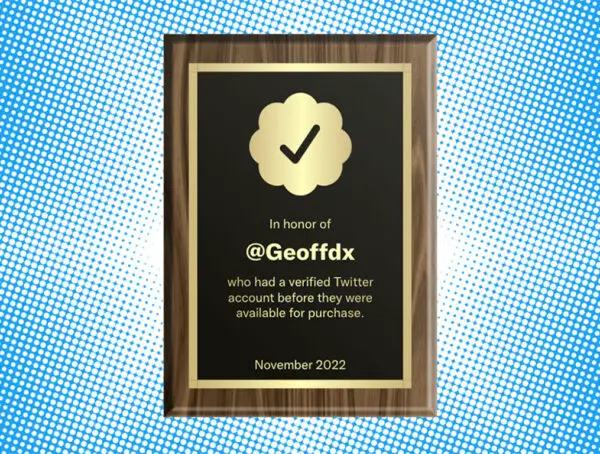 Veriforever is a web app that lets you create a personalized plaque to commemorate your Twitter verification. Before Elon takes …