Give yourselves a big ol' pat on the back, you've managed to navigate the murky waters of weekdays and have now entered the clear blue waters of weekend Bay. In a few hours, you'll be basking in the glow of freedom, sunshine and promise. Hey, some of you might have already jumped straight in and not come back from lunch at the pub. Very well done!
#BeatTheBuzz:
The world's greatest agencies and most exciting brands gather in London, on April 14th.
Book your place now
!
Here's a nice, healthy dollop of mash now to keep that stamina up!
Bernie And The New Dress
I know you thought we were well and truly rid of dress colour controversies, but you were WRONG. Bernie Sanders got that debate right back up the # ladder with his suit at the Democratic Debate yesterday.
If you like our stories, there is an easy way to stay updated:
Follow @wersm
Brown, blue or black? Whilst the politicians were busy with politics, viewers took to Twitter to argue over what color the senator was in fact wearing.
Some saw brown:
I'm just going to take a stand here, an hour in, and say I dig the Sanders brown suit. It works.

— Matt Bai (@mattbai) March 10, 2016
Bernie, I like the brown suit. Nice change from the uniforms candidates like to wear.#DEMDEBATE

— thefieldnegro (@fieldnegro) March 10, 2016
https://twitter.com/alfredwkng/status/707758017639534595
Others blue:
Could be blue. https://t.co/R4bHUwcOI2

— Brian Stelter (@brianstelter) March 10, 2016
https://twitter.com/christinedisaba/status/707755921464823808
The campaign spokesperson even weighed in saying it was blue:
the suit senator sanders is wearing tonight is blue.

— mike casca (@cascamike) March 10, 2016
Before we knew it, it was "The New Dress"
Is Bernie Sanders' suit brown? Or is this like you know what and it's actually yellow. #DemDebate pic.twitter.com/kuLqC42Whi

— Jennifer Bendery (@jbendery) March 10, 2016
Half of Twitter is confused about the color of Bernie's suit. For once, the discussion isn't about the woman candidate's clothes. Still…

— Sarah Granger (@sarahgranger) March 10, 2016
We even had eggplant…
What did you see?
Taste Of Streep
Stop everything you are doing right now, pick up your phone and follow @TasteofStreep on Instagram. I mean it! The Instagram account is solely and purely dedicated to blending actress Meryl Streep with an array of delicious foods. That's right.
If you like our stories, there is an easy way to stay updated:
Follow @wersm
There if coffee Meryl
Falafel Meryl
https://www.instagram.com/p/BCs50_tBhOt
Pizza Meryl
https://www.instagram.com/p/BCgdeRyhhGK
Even Beer Meryl
https://www.instagram.com/p/BBoKlS_BhFX
With over 50k followers, it's delighting taste buds and funny bones across the world and I definitely think it has the #TGIF factor.
Pop That Cork
Champagne is all about images of private yachts and fancy parties. And Fridays! But that particular look and feel has been a tough sell with millennials. So Veuve Clicquot decided to rebrand Champagne, and bring it to the young masses via Tumblr.
With a new campaign running exclusively on Tumblr, VC aims to bring gifs and quirky artsy images to what used to be a very stiff product landscape. "When you used to think about champagne, it's very formal, very classic," said marketing director Chloe Stefani. "But that doesn't need to be the case."
If you like our stories, there is an easy way to stay updated:
Follow @wersm
Called "Let life surprise you," the Tumblr campaign is centered around a set of three short videos narrated by Madame Clicquot (played by Juliette Binoche). As a bit of history on that – the famous widow ran the company in the 19th century taking the reins of the business from her husband when she was widowed at 27 — terribly unusual for a woman at that time.
https://www.youtube.com/watch?v=pBJ89aihpm8
"Millennials across the world follow their convictions, not convention, just as Madame Clicquot lived life without being limited by the expectations of others," said John Noe, CEO and founder of Rokkan, who created the campaign.
[quote]Our goal as the creative lead in developing this new campaign was to bring her story to life in a way that would resonate and inspire a new generation.[/quote]
The main idea is to highlight all the informal places where champagne can be enjoyed. Stats wise, only 15% of alcohol brands have an official presence on Tumblr. Stefani says Tumblr has allowed the brand to extend the lifespan of GIFs and content sourced from events or tastings and most things on the brand's Tumblr are crowdsourced and user-generated.
Chin chin!
Ice-Snapchat-Cream
Ok, ok, Snapchat is very popular with brands… So drum roll for Ben & Jerry's and their three new ice cream flavours! As a brand forever-caring of its millennial audience, Ben & Jerry's decided to reveal the new flavors one by one, with separate announcements on Snapchat, starting with Brownie Batter Core, a combination of chocolate and vanilla ice cream, fudge brownies, and a brownie batter center.
If you like our stories, there is an easy way to stay updated:
Follow @wersm
Then there was Cookies & Cream Cheesecake Core – chocolate and cheesecake ice cream, chocolate cookies, and a cheesecake core. And finally, Coconuts for Caramel Core featuring caramel and sweet-cream coconut ice creams with fudge flakes and a caramel core.
Sweet! Let's weekend!
---
You might also like
---
More from Social Fun
---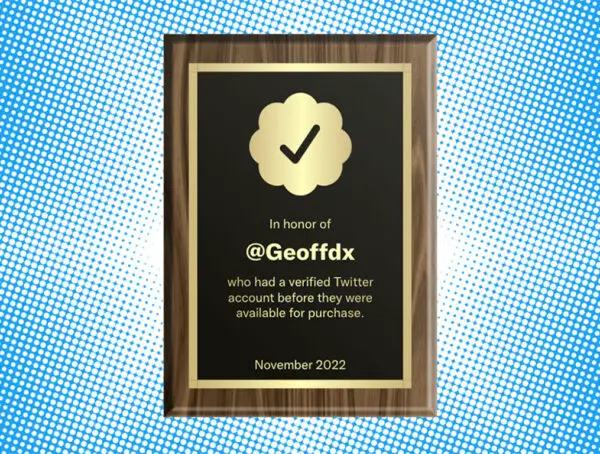 Veriforever is a web app that lets you create a personalized plaque to commemorate your Twitter verification. Before Elon takes …