Burger King tried to turn a sexist trope on its head for International Women's Day. It backfired spectacularly.
Clickbait or wishful thinking, nobody really knows, but what Burger King thought would be a great campaign, backfired rapidly…
The day started strong for Burger King, with a New York Times ad headlined "Women belong in the kitchen." The ad was a stunt to introduce Burger King's H.E.R. (Helping Equalize Restaurants) Scholarship, which offers financial assistance to women who work at Burger King and aspire to an academic degree in culinary arts. It seemed like a good idea on International Women's day.
The print ad quickly makes it apparent that the headline is being used ironically.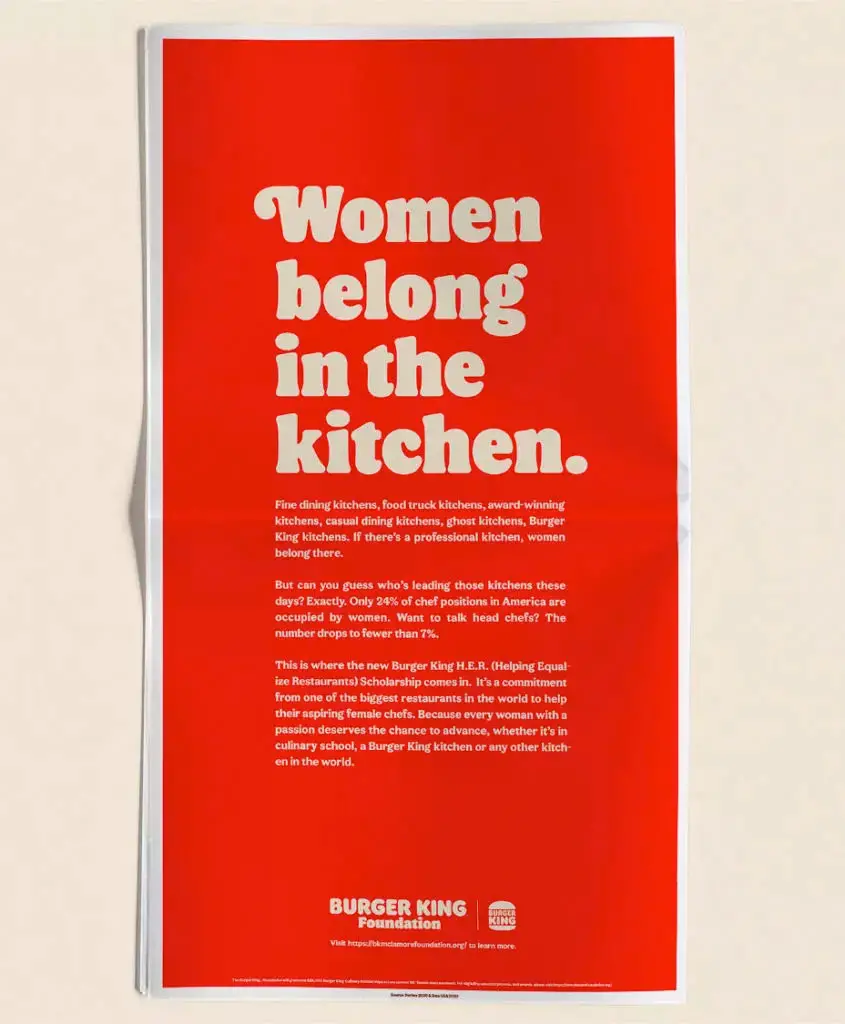 But this is where it should have stopped. Print has its own set of rules, and the ad was eye-catching, yet clear in its irony.
Then David Miami decides to take the same ad to social media, repurposing it into a series of tweets via the @BurgerKingUk account.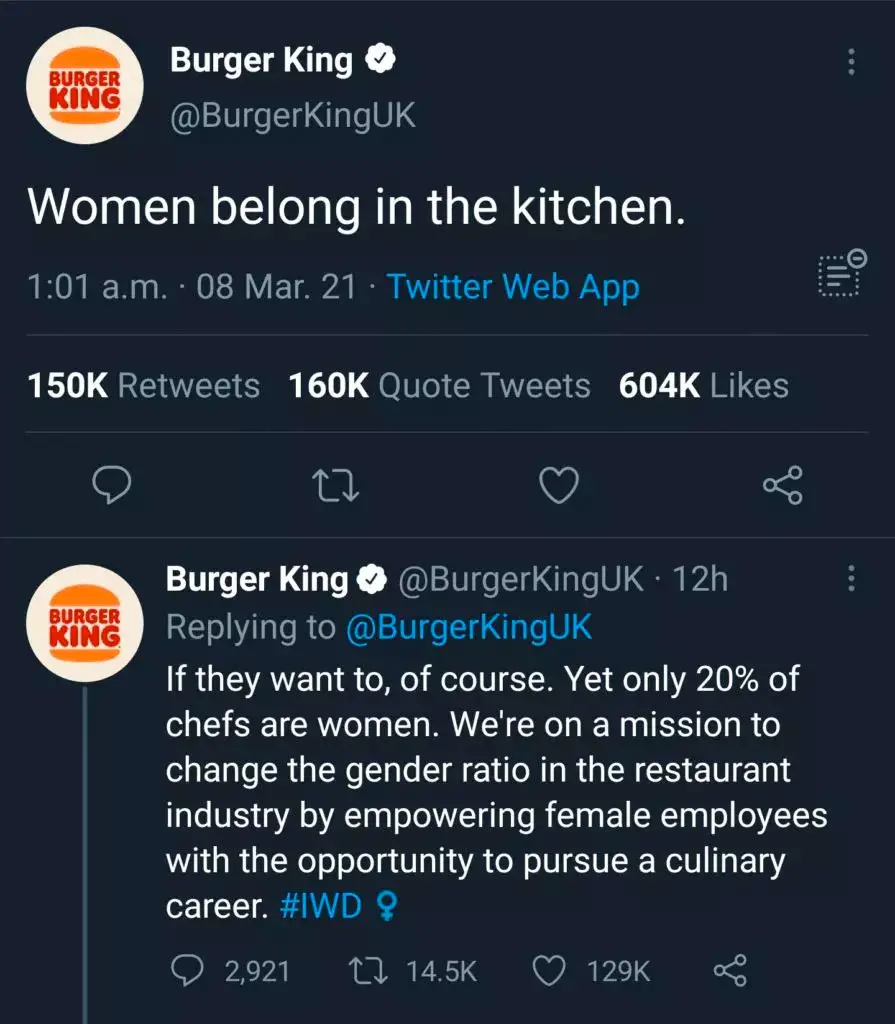 They failed to see that, on Twitter, context would not be quite as obvious as on the newspaper ad. They also failed in their understanding of the mechanics of Twitter itself, ignoring that the platform makes it easy to share a single tweet, but not threads. And yes, it backfired.
While some fans got the message and supported it, many users did not find it funny at all, generating thousands of incendiary tweets, which the brand helplessly tried to respond to…
What belongs in the trash is lack of female representation in our industry, that's why we've created a scholarship to do something about it.

— Burger King (@BurgerKingUK) March 8, 2021
To bring attention to the huge lack of female representation in the restaurant industry? Yeah we think it's a good idea, that's why we've created a scholarship to help give more of our female employees the chance to pursue a culinary career.

— Burger King (@BurgerKingUK) March 8, 2021
https://twitter.com/lucyinbluee/status/1368924442949279748
There was no coming back from this. Burger King UK removed the tweet and apologized. But for some, the harm had been done.
We hear you. We got our initial tweet wrong and we're sorry. Our aim was to draw attention to the fact that only 20% of professional chefs in UK kitchens are women and to help change that by awarding culinary scholarships. We will do better next time.

— Burger King (@BurgerKingUK) March 8, 2021
Despite the backlash, Fernando Machado, global CMO of Burger King parent company Restaurant Brands International, said he hoped the attention around the U.K. tweet will still help spread the campaign's message in support of expanding the ranks of women as leaders in the culinary world.
"I think the intention behind this idea is great. We are basically investing behind the development of women in culinary through the creation of a scholarship program," he said. "The reality is that only 24% of women are chefs in the U.S. And the number falls to 7% if you look into head chef positions."
Machado also did admit the message was not as effective when broken across multiple tweets without all the print ad's context:
"That did draw some negative feedback from people who only read the headline," Machado said. "But hopefully it will continue to shift to positive as people realize the real intent behind it."
---
You might also like
---
More from Featured
--- TIkTok is pulling the plug on TikTok Now, its BeReal clone, a little over nine month after it was first …