New York mayoral candidate, Andrew Yang, took his campaign to the metaverse in a bid to win the hearts of the younger voters.
After the 2020 Biden-Harris presidential campaign map on Fortnite and the virtual tour of Animal Crossing by US Congresswoman Alexandria Ocasio-Cortez, it is now Andrew Yang's turn to enter the metaverse to campaign for mayor of New York.
As one of the most prominent voices of Tech futurism, Cathy Hackl, reported on Forbes last Friday, the front-runner in the mayoral race incorporated immersive technology and the metaverse in his press conference on June 10.
Yang chose ZEPETO, one of the fastest-growing metaverse platforms, particularly popular among Gen Zs (10% of the electorate in 2020). The idea is that those kids will remember Yang and his selfie-based avatar at the ballots!
And it's not just about making a lasting, relatable impression. Campaigning in the metaverse presents other advantages, too. For starters, the man didn't need security – so no bodyguards at the event. Also, participants felt more comfortable asking questions in the more anonymous format instead of being physically present at Town Hall.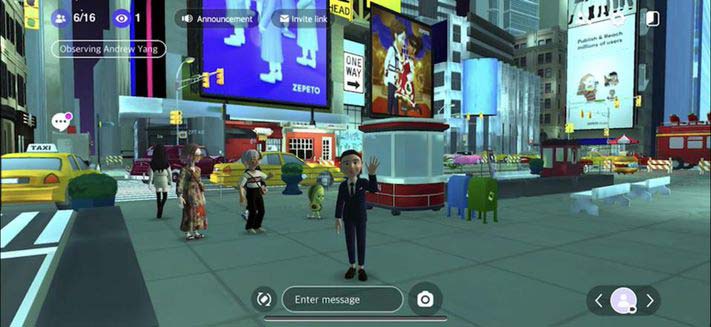 At the press conference, Yang also expressed his thoughts on the creator economy and on how he would like to see New York businesses thrive in the metaverse sector:
"I'm a big fan of virtual economies… New York City should be the creative capital of the world, and it's going to be people like Rudy and folks in the cryptocurrency community that I think are a big part of it."
Hackl notes that politicians are starting to see the virtual arena as a beneficial space to develop their marketing strategies and reach younger voters.
She points out that "online games like Roblox, Fortnite, and Minecraft became an essential outlet for those in the younger generation to be with friends, express themselves, and digitally leave the house. People join platforms like ZEPETO to socialize, be entertained, and consume content. They wear digital clothes from brands like Nike and Gucci. Why not also meet a potential mayor or presidential candidate?"
It's an interesting approach, but it definitely has its dangers. For example, not all metaverse communities will welcome "intrusions" from brands and public figures. This is only natural, as brand interest in the metaverse is booming, and we'll see a lot more of this kind of thing soon.
---
Images: ZEPETO
You might also like
---
More from METAVERSE
---