Did you hear that sound? "When the earth roars, millions of bellies roar too" is an operation for Action Against Hunger signed by Paris agency Hungry & Foolish.
The climate crisis is one of the main factors behind the rise of hunger around the world. To raise collective awareness, Paris agency Hungry & Foolish orchestrated a campaign for Action Against Hunger.
According to France's Organisation Pour Alimentation et l'Agriculture (Food and Agriculture Organization), the three major causes of hunger in the world are wars, economic shocks, and the climate crisis. And, the countries most affected by hunger are those most affected by extreme weather events.
The climate crisis is affecting ecosystems, the economy, and livelihoods, particularly of those who depend on agriculture. More frequent and longer droughts and an increasing number of storms, floods, forest fires, and extreme heatwaves are among the most alarming effects.
To raise awareness around this direct causal link, Action Against Hunger broadcasted a thundering sound through the streets of Paris, a noise that left the general public surprised and confused. Immediately Parisians took to social media, trying to find answers, creating a lot of buzz around the activation itself. Even radio shows started talking about the loud, and somewhat disturbing noises.
A few hours later on the same day, Hungry & Foolish, the Parisian agency behind the campaign, revealed that the noises that were heard across the French Capital were actually the sound of a hungry stomach rumbling. The sound itself was a mix of real sounds that represents the consequences of the climate crisis: storms, landslides, icebergs breaking up, hurricanes, etc…
This campaign aims to be an awakening call to transform the way we eat and act to counter the effects of the climate crisis to help fight against hunger around the world.
Founded in 1979, Action Against Hunger is an international non-governmental organization that fights hunger around the world. Its mission is to save lives by eliminating hunger through the prevention, detection, and treatment of undernutrition, particularly during and after emergencies related to conflict and natural disasters. In 2019, Action Against Hunger helped more than 17 million people in 47 countries around the world.
Watch the campaign film: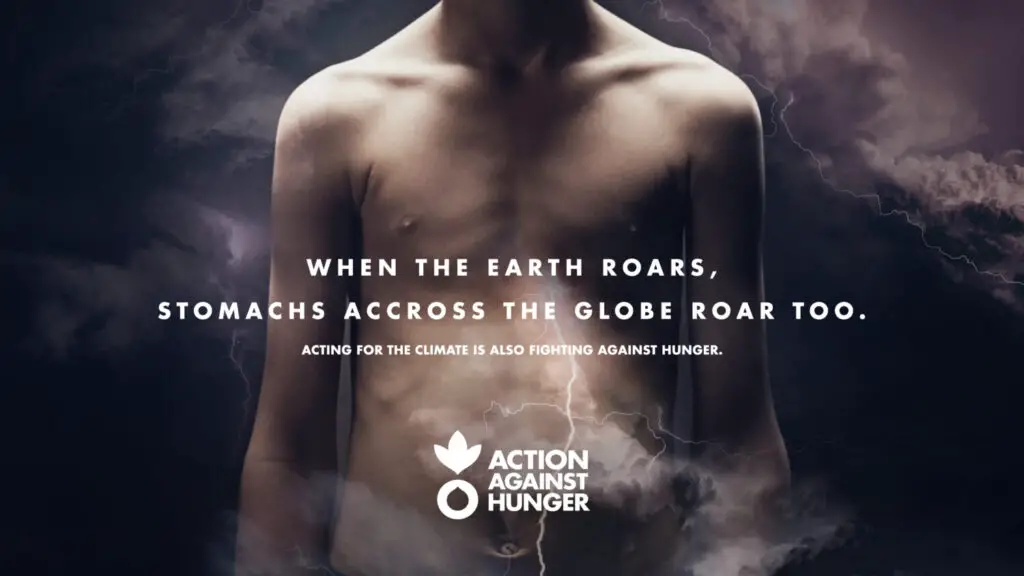 Credits :
Hungry & Foolish
ECD : Emmanuel François Eugène
Managing Director : Jean-Benoist Werth
Art Director : Quentin Delachaux
Copywriter : Stéphane Le Frapper
Advising Director : Alexandre Pecard
Account Manager : Manon Nion-Guillot
PR Agency : Ozinfos
Media Agency : HavasAction Against Hunger
Delphine Marques: Commuications Director
Lorena Rodriguez Alvarez, Head of Mobilization and Campaigns Mobilization and Campaigns Manager
Marie Tapia, Chargée Mobilisation et Campagnes
---
You might also like
---
More from Creative Campaigns
---
The GOAT will play in Miami next season, but the big winner is undoubtedly Apple, which has MLS streaming rights …