WhatsApp is rolling out a limited public beta test allowing support for multiple devices without the need of having a smartphone nearby.
One of the most-requested features on WhatsApp is the ability to run one WhatsApp from multiple devices.
The feature wasn't created so far, because of the difficulties involved with encrypting messages, but Head of WhatsApp, Will Cathcart, last week announced that the messaging app has found a way around the issue without compromising security.
According to the announcement, users can now use WhatsApp on a phone and on up to four other non-phone devices at the same time. This should come in handy at times when your phone is not on you or functional – or if it has a poor internet connection.
Each device will connect to WhatsApp independently without compromising privacy and security which is done through end-to-end encryption. According to Cathcart, the platform has developed new technologies that maintain end-to-end encryption while still managing to sync contact names, chat archives, starred messages, and more.
To do this, WhatsApp built a multi-device architecture that removes hurdles – no longer requiring a smartphone to be "the source of truth" and without having to store people's private messages on its servers.
All done with the security you expect from @WhatsApp. We developed new technologies that maintain end-to-end encryption while keeping your data in sync — message history, contact names, starred messages, and more — seamlessly across devices. More here: https://t.co/AnFu4Qh6Hd

— Will Cathcart (@wcathcart) July 14, 2021
Up until now, everyone on WhatsApp was identified by a single identity key from which all encrypted communication keys were derived. With multi-device support, each device now has its own identity key. WhatsApp servers maintain a mapping between each person's account and all their device identities. When someone wants to send a message, they get their device list-keys from the server.
To give people additional control and protection over which devices are linked, WhatsApp will continue to have everyone scan a QR code from their phone (a process that now requires biometric authentication) and they will also be able to see all the companion devices linked to their account, as well as when they were last used. Finally,  they will be able to log out of them remotely if needed.
To ensure a consistent experience across devices, WhatsApp will synchronize message history, contact names, whether a chat is archived, or if a message is starred – all across devices and on an end-to-end encryption basis between devices.
WhatsApp is initially testing the experience with a small group of users from their existing beta program and will continue optimizing performance and adding a few additional features before slowly rolling it out more broadly. Those who opt-in can always opt back out.
For more information about the beta and to sign up, visit the WhatsApp Help Center.
---
You might also like
---
More from WhatsApp
---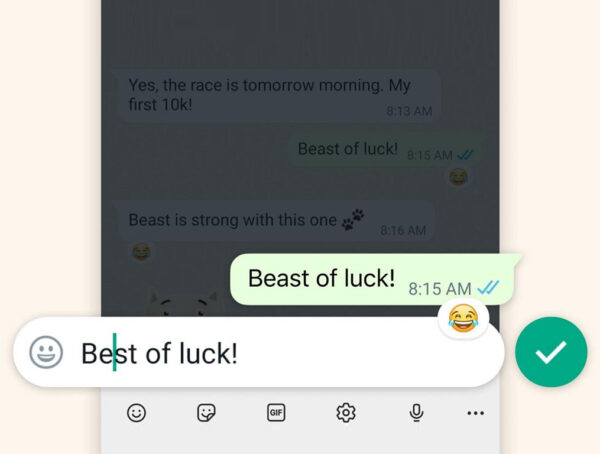 WhatsApp announced today it will finally let users edit messages, one of the most anticipated features. You will have 15 minutes, …