After pausing its verification program in 2017, Twitter has now announced that it's bringing it back on January 20, 2021.
Several weeks ago, Twitter announced its intentions to bring back its public verification program and shared a draft of its new policies for people to send in their feedback.
The whole idea of that exercise was to make sure its verification program is "more equitable" and to "lay the foundation for future improvements." Furthermore, Twitter used it to define better what verification means and who is eligible for it. Finally, it also looked at why some accounts might lose verification as a result.
Twitter received over 22,000 survey responses with public feedback and updated its new verification policy accordingly.
As a result, the new policy no longer requires a profile bio or header image. Also, Twitter has updated its references to align better with Wikipedia's "published standards for notability and article quality." The "News" category will now include "News and Journalists," the "Sports" category will include "Sports and esports," and the "Entertainment" category now clearly includes digital content creators.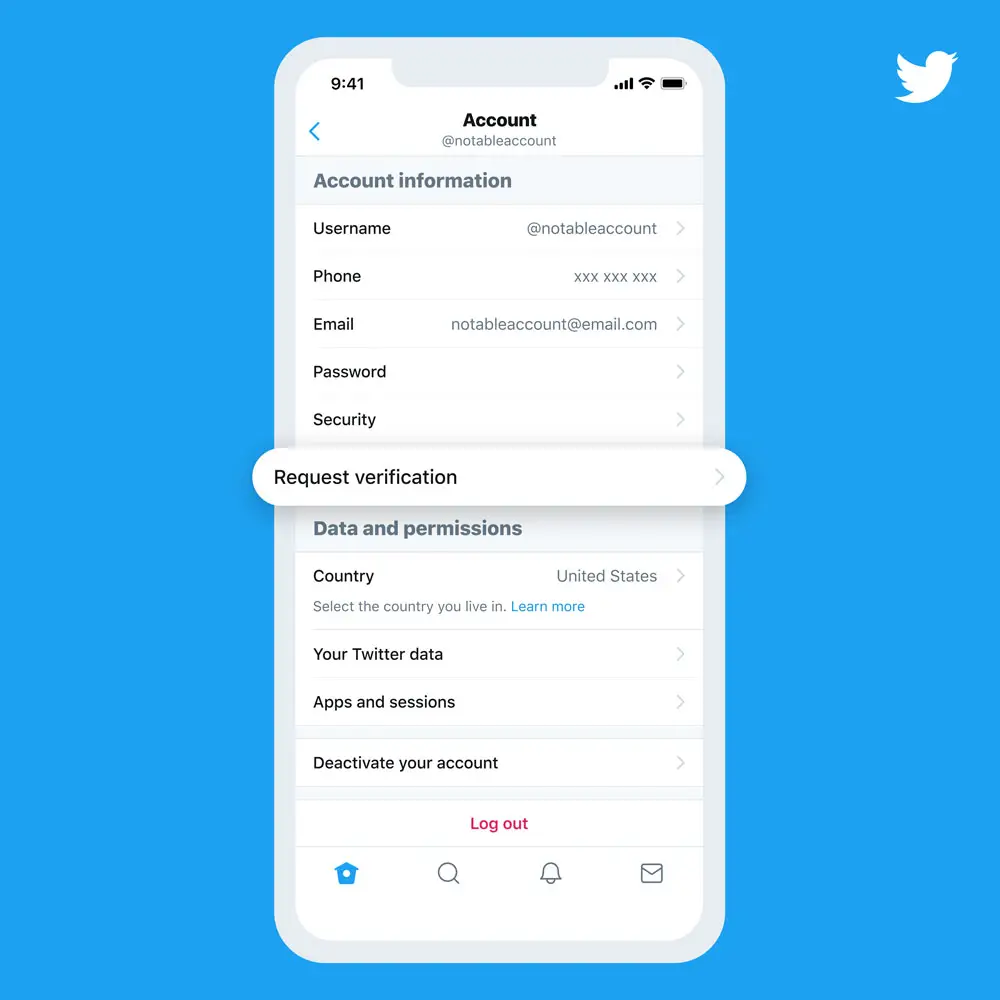 The minimum follower count requirement on a per-country basis is now on a per-region basis, instead – making follower count requirements less susceptible to spam and more equitable across different geographies.
Sometime next year, Twitter will also add categories for verification, including academics, scientists, and religious leaders. Those users can qualify under the "Activists, organizers, and other influential individuals" category until this happens.
You can read the new verification policy here. The new verification policy will start to be enforced on January 20, 2021. Word of warning! This is also the date when Twitter will start to automatically de-verify inactive and incomplete accounts.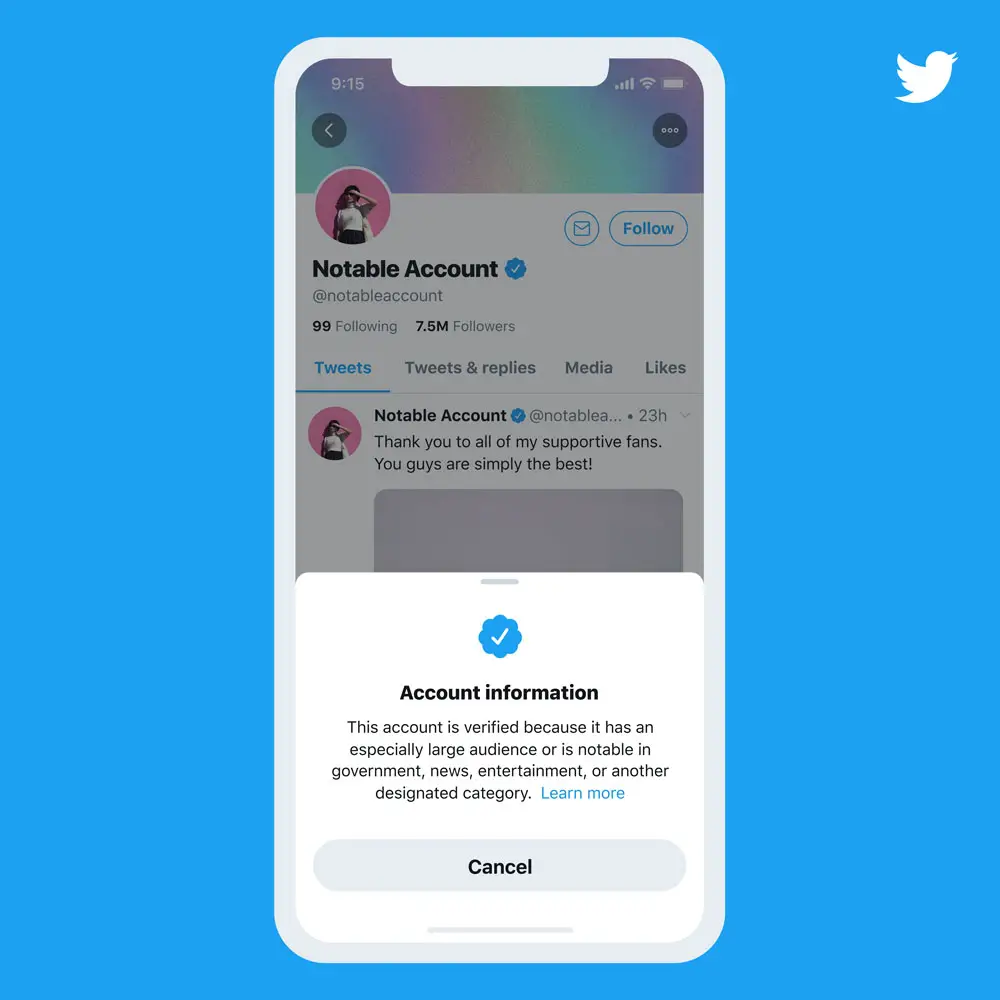 A complete account needs to have a verified email address or phone number, a profile image, and a display name. If your account about to be de-verified, you will get an email and an in-app notification telling you what you need to change to avoid this.
The verified badge will not be removed from inactive accounts of people who have passed away, and Twitter says it's "working on building a way to memorialize these [and other] accounts in 2021."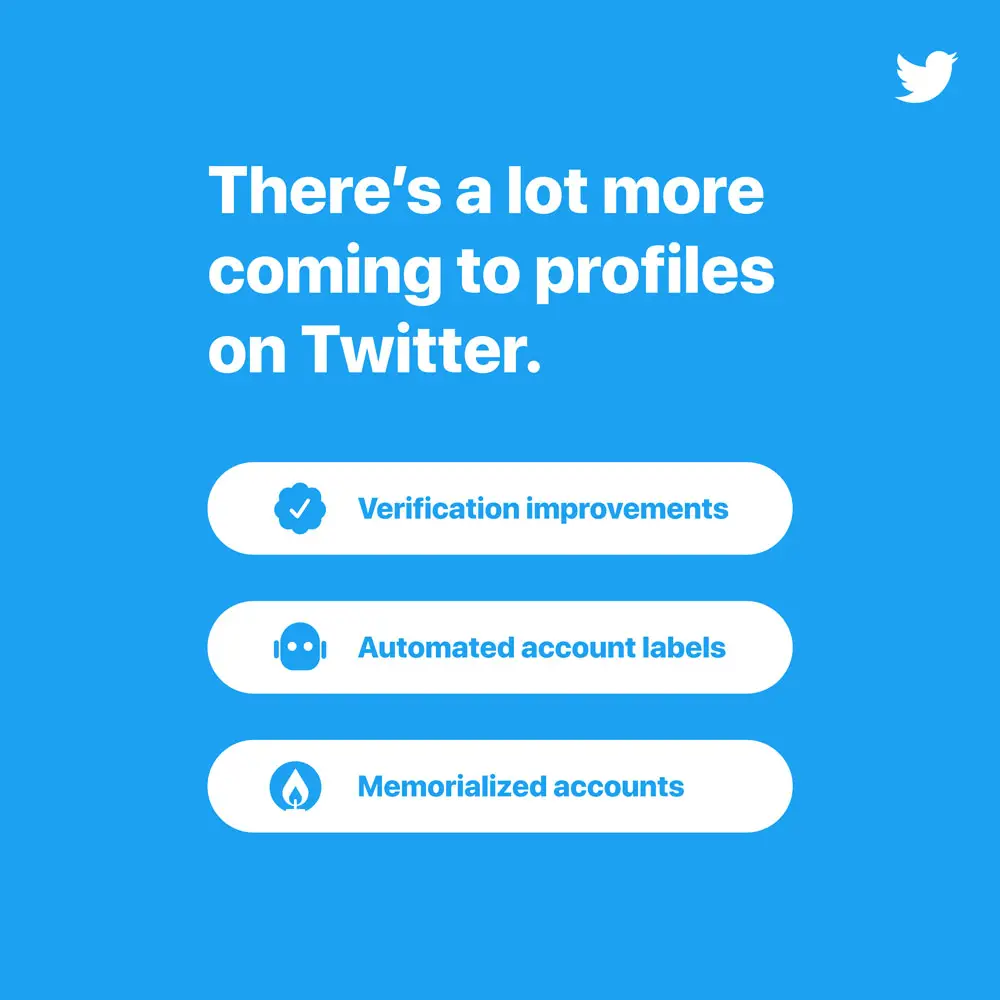 Twitter says that Automated Accounts (bots) "can bring a lot of value to the service when they share things like earthquake reports or self-care reminders. But it can be confusing to people if it's not clear that these accounts are automated." Therefore, it is planning to build a new account type that distinguishes automated accounts from human-run accounts.
---
You might also like
---
More from Twitter
---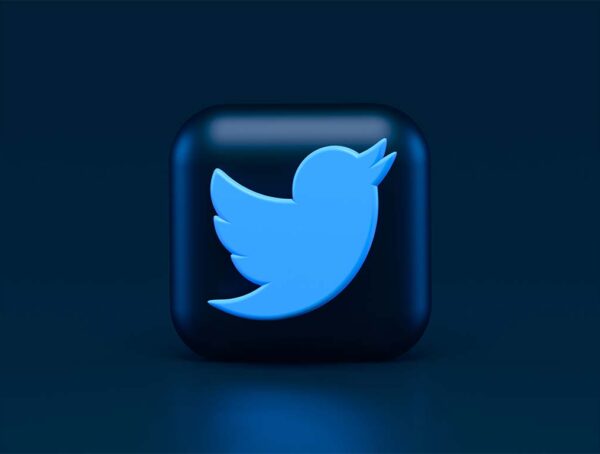 Not only do Twitter Blue subscribers get to edit their tweets, but now they will have up to 60 minutes …