Spill, a new Twitter competitor created by ex-Twitter employees is launching an invite-only beta on iOS.
Spill is a visual-first, multimedia microblogging app that works a lot like Twitter. The app opens on the main feed which includes recent posts from people you follow, as well as algorithmically served posts. The app lets you post text, GIFs, videos, photos, links and polls, and you can easily see what is trending on the app, and react to content posted by others.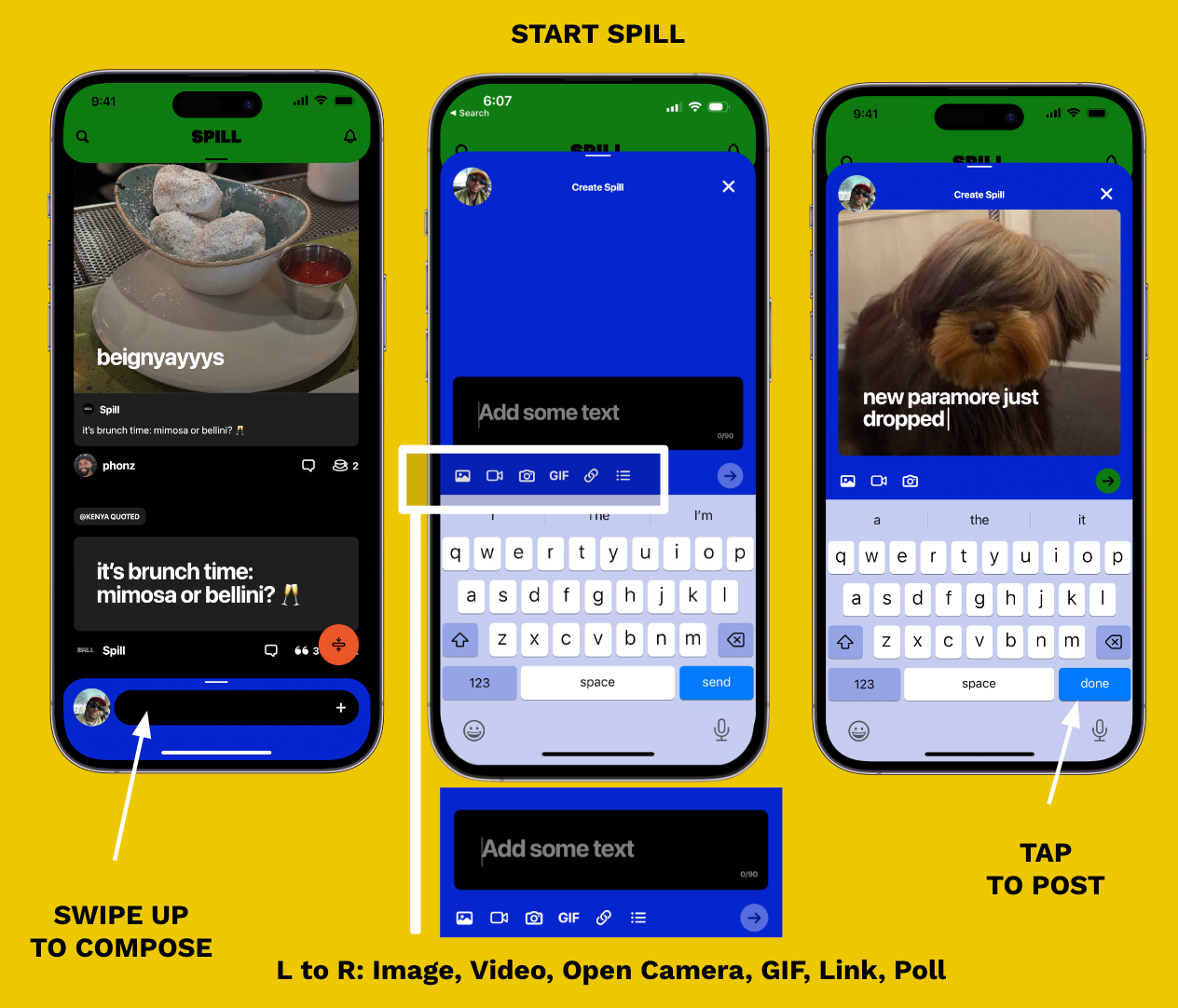 At first glance, Spill looks a lot like Twitter. But what sets the platform apart is its deliberate mission to build for diverse communities.
Spill CEO Alphonzo "Phonz" Terrell was the  global head of social and editorial at Twitter before being laid off. His time over at Twitter made him realize that "building for underserved culture drivers would create a superior platform for all." TechCrunch notes that during Spill's alpha phase, it deliberately sought out Black and queer creators to onboard to the platform, since these users are often the ones creating the trends and memes that the rest of the internet adopts. This outreach comes across as organic, since the people building Spill are part of these communities themselves.
"On every other platform, culture drivers — Black and Brown folks, marginalized folks, queer folks — have had to kind of elbow to create space," said Kenya Parham, who joined Spill in March as its global VP of community and partnerships. "We're starting off with them at the front of the line, and we think that's going to create a really healthy ecosystem."
Spill hopes to encourage positive-only behavior on its platform by giving users a "rep score." A high "rep score" comes with benefits, like access to new features before everyone else.
"We wanted to incentivize the positive, nontoxic behavior and really reward people for being consistent, active, contributing members to the platform without necessarily having to feel like you need a massive follower count," Terrell said.
Terrell added that scores like this exist internally in most social apps — they just aren't shown to the user. On Spill, you can see your rep score, but other people cannot see yours.
Feeling ready to Spill? You can sign up for the waitlist here.
---
You might also like
---
More from Social Media
--- TIkTok is pulling the plug on TikTok Now, its BeReal clone, a little over nine month after it was first …